NBA Draft 2012: Even After Solid Draft, Hornets Still Have a Lot of Work to Do
June 30, 2012
Chris Graythen/Getty Images
The New Orleans Hornets hit a home run in Thursday night's NBA draft. They got a franchise cornerstone in No. 1 overall pick Anthony Davis, who will provide a defensive presence while his offensive game comes along. They got another young scorer at No. 10 in Duke guard Austin Rivers, whom the team will try to mold into their point guard of the future. They also got a nice sleeper in Davis' college teammate, Darius Miller, with the 46th pick.
While everything seemed to fall in place for the Hornets, New Orleans still has a ways to go to get back to being a respectable basketball team.
For starters, with free agency starting Sunday, getting shooting guard Eric Gordon signed to a long-term deal is the team's top priority this summer. Gordon's a restricted free agent and the Hornets have said they'll match any offer for the centerpiece of last year's Chris Paul trade.
The next order of business will be finding another big man. With Chris Kaman a free agent and Emeka Okafor having been traded to Washington, the team's only real options to pair with Davis in the paint are Jason Smith and Gustavo Ayon.
Ayon played in 54 games last year, starting 24 of them, and averaged nearly six points and five rebounds a game. As for Smith, he played in 40 games and made 29 starts while averaging close to 10 points and five rebounds a game.
Smith would seem like the most likely candidate to be Davis' tag-team partner, but he's more of a stopgap than a viable starting option. The team could try to re-sign Kaman, but the former Clipper seems like a long shot to come back, seeing as the Hornets tried to trade him for much of his tenure in New Orleans.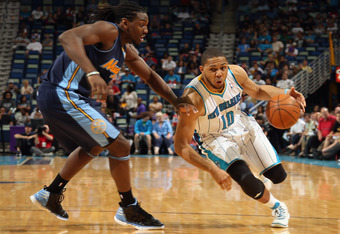 Chris Graythen/Getty Images
Another option is making a play for former Wizards/Nuggets center JaVale McGee. McGee is a restricted free agent, but Denver doesn't have the cap room that New Orleans has to get into a bidding war. The only question is whether McGee would be worth the big payday. On the one hand, he's a rebounding machine who would serve as another shot-blocker to protect the rim. On the other hand, he's an infamous knucklehead who might not be the kind of influence you want around your young franchise big man.
Still, McGee's the best center on the market not named Roy Hibbert.
The next task for New Orleans will be sorting out their issues at small forward. The team sent away Trevor Ariza, who started 41 games for New Orleans last season, to Washington a couple weeks ago. The other in-house options are Al-Farouq Aminu and their second-round pick, Darius Miller. Neither are enticing options as starters, but Aminu offers the most promise of the two. Former Net Gerald Wallace is the best free-agent SF on the market.
The Hornets are on the right track. They have three franchise cornerstones in Davis, Gordon and Rivers and they'll have some serious cap room once they waive Rashard Lewis.
The question is, do they try to fill their needs in free agency now, or use this season to develop the youngsters and then go hard in the summer of 2013? Some big names that will be available next summer include point guards Ty Lawson (restricted), Jrue Holiday (restricted), Darren Collison (restricted) and big men Andrew Bynum and Al Jefferson.
Orlando Magic center Dwight Howard would also be a free agent next summer, assuming he isn't traded to a team that he's willing to sign an extension with. Even if Howard was available next summer, the Hornets would have to make huge strides for D12 to consider signing with them.
The blocks are in place to build a contender in New Orleans. They'll need a lot of things to bounce their way to make the playoffs next season, but they have three nice pieces in place and the money to be players in a big free-agent summer next year.
With a couple more moves, this team could be the second coming of the Oklahoma City Thunder.
Who would have thought we would be saying that after they lost Chris Paul?