Derek Jeter: Yanks Icon on Crash Course with Controversial Figure
July 1, 2012

Al Bello/Getty Images
Derek Jeter's passing of Cal Ripken Jr. on the all-time big league hits list, puts him on a crash course with Napoleon "Nap" Lajoie—a ballplayer once part of one of the most childish yet comedic controversies in baseball history.
Lajoie, who leads Jeter by 56-hits after Sunday's game versus the Chicago White Sox, was a very popular player in the early 20th century.
Like Jeter, Lajoie was a true professional. Per Baseball-statistics.com, Lajoie had "a combination of defensive ability, hitting ability and leadership that may be unparalleled in major league history."
Sounds familiar, right?
Lajoie was so popular in fact, he is one of the only ballplayers in the history of the game to have a team renamed in his honor (Cleveland Naps).
Detroit Tigers angry man Ty Cobb on the other hand—not so popular.
Not yet a World War I hero, Cobb was arguably the most despised player in the game at the time. In short, Cobb made White Sox catcher A.J. Pierzynski look saintly.
In a story that points to how being disliked can backfire on a man, Cobb and Lajoie were locked in fierce bat-to-bat combat for the 1910 AL batting title.
Per Baseball-Reference.com, at the beginning of the 1910 season, the Chalmers Auto Company (which later became Chrysler), announced it would give batting champions in both the AL and NL a Chalmers Model 30 automobile.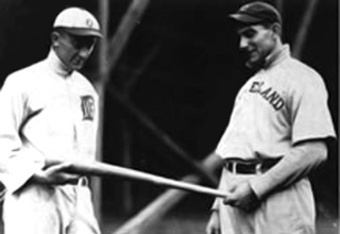 A nice ride indeed, both Cobb and Lajoie partook in some batting race gamesmanship best described as, well, juvenile.
Going into the final two games of the 1910 season, Cobb thought he had enough of a sizeable lead to bench himself for both games.
According to Don Keko, baseball writer for Examiner.com, "Lajoie trailed Cobb by percentage points, but would need a Herculean effort to pass the Georgia Peach."
But Cobb underestimated the resolve of the opposing forces conspiring against him.
On the final day of the 1910 season, the Indians played the St. Louis Browns in a doubleheader. In what historians deem a spectacle, Lajoie went 8-for-9 on the day.
To the naked eye, it seems like an experience many big league hitters would envy.
But then one looks at the orders handed down during this doubleheader and realizes there was more than meets the eye.
Six of Lajoie's hits were bunt singles down the third base line.
These hits came courtesy of Browns manager Jack O'Connor ordering his third baseman Red Corriden to play on the outfield grass, according to Baseball-Reference.com.
Lajoie also tripled and singled on plays that should have been ruled errors. 
Everything compiled, Lajoie's near perfect day resulted in him winning the 1910 AL batting title—and the coveted Chalmers automobile.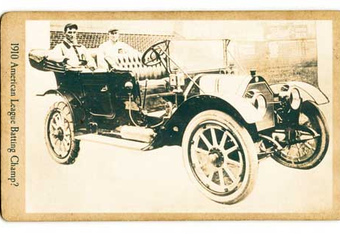 But this was not the end of this controversy.
With O'Connor snickering, and Cobb's blood boiling, the case went before the league powers that be.
By the time the dust had settled, Cobb's final batting average was .3850687.
Lajoie's was .3840947.
While AL President Ban Johnson declared Cobb the winner, Chalmers Auto Co. was so impressed with this thrilling batting race it presented both Cobb and Lajoie a Chalmers Model 30.
More proof that controversy can prove great for business.
So when Jeter gets within six hits of Lajoie, Yankees fans can argue this iconic shortstop has already surpassed this Indians legend.
Yankees Articles You May Also Enjoy:
No Place Safe from New York Yankees Loyal Fan Base
5 Yankees Rookie Cards to Buy Before they Skyrocket
How Hudson River Swallowed Mantle's Rookie Cards