New York Yankees: No MLB Ballpark Safe from Loyal Fan Base
June 23, 2012

Rob Carr/Getty Images
No team in baseball travels as well as the New York Yankees. Like the Pittsburgh Steelers (and Dallas Cowboys) in the NFL and the Detroit Red Wings in the NHL, there does not seem to be a place on this planet safe from mobs of Yankees fans.
Take this recent example as case in point.
My wife is originally from Trinidad and Tobago. While we live in Maryland, my wife often Skypes relatives in her homeland.The other day, my wife flipped on the Skype, and up popped her aunt on the screen.
What was her aunt, who lived in a small village wearing?
She was wearing an ash gray New York Yankees t-shirt.
Of course, as a baseball fan I could not help but laugh.
"They're everywhere!" I joked, regarding Yankees fans.
But this is true.
Dislike the Yankees all you want, but nobody can question the fans' loyalty to this heralded franchise.
We see it at Oriole Park at Camden Yards in Baltimore. Home fans donned in orange and black cringe at the sight of gray jerseys and Yankees caps streaming into their park.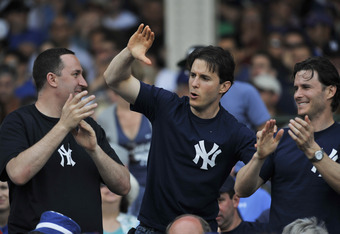 David Banks/Getty Images
During Baltimore's darkest days, Camden Yards looked more like Yankees Stadium. Yet every time the Yanks popped up on the schedule, Baltimore fans spoke with, well, not the kindest of words.
We also see it in Atlanta, where out of the blue, New York fans will burst out into a repeated chorus:
"Let's go Yankees."
"Let's go Yankees!"
Give Braves' fans credit, for they often fight back with a vengeance with the Tomahawk Chop to drown out the noise.
Moving beyond Nationals Park and out West, I have heard the same Yankees chorus burst out during Texas Rangers games. And have seen the same at Oakland Athletics and  L.A. Angels games.
It seems the unwritten rule at MLB ballparks around the nation is to drown out Yanks fans before they conquer morale within the stadium.  
But sometimes it just does not matter.
Especially if the home team is a bad team.
I am convinced that if there were a ballgame between the Yankees and Red Sox on planet Pluto you can bet Yankees fans would find their way to the gassy park.
Same thing goes in the military. Everywhere I have been assigned, I have seen Yankees fans—northern Japan included. One time I walked into an Air Force officer's office, only to see a Yankees pennant and a Steelers "Terrible Towel" on his wall.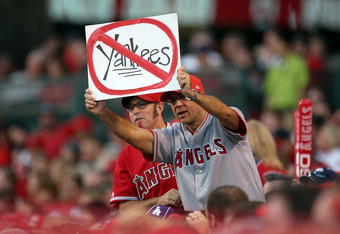 Stephen Dunn/Getty Images
Turned out his mother was from Brooklyn and his father was from Pittsburgh.
Talk about a confusing childhood.
Back to those Trinidadians. Many of them are also huge Yankees fans. Starting in Queens, where a large majority of them live, Yankees garb finds its way to Port of Spain and throughout the island.
No other team. Just the Yankees.
Funny thing is that some of them can't name one player on the Yankees.
"Why you root for the Yankees?" I ask a Trini wearing the team's cap that looked like it had been repeatedly run over by a tractor in an open field.
"I doh no," the man replied. "Dey cool."
This would officially explain why my wife's aunt, along with many Trinidadians I see when in country, don Yanks gear.
And it goes to prove this fact: Yankees fans are everywhere.
Related Articles:
How Hudson River Swallowed Mickey Mantle's Rookie Cards
5 Yanks Rookie Cards to Invest in Now Before They Skyrocket