Kansas City Chiefs: 15 Categories the Chiefs Must Improve In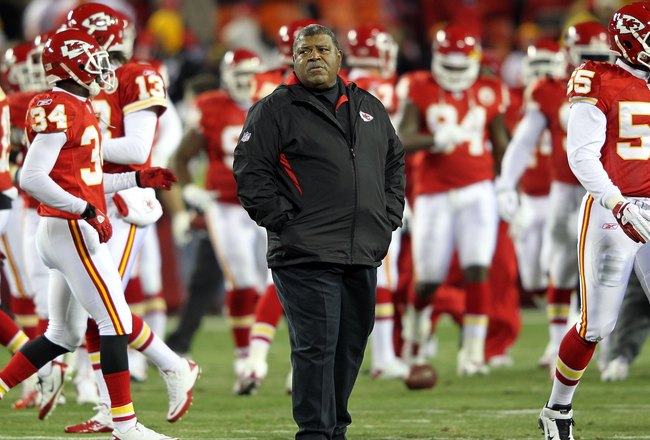 Jamie Squire/Getty Images
New Kansas City Chiefs head coach Romeo Crennel knows that his team has to improve in a lot of areas if they want to contend for a division title in 2012.
During their 7-9 season, the Chiefs struggled in a lot of areas in 2011 and are looking to put up different results this year. With some old faces returning from injury and new players coming to Kansas City, the Chiefs will have a new look than they did in last year's season finale. Therefore, the Chiefs should excel in 15 areas this year.
Pass Offense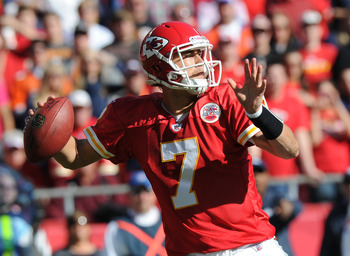 Peter Aiken/Getty Images
2011 Ranking: 25th, 3,080 passing yards all season
Matt Cassel, Tyler Palko and Kyle Orton all started under center at one point last season while wearing a Chiefs jersey. Due to multiple changes at the quarterback position throughout the season, it prevented the Chiefs from having any consistency.
This year, the Chiefs are without Palko and Orton as Cassel is returning from injury. But Cassel will have a far different team than the one he played with prior to his injury. The Chiefs have a lot of depth and a better offensive line, giving Cassel what he needs to succeed.
2012 Expectation: Top 10
Rush Offense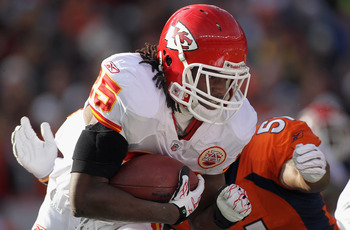 Doug Pensinger/Getty Images
2011 Ranking: 15th, 1,893 rushing yards all season
The Chiefs rushing game was non-existent after Jamaal Charles went down with a torn ACL early in the season. Thomas Jones, Jackie Battle and Dexter McCluster were not enough to make up for Charles' absence.
Along with the return of Charles, the Chiefs rushing game will be joined by Peyton Hillis. After going from first to 15th in rushing within one season, can the Chiefs reverse that gap by the end of the 2012 season?
2012 Expectation: Top Five
Touchdowns and Scoring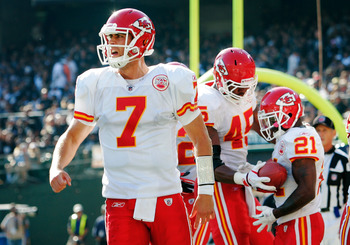 Brian Bahr/Getty Images
2011 Ranking: 31st, 20 touchdowns all season (18 offensive) and 31st, 13.2 points per game
The best part about the game of football, from a fan's point of view, is seeing your team cross the white lines between the 1-yard line and the end zone as the official raises both hands up, signaling a touchdown.
Unfortunately for the Chiefs, that came only 20 times. With Charles and Hillis on the roster, the Chiefs should be capable of scoring more than four rushing touchdowns. If Cassel can connect with his receivers, the Chiefs will surpass the 20-touchdown total way before the season ends.
2012 Expectation: Top 10 in both categories
Red-Zone Scoring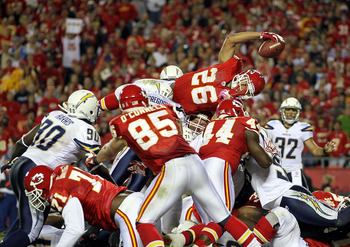 Jamie Squire/Getty Images
2011 Ranking: 32nd, 33 percent efficiency all season
The Chiefs, the worst team in red-zone efficiency, finished 31st for a reason in touchdowns and total scoring. Their red-zone offense did not step up after finishing eighth with a 59 percent efficiency rate.
One game in which the Chiefs were dominated in the red zone was against the Green Bay Packers in Week 15. Although the Chiefs pulled the upset, the Packers limited them to one touchdown in five red-zone appearances. With a lot of tweaks made by general manager Scott Pioli, the Chiefs new offense should do better.
2012 Expectation: Top 10
Third-Down Conversions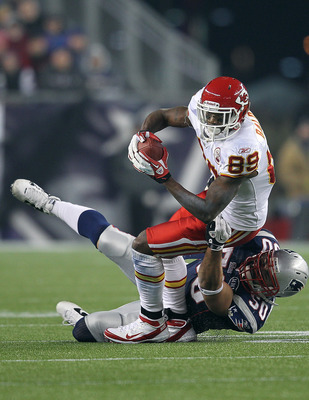 Jim Rogash/Getty Images
2011 Ranking: 19th, 36 percent third-down conversions all season
With a thin offense undergoing a change at quarterback throughout the season, it is obvious why the Chiefs were 19th in the league in third-down plays. There are three players who can help the Chiefs improve when it comes to third-down conversions.
Pass-catchers Jon Baldwin, Tony Moeaki and Kevin Boss are going to be important players while helping the Chiefs move the chains on third down. All three players are unique athletes and can be there for Cassel for an important play to prevent fourth down.
2012 Expectation: Top 15
Time of Possession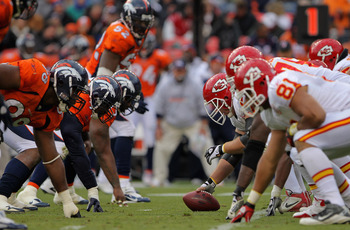 Doug Pensinger/Getty Images
2011 Ranking: 22nd, 29:32 of possession per game
A thin roster and a consistent change at quarterback can hurt an offense in many ways. This is another area where the Chiefs were moving towards the wrong direction.
With a new right tackle in Eric Winston and a good blocker in Boss, the Chiefs offensive line will be the key in helping the Chiefs win time with the football. With a strong running game entering the 2012 season, the Chiefs can use Charles and Hillis to move the chains, allowing the Chiefs offense to stay on the field and hold the ball longer.
2012 Expectation: Top 15
Total Offense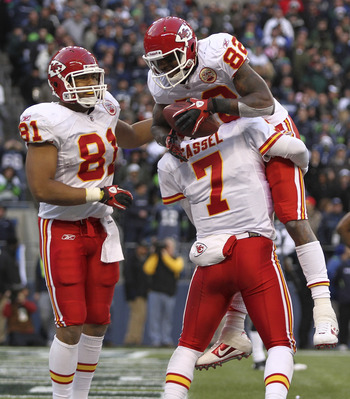 Otto Greule Jr/Getty Images
2011 Ranking: 27th, 310.8 yards per game
The offense is set. The Chiefs have three players returning from injury and several new faces from free agency and the draft. The depth is strong. If the team manages to avoid the injury bug, there is no reason to believe the Chiefs offense won't succeed.
2012 Expectation: Top 10
Turnover Ratio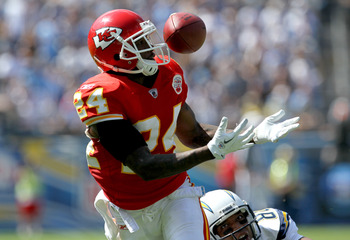 Stephen Dunn/Getty Images
2011 Ranking: 18th, minus-2 turnover ratio (26 takeaways and 28 giveaways)
The Chiefs were barely below average in turnovers last season. The consistent issue of taking care of the football was what put them at 18th in the NFL.
Under Crennel, as the interim head coach, the Chiefs took better care of the football. In the final three games of the season, the Chiefs came up with four takeaways and gave away the football only three times. If the Chiefs can carry that over to this season, their turnover ratio will be above zero.
2012 Expectation: Top 15
Penalties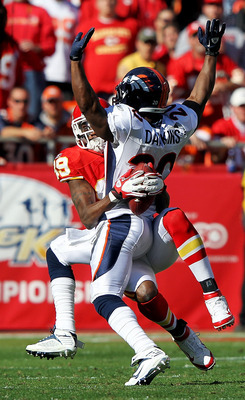 Jamie Squire/Getty Images
2011 Ranking: 24th, 110 yards all season
The Chiefs committed the ninth-most penalties in the NFL, consistently allowing officials to throw the yellow flag their way.
Along with turnovers, penalties can be a big part of the game and can help determine the outcome of a game. The Chiefs must find a way to reduce their penalties in order to allow them to move forward.
With Crennel as the head coach, the Chiefs should move in the right direction.
2012 Expectation: Top 15
Pass Defense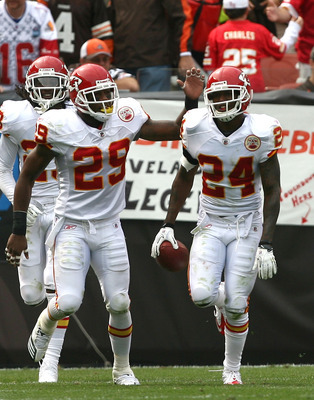 Matt Sullivan/Getty Images
2011 Ranking: Sixth, 201.3 yards per game
Finishing sixth against the pass was an impressive feat for the Chiefs as they did it under some difficult circumstances. The big one being that Eric Berry left the team less than five minutes into the regular season due to a torn ACL.
The Chiefs were unable to retain Brandon Carr, but they replaced him with Stanford Routt to play alongside Brandon Flowers at cornerback. Those defensive backs should perform well with Tamba Hali and Justin Houston playing upfront, creating a strong pass rush.
The Chiefs should make that small jump and become one of the league's best against the pass, which is difficult to do nowadays in a passing league.
2012 Expectation: Top Five
Rush Defense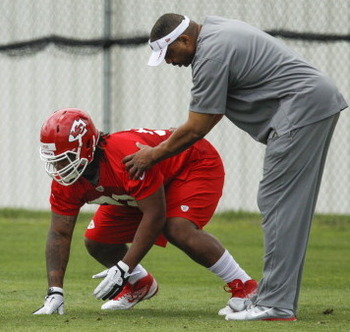 Kyle Rivas/Getty Images
2011 Ranking: 26th, 132 yard per game
Crennel is excited for his No. 1 draft pick, Dontari Poe. Crennel feels Poe can come in and not only start right away, but also give the Chiefs a better run-stopping defense.
The addition of Poe can also help inside linebackers, Derrick Johnson and Jovan Belcher, step up and make stops against the run.
2012 Expectation: Top 20
Sacks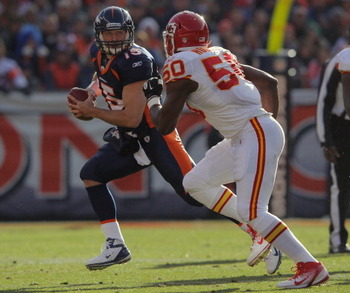 Doug Pensinger/Getty Images
2011 Ranking: Tied 27th, 29 sacks all season
Houston was a pleasant surprise in the second half of the season, finishing second on the team in sacks with 5.5. Hali and Houston together combined for 17.5 sacks, collecting 60 percent of the team's sack total from 2011.
Now that Houston, whose draft stock fell last year, is projected to start at outside linebacker opposite of Hali, the Chiefs should have a better pass rush. If the Chiefs apply more pressure, it will lead to a higher sack total in 2012. The addition of Poe through the 2012 NFL draft may allow Poe and the inside linebackers to improve their sack total as well to help contribute to the team's total.
2012 Expectation: Top 15
Points Allowed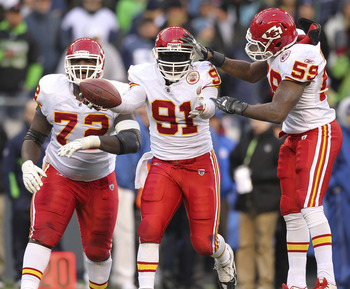 Otto Greule Jr/Getty Images
2011 Ranking: 12th, 21.1 points per game
With the way Kansas City's defense is built, they are set to be one of the most dominant defenses in the league. The matchups between the Chiefs defense and quarterbacks such as Matt Ryan, Drew Brees, Peyton Manning and Philip Rivers should create a lot of media hype.
With Crennel as the defensive coordinator, the Chiefs players on defense have what they need to succeed. If they can come up with pressure, sacks, stops and takeaways, it can also lead to fewer points given up.
So far, the Chiefs gave up 12.6 points per game during Crennel's three games as the interim head coach. It will be interesting to see how the team does this year.
2012 Expectation: Top 10
Special Teams Touchdowns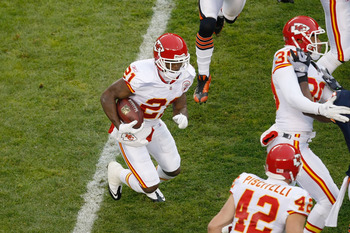 Scott Boehm/Getty Images
2011 Ranking: Tied 21st (last), zero touchdowns all season
The glory days of seeing Tamarick Vanover and Dante Hall explode on special teams is heavily missed. Since Hall was traded, the Chiefs have only had a return touchdown from Charles in 2009 and McCluster in 2010.
20 teams in the league took at least one touchdown back. Kansas City was not one of those 20 teams.
While Charles has been pulled away from his return duties to focus as a running back, the Chiefs have McCluster, Steve Breaston, Javier Arenas, Devon Wylie and Cyrus Gray as possible candidates to return punts and kickoffs this season.
With the past success some of these players have had in the return game, you'd like to think that this season, the Chiefs can at least take one touchdown back.
2012 Expectation: Top 20
Keep Reading

Kansas City Chiefs: Like this team?