Big Air Competition X Games 2012: Everything You Need to Know About Jagger Eaton
June 29, 2012

Harry How/Getty Images
When Jagger Eaton made the 84-foot drop-in this past Thursday at the X Game's Big Air Competition, he became the youngest competitor ever seen at the X Games.
Just a boy—11 years old—the Mesa, Arizona native is competing against men twice his age on the action sport's biggest stage.
Jagger was supposed to be competing alongside his 13-year-old brother Jett, but Jett recently suffered a concussion during a competition, ultimately ending any hope of an X Games appearance this week, according to Tariq Lee of TucsonCitizen.com.
According to Lee's article, the two boys have been skating for seven years under the guidance of their father and coach, Geoff Eaton.
"When my two sons were four and seven I wanted to introduce them to skateboarding. We started by getting them a skateboard, and then I built them a small quarter pipe in the garage at our house."
Geoff Eaton, a gymnastics teacher, built his sons a mini skatepark at his gymnastics facility, which is where they began to elevate their level of skateboarding.
Though Eaton's older brother recently sustained a bad injury, he's not worried about falling or getting hurt, but rather anticipates the company which he'll be enjoying, saying, "It's really cool because I get to skate with all the guys I've looked up to my whole life since I began skateboarding," (via TucsonCitizen.com). 
For those who don't know, the Big Air Competition features an 84-foot drop-in, which is followed by a 55-foot gap and 27-foot quarter pipe.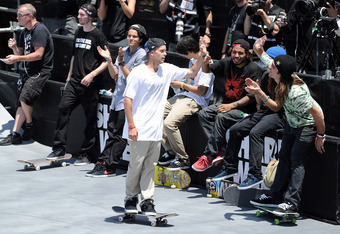 Harry How/Getty Images
My Take:
I don't think there's anything cooler than seeing this 11-year-old kid out there competing against men twice his age on a ramp that's way scarier than a roller coaster.
This kid reminds me of Ryan Sheckler. Sheckler, who is the same age as me, was consistently one of the youngest competitors in every tournament he entered, including when he won gold in the 2003 X Games Park Discipline Competition.
He also reminds me of Sheckler because of the relationship that he has with his father, as Sheckler's dad was the one who originally taught him how to skate.
I wish this kid the best this weekend.
Follow me on Twitter @Pete_Schauer