San Francisco 49ers: Why LaMichael James Will Be the Perfect NFL Scatback
June 29, 2012

Harry How/Getty Images
LaMichael James will be the perfect addition to the San Francisco 49ers offense. James combination of speed, quickness and tenacity were unparalleled in college and will allow him to excel in a scatback role for the 49ers.  
In 2010, James held the NCAA record for all-purpose yards and recorded 24 total touchdowns, ending the season as the Doak Walker award winner. In his final year at Oregon in 2011, James ran for a school-record 1,805 yards and became the school's all-time leading rusher.
James even recorded a punt return touchdown and averaged 9.8 yards per return, another element he brings to this team and something Niners fans will love to have in their back pocket if Ted Ginn goes down again this season.  
While at Stanford, Jim Harbaugh witnessed James run wild against his Cardinal, racking up 233 total yards in 2009 and a whopping 257 rushing yards in 2010. Harbaugh definitely remembered how hard James was to stop and the history between these two definitely fueled his decision to draft James in the second round. Harbaugh witnessed firsthand the skills James possesses and will bring to this team next season.   
The Niners offense last season was based on the ground-and-pound which began up front with their stout offensive line. Pro Bowler Joe Staley anchored the line that produced the eight ranked rushing attack from a season ago.
Harbaugh wants to pound the football, and the combination of Frank Gore, Kendall Hunter and recent addition Brandon Jacobs will work well together to implement the ground-and-pound, clock possession offense that made the Niners successful last season.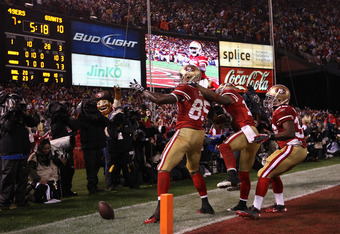 Ezra Shaw/Getty Images
The Niners were successful between the 20s but struggled in the red zone. Alex Smith takes a portion of the responsibility, but the main blame must be placed on the lack of game-changing options the Niners presented opposing defenses.
Harbaugh was limited in his options outside of Vernon Davis and the counter run play. These limitations made the Niners offense very predictable in the red zone, which will all change next season with the addition of James.   
James provides this offense everything it was not last season, quickness, elusiveness and deception especially on third down and in the red zone. James will become a great security blanket for Alex Smith to break tackles and create huge plays to move the chains. James will immediately improve the red zone statistics for the Niners with his ability to stretch the defense from sideline to sideline. 
James' one knock in terms of being a scatback is that he did not catch many passes in college at Oregon. Although James did not affect the game with his receptions, he did do an excellent job of running on third down, something the Niners loved to do last season. In 3rd-and-7 or longer, Harbaugh would occasionally run and punt in order to limit mistakes of Smith and put the onus back on the defense.
The speed, quickness and scoring ability that James possesses is the kind of stuff you find in a video game, so expect Harbaugh to press James' button many times this season. James will be forced to catch more passes than at Oregon, but expect him to develop as a route-runner and learn to use his speed and small size to his advantage, especially on jerk routes and wheels out of the backfield.
This type of route-running will allow James to develop into an elite game-changer in the red zone and completely fulfill his role as NFL scatback.  
This same logic applies to Vernon Davis but as a tight end. Both are incredible athletes and use their athleticism and respective size to elude defenders, creating mismatches across the field. Expect James to make a Sproles-esque impact for the 49ers this season.    
James is the perfect complement to this offense and will allow the 49ers to become a top-10 offense, not just a field-goal kicking machine, which depends on turnovers and great defense to win games. The Niners offense now has the weapons to stretch the field and attack defenses on multiple levels, something that was missing from a year ago.  
The best part about James is that even if he only touches the ball five times a game, the threat that he presents will open up the field for Michael Crabtree and Mario Manningham who live on short passing routes. Alex Smith thrives on the quick passing tree and getting the ball out quickly and the addition of James will also improve their offense on this front, making them that much more formidable.
The large hands of Justin Tuck and other defenders must take that one extra second of hesitation in order to wait for a dump off or screen pass to the highly efficient scatback, LaMichael James.