Portugal vs. Spain Predictions: Cristiano Ronaldo and Stars Who Will Thrive
June 26, 2012

Alex Grimm/Getty Images
Wednesday's Euro 2012 semifinal matchup of Portugal vs. Spain features a wealth of talented stars that will thrive, including Cristiano Ronaldo.
This epic Iberian encounter, a rematch of a World Cup 2010 match which Spain won 1-0, will be hard-fought and well-earned for whichever side emerges the victor.
Spain is the No. 1-ranked team in the world and has come out on top in every match thus far, while Portugal has hit their stride at just the right time.
But which stars will shine brightest during this match?
Cristiano Ronaldo, Portugal
Two weeks ago, I slammed Ronaldo for his tournament performance up to that time. Since then, all he's done is score three times and single-handedly win both of Portugal's Euro matches.
Touché, Cristiano Ronaldo. I shall never doubt you again.
Ronaldo has to be the leader once again for Portugal to knock off the world's No. 1. It might take a supernatural power to overcome Spain, but if anyone can do it, he can.
He's got a fever, and the only prescription is more goals. (Click here if you don't get the reference, but don't die of laughter.)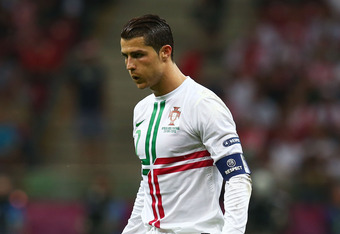 Alex Grimm/Getty Images
Andrés Iniesta, Spain
Spain has been great all tournament long, and the main reason for that is Andrés Iniesta. He has been one of the best players—if not the best player—in the 2012 Euros, and he has done it in many different ways.
As highlighted by B/R Featured Columnist Karl Matchett, Iniesta has been unselfish with the ball, has been one of the most efficient passers of the tournament and has displayed superior ball control throughout.
Iniesta will be up against one of the premier groups of defenders in the world against Portugal, and he must stay patient against them—I don't believe that will be a problem.
Pepe, Portugal
Portugal's best defender, Pepe was brilliant in the quarterfinal match against Czech Republic.
He helped Portugal become the first team at the Euro 2012 tournament not to allow a single shot on target during a match. The Czech opposition were baffled by Pepe and the pillars of defense that make up Portugal's back line.
Goal.com reports that following the opening match loss to Germany, Pepe said the criticism being thrown at Portugal only made his team stronger.
"Criticism makes us grow," he said. "The important thing is that we know we have the capacity to go as far as possible. That is how we have always approached this tournament."
Pepe will have his work cut out for him against Spain. Iniesta is playing so well that it could take one misstep to cost his country a chance at the Henri Delaunay Trophy.
Iker Casillas, Spain
One victory.
That's all Iker Casillas need to become the first player in the world with 100 career international wins.
The world's best goalkeeper is at his best in big games, has been fantastic in the Euros, surrendering only one goal—to Italy in Spain's first match in group play.
Stopping Cristiano Ronaldo will be a challenge, and Casillas told the Spanish newspaper Marca that Cristiano has not yet performed at the level to which the world is accustomed.
"His season at Madrid was incredible in terms of the way he played, the goals and the records," Casillas said. "I don't think that right now he is at his best level."
A warning for his teammates, perhaps.
Prediction: Spain 2-1 Portugal
The stars mentioned here will perform at their best, but for the Portuguese side, it will not be enough.
Ronaldo will score his country's only goal, and Pepe will do what he does. But Iniesta and Casillas will be too much to handle, and Spain will advance to the Euro 2012 final—where they will await the winner of the other semifinal match between Germany and Italy.
Iniesta will assist on both Spanish goals and continue to play at the highest level of his career. Casillas will be once again brilliant and extend his record, becoming the first player with 100 international victories.