Euro 2012: Why Andres Iniesta Has Been the Best Player at the Tournament
Claudio Villa/Getty Images
Euro 2012 has given rise to new names, seen household veterans woo us with fine, final swan songs and, of course, seen a whole host of names fail to live up to expectations. As usual.
One standout name in the crowd remains Spain's Andres Iniesta, who has, possibly more than any other player, retained a fantastically high level of performance for the vast majority of his time on the field—and has been part of a winning team to boot.
The scorer of the winning goal in the 2012 World Cup final, Iniesta has nailed down a spot in the technically talented Spaniards' first choice team. He remains a consistent supplier of chances for his teammates, as well as contributing greatly to the overall tactical approach from the reigning European Championship holders.
Here are five reasons why Iniesta has been the player of the tournament so far.
Incredible Consistency in Passing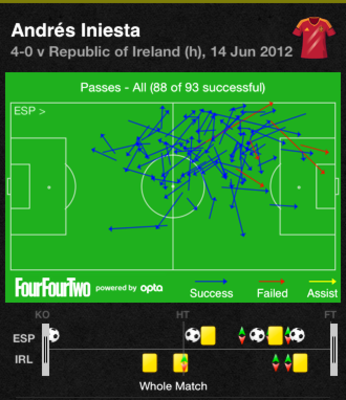 Statistic and imagery courtesy of FourFourTwo Stats Zone
Andres Iniesta has started all four of Spain's games at Euro 2012 thus far and has recorded an average pass completion rate of 90 percent—a quite incredible feat of consistency and ability.
Against Ireland in the Group C match, the playmaker completed a whopping 95 percent of his attempted passes, misplacing just five during the course of the game.
Only left-back Jordi Alba and midfielder Xavi completed more passes.
Indeed, Alba-to-Iniesta (34) and Iniesta-to-Alba (25) were the most frequent combinations of passes in that particular match.
It highlighted the understanding between the two and the level of comfort on the ball, as well as emphasized his importance to the attacking phases of Spain's play.
Ability to Beat a Man with the Ball at His Feet
Jasper Juinen/Getty Images
Playing in a side which values ball retention above all else at times, some neutrals can get exasperated at seeing another seemingly promising move disintegrate into a pass back down the line, infield and finally end up with the central defender inside his own half.
Iniesta, then, is a refreshing alternative and one of the few in the Spanish first team who are able to dribble past a man with the ball.
For all their technical ability, only really David Silva, Juan Mata and Jesus Navas in the current squad have this capability—and Fernando Torres, on a good day—and only one of these players has really played a significant part in the tournament to now.
During the group phase alone, Iniesta attempted no less than 17 dribbles, looking to add another dimension to his team's attack.
Two Footed, Close Control and Incredible Vision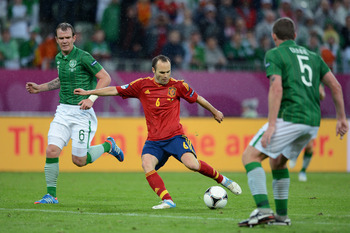 Jasper Juinen/Getty Images
Spain have a plethora of talented individuals, no doubt about it.
Javi Martinez, Juan Mata, Alvaro Negredo and Raul Albiol—all extremely able with the ball at their feet. All would walk into most European squads, and all have barely featured for Spain at the Euros—or not at all.
Iniesta is a cut above. He is a class of player who not only harnesses his ability on the pitch for the best use of his team but also works hard to maintain and improve those levels on a consistent basis.
That is why he is a key component of a club that has won everything going in football over the past three or four years, and a country that has won both the European Championship and the World Cup.
No matter where he receives the ball or how many opponents are close to him, Iniesta backs himself to have the quality to find a teammate with the ball by way of a first-time pass.
He also has smart pieces of skill and unexpected strength to shield the ball until help arrives.
Fitness Issues from Previous Tournaments Are No Longer a Concern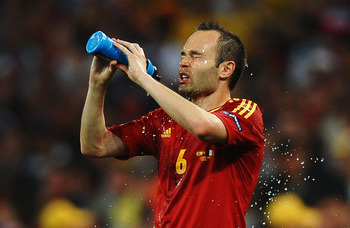 Laurence Griffiths/Getty Images
Despite featuring prominently for Spain at the Euros in 2008 and the World Cup in 2010, Iniesta was not 100 percent fit going into either tournament after a series of muscle injuries during the latter parts of each preceding season with Barcelona.
This time around, the midfield maestro was fit and raring to go and in fine form coming into the tournament. This had his manager, Vicente del Bosque, speaking out about what a difference it could make to the national team.
"[Iniesta] is in fine shape and will be decisive in the six matches we hope to play here. He is enjoying his football, and the doubts we had about his fitness two years ago are absent this year."
The man himself also alluded to the same concerns over injury previously, but allayed any fears that he might be affected for Euro 2012—and so it has proved so far.
"I am in good shape and full of confidence, and I feel like I am in optimum playing condition. It's true that, before both the last European Championship and the World Cup, I always had a problem and this time it's not the case. What I focus on is feeling good and, in this case, I have achieved that."
He Has Already Delivered When It Matters the Most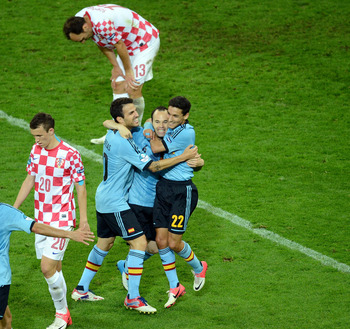 Jasper Juinen/Getty Images
Never mind the winning goal in South Africa. Andres Iniesta has already delivered the goods at important moments for Spain in this tournament.
In the final round of Group C games, with Italy beating Ireland and being ready to end on five points to put them through, Spain and Croatia were drawing 0-0 with both teams creating chances.
A single goal for Croatia would send them through—and Spain crashing out.
After 88 minutes of fruitless trying to break down the Croatia defence, Cesc Fabregas played a lofted pass over the top to Iniesta, who had broken through the offside trap.
This drew the goalkeeper, Stipe Pletikosa, out towards him.
A more selfish player might have tried to beat the keeper and be the hero.
Instead Iniesta recognised the importance of the goal and instead squared the ball, playing in Jesus Navas to smash the ball home from just a few yards out to send Spain through as group winners.
Don't bet against Iniesta having an even more important part to play yet in this tournament, as Spain bid to become the first team to win three major tournaments back-to-back.
Keep Reading