Chicago Bulls: Why Amnestying Carlos Boozer After Next Season Makes Sense
June 26, 2012

Mike Ehrmann/Getty Images
Carlos Boozer is the most scrutinized athlete in Chicago today, but the 2012-13 NBA season could be his last in the Windy City if the Bulls decide to use the amnesty clause on the former All-Star after the season.
Under the new NBA collective bargaining agreement, each team can use one amnesty clause in the next 10 years (the length of the bargaining agreement) to eliminate a bad contract to lower the team's total payroll under the salary cap.
Here is a good breakdown of the provision by FanIQ.com. The amnesty clause basically means that a team can waive a player, and his salary does not contribute towards that team's payroll cap.
Teams under the cap can claim the player, and whichever franchise claims him must pay a portion of the player's salary. The team that waived the player still has to pay the remainder of his salary for the next season, but it does not contribute to the squad's total payroll in terms of the cap.
Boozer has underachieved since signing a five-year, $75-million deal with Chicago in the summer of 2010. While he may provide a solid scoring option down low, it has become clear in the past two seasons that Boozer is not the secondary scoring option the Bulls envisioned him to be alongside former MVP Derrick Rose.
Considering how awful Boozer is on the defensive end, he needs to produce more offensively to earn his paycheck. At the end of the day, it is obvious that the Bulls are overpaying for his services. 
Backup power forward Taj Gibson is due for a raise after next season because he is a restricted free agent, and he has improved in each of his three seasons in Chicago. Gibson will probably make about half of Boozer's salary after his raise, and the price he commands for his defensive value is better for the team than overpaying Boozer for his offensive contributions.
Gibson has room to improve offensively, but if he starts and plays 35 minutes per game, you have to figure that he could end up with at least 12 points and eight rebounds each night.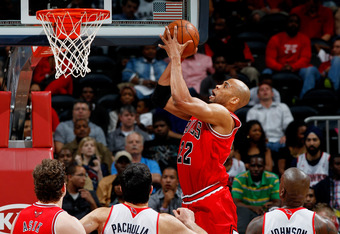 Kevin C. Cox/Getty Images
In the 2011-12 season, Boozer averaged 15.0 points and 8.5 rebounds in 29.5 minutes per game. He was such a defensive liability that Chicago often closed games with Gibson on the floor. 
If a team is willing to trade for Boozer today, the Bulls would have to feel confident inserting Gibson into the starting lineup. 
But the soonest the Bulls will be able to realistically get rid of Boozer is with the amnesty clause after the 2012-13 campaign. If the team elects to exercise the clause and frees up some cap room by trading Luol Deng before or after the season, then Chicago has enough money to go after a top free agent in a talented 2013 class.
With Noah and Gibson filling the front court spots and hopefully a healthy Derrick Rose running the show, the Bulls could add a dynamic perimeter player. This is the next best chance the team has to add a second superstar, which it will need in the postseason to take the next step towards a title.
One intriguing name on that free agent list is Monta Ellis, who has an early termination option with the Milwaukee Bucks. He and Rose could become one of the most electric backcourt scoring duos in the NBA.
I know what you're thinking. Ellis is a defensive liability, and he wouldn't fit in well with Tom Thibodeau's defense-first schemes. He is too small to guard the league's bigger, more athletic shooting guards.
All of that may be true, but look at the Orlando Magic and Dwight Howard.
Chicago could take a page out of their book for how to overcome below-average perimeter defense. The Magic have some of the worst perimeter defenders in the game, yet Howard's presence makes them one of the top defenses in the league every year.
Orlando finished in the top five in points allowed in the 2009-10 and 2010-11 seasons. They were seventh in 2011-12, but Howard missed significant time because of injuries.
Noah, Gibson and Omer Asik form the heart of Chicago's defense. They could combine to have the same effect on the Bulls defense as Howard has on the Magic's.
Rose, if he returns to his old form, has the athleticism and upper body strength to defend opposing shooting guards; he just has to improve his defensive instincts and stay out of foul trouble. Ellis' long arms and skinny frame bodes well for defending opposing point guards.
That way, the Bulls would still have a top-tier defense while adding a dynamic secondary scorer.
It's not like the Bulls would sacrifice all of their perimeter defense by adding Ellis. The starting small forward for this group would most likely be Jimmy Butler, who should be able to consistently defend elite wing players at this stage of his career.
If Chicago's primary competition heading into 2013-14 is still the Miami Heat, the Bulls could effectively match up against the Big Three.
Rose would guard an aging Dwyane Wade, and Butler and Gibson could each take spells guarding LeBron James. When Gibson is guarding LeBron, Noah would handle Bosh. Gibson could also switch and defend Bosh just as effectively, while Ellis would stick to Mario Chalmers or whoever the Miami point guard is at that time.
On offense, James would have to pick his poison between guarding Rose or Ellis. If he locks down Rose, there is no way Wade will be able to keep up with Ellis at that point in both players' careers, and vice versa. Wade's best days are behind him, and Ellis is just entering his prime. 
We could speculate all we want, but don't forget what lies at the root of all evil: money. Financial reasons become the biggest dilemma for the Bulls' amnesty clause possibilities because Boozer is owed $16.8 million for the 2013-14 season. 
Will owner Jerry Reinsdorf be willing to pony up $10-12 million just to get rid of Boozer? And if he is, will he be willing to spend another $10 million to sign a prized free agent?
That's a lot to ask for any owner, especially one who also owns a baseball team on the South Side that sits in the bottom five among MLB teams in total attendance.
So, Bulls fans, maybe its time to start attending White Sox games. It might lead to Boozer's ticket out of town.
.