Predicting Top Offensive, Defensive Stat Leaders for Indianapolis Colts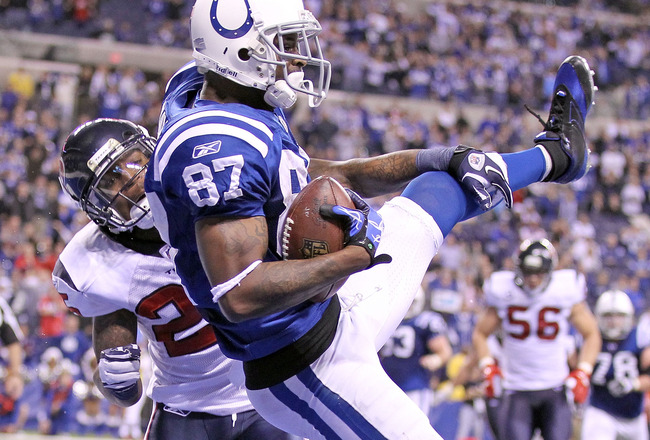 Andy Lyons/Getty Images
The Indianapolis Colts will surely have new stat leaders at almost every major stat. We've grown accustomed to seeing Peyton Manning dominate the offensive stats with Marvin Harrison and Reggie Wayne dominating the receiving stats.

On the defensive side of the ball, Dwight Freeney and Robert Mathis dominated many of the defensive stats, but with the move to linebacking spots, will their stats continue to shine?

These are my predictions for the stat leaders for all the major stats for this upcoming season.
Passing: Andrew Luck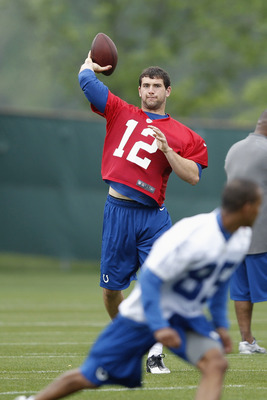 Joe Robbins/Getty Images
Would it be anyone else? Luck is taking over the reigns for Peyton Manning and will surely get every snap at every game unless an unforeseen injury takes place.

This kid needs to gain experience in the NFL, and taking every snap in every game will help him grow and mature to the quarterback he's expected to become. I think Luck will actually fare pretty good in that the NFL is now a passing league and he has all the tools to succeed.

I will just group all the passing stats like touchdowns, interceptions, completions, completion percentage and sacks all into just one big passing category since he will be the lone guy taking snaps.
Rushing TD: Delone Carter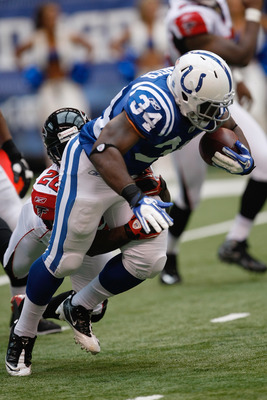 Scott Boehm/Getty Images
The second-year man will surely get more carries this season due to the departure of Joseph Addai. Carter was effective last year, but fumbled too much. I think he will have those problems fixed and be a great second option behind starter Donald Brown this season.

With Carter being the biggest back on the roster, I think the Colts will rely on him in many red-zone or goal-line situations and I think Carter will be able to punch in more touchdowns than any other back for that reason.
Rushing Yards: Donald Brown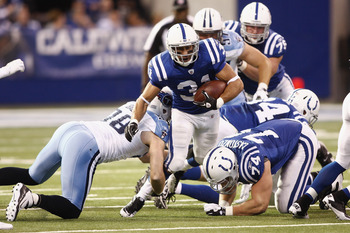 John Grieshop/Getty Images
Donald Brown will be the starter come Week 1, and I think he will get the bulk of the carries all season. Brown is an explosive back and can break big gains. His biggest problem is sometimes, he misses holes or tries to do too much and ends up going nowhere.

I do think Brown will break enough big runs and get enough carries to lead the team in rushing yards this season.
Receiving TDs: Coby Fleener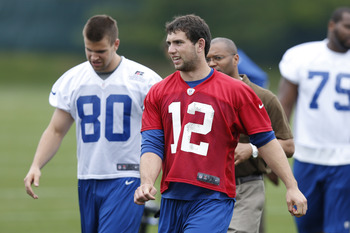 Joe Robbins/Getty Images
This stat used to be dominated by Marvin Harrison and Reggie Wayne, but I think a changing of the guard is coming this year. Wayne had the least amount of touchdown receptions since his rookie season last year, and I think he will get a lot of attention being the primary threat this year.

That opens up Coby Fleener to become Luck's main target when it comes to touchdowns. I don't think the Colts will score off big yardage this year and will be in the red zone when they do have the chance. Fleener is a big target with great hands, which makes him a difficult matchup within 20 yards of the end zone.

With Luck being used to Fleener, I think he will find him often.
Receiving Yards: Coby Fleener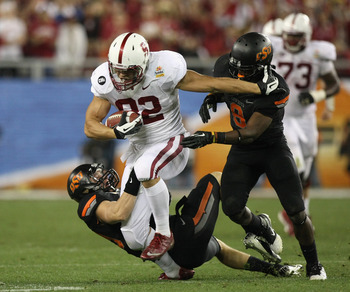 Donald Miralle/Getty Images
Like the previous slide about touchdowns, I feel Luck and Fleener can spread the field for some big gains. Reggie Wayne will garner a ton of attention, and Austin Collie hasn't been himself since his two concussions.

I think Fleener with benefit with a two-tight end system, similar to what Green Bay, New Orleans and New England run, and get majority of the yards to himself.
Defensive Sacks: Robert Mathis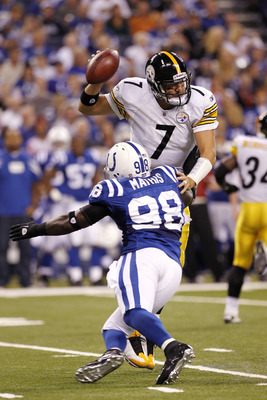 Joe Robbins/Getty Images
I still feel Robert Mathis will be the leader at this stat. He's just so good at rushing the passer, and I think he will thrive more than Dwight Freeney in their new roles. Mathis is so fast and good at finding the quarterback that I see out of a 3-4 pass-rush him being tough to find and block.

I wouldn't be surprised if Mathis has the same kind of production that we've been used to seeing. Him rushing the quarterback will actually be more effective, as he will keep offensive linemen guessing on if he's coming or not without having to line up in the same position doing the same thing every play.

I like Mathis in this category.
Tackles: Pat Angerer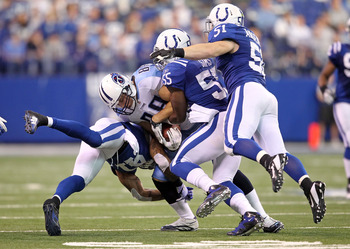 Andy Lyons/Getty Images
If we thought last season was a breakout season for Pat Angerer I think this season will be even better. With the new 3-4 scheme, Angerer will have big Cory Redding making holes for him to split this year and make it easier for Angerer to sniff out the running backs.

With the Colts playing so many teams that rely on running the ball, I think Angerer will get his fare share of tackles stuff in the middle gap. Plus, with new outside linebackers, Angerer will be forced to fly at the ball every time and hog tackles.

I think Angerer could be on the verge of a Pro Bowl selection.
Interceptions: Jerraud Powers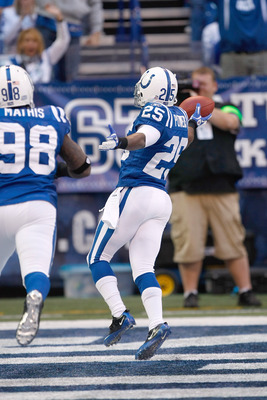 Scott Boehm/Getty Images
Jerraud Powers took it personal when everyone was doubting the Colts secondary last year. He has vowed to make sure the coverage is better and the blame is off the corners.
With the new scheme where corners will be forced to play straight man instead of that weak zone they played for 10-plus years, I think the secondary will get better. If they don't, then it's time for new guys to come in.
I look for Powers to be the biggest playmaker in the secondary as far as interceptions go and get the most for the Colts this season. He's now the veteran as far as corners go on the roster, and he's determined to lead by example.

Return Game- T.Y. Hilton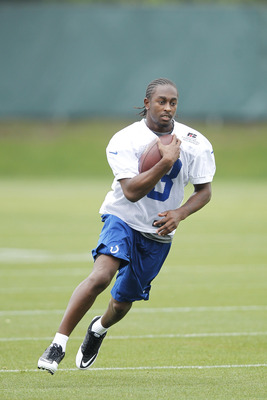 Joe Robbins/Getty Images
The Colts haven't announced their returner yet, but I would be surprised if it was anyone but rookie T.Y. Hilton. Hilton ran a 4.24 40-yard dash time at his pro day and is the best return threat the Colts have had since Aaron Bailey in the 90s.
Hilton is more than capable of breaking big runs off returns, and I think he will be explosive and fun to watch this season in doing so. I expect Hilton to be the return man for quite sometime in Indy, as he will be so valuable to this team.
Keep Reading

Indianapolis Colts: Like this team?