New England Patriots: Which Players Are Key to Success in 2012?
June 23, 2012

Rob Carr/Getty Images
With the buzz of free agency just about gone and the excitement of the NFL Draft all but completely settled, New England Patriots fans now enter one of the most quiet times on the NFL calendar.
Now is a great opportunity to analyze and discuss the Patriots' roster, particularly the players that could play key roles in a successful 2012 season.
To discuss the topic, I am joined by fellow B/R Patriots writer Kyle Cormier. Sticking to our typical Q & A format, let's get right into it.
Question 1: Which offensive player will be key to success?
Kyle: Nate Solder will be a key to the offense's success in 2012. He played as a fill-in at right and left tackle as a rookie last year, but if Brady is going to stay off his back, Solder must be a reliable left tackle week-to-week.
There is no reason to believe that Solder cannot do the job, but until we see it consistently, it has to be looked at as a bit of a question mark.
What makes him so key is the lack of options behind him. Sebastian Vollmer would be the next man up at left tackle, but his health is always in question. Things could get messy quickly if Solder has problems.
James: Nate Solder would be my top pick as well, Kyle.  Tom Brady is the engine that runs this Patriots team and without him upright, the Patriots just aren't as good.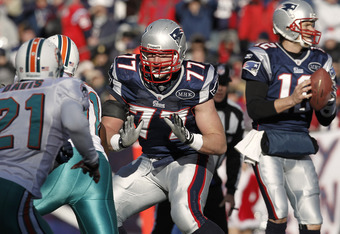 Winslow Townson/Getty Images
The next guy on the offense that I'd say is key in 2012 is Brandon Lloyd.
If Lloyd doesn't perform the way we all expect him to, the Patriots' offense will still be great with Rob Gronkowski, Wes Welker and Aaron Hernandez dominating the middle of the field. However, when the Patriots find themselves against tough defenses that can successfully defend between the numbers (the New York Giants and New York Jets come to mind) an outside presence will be pivotal in finding the win.
Question 2.  Which defensive player will be key to success?
Kyle: Patrick Chung is a huge key to the success of the defense this year. The safety position was a revolving door all of last season, and for it to be solidified, Chung must stay on the field and have the impact he is capable of every week.
His ability to come up in the box and deliver punishing hits is something the Patriots miss when he is out of the lineup. Physicality may be leaving the league with all of the safety issues, but he needs to bring as much of it as he can to give receivers something to think about when they go across the middle. 
James: I like the Chung pick, Kyle.  The Patriots' secondary definitely looks a lot better with No. 25 running around like a madman out there.
However, I'm going to go with Devin McCourty. I recently reviewed a lot of McCourty's 2010 season and was quickly reminded of how good he actually was.
Looking at tape from his rookie season, McCourty didn't luck into many of his seven INTs, he earned most of them with superior ball skills and anticipation. I don't think 2010 was a fluke, as many have speculated.
That kind of talent doesn't just show up one season and go away forever.
Beyond his shoulder injury, what mostly hurt McCourty's performance last season was the horrific play at the free safety position for most of the season. I'm no defensive back, but I think knowing you can depend on help when you need it and being on the same page as the rest of the secondary can go a long way. Newcomer Steve Gregory should be a more dependable option at free safety going forward, which in turn should help McCourty to return to form.
As we all know, the secondary was a huge issue for the Pats a season ago.  A resurrection of the 2010 version of McCourty is pivotal for the success of the defense in 2012.
Question 3: What player will emerge as a surprising contributor?
Kyle: Justin Francis is a name I keep falling back on whenever I look at surprises to make the roster or to impact this year's team, mainly because he has flexibility to line up wherever Bill Belichick asks him to.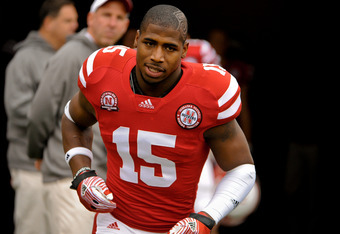 Eric Francis/Getty Images
The good news for the undrafted Francis is that the Patriots have no studs in the middle of the defensive line other than Vince Wilfork. He will be fighting against players like Jonathan Fanene and Kyle Love, but at the end of the day, I think Francis will carve out a niche on this team to get himself a little more time than others may think he'd get.
James: I don't know much about Francis as this point, so I will definitely keep an eye on him during training camp.
Someone that might find a nice role early in this defense is seventh-round pick Alfonzo Dennard. Typically seventh-round picks don't find themselves substantial roles in their rookie seasons, but we're talking about the former Big Ten Defensive Back of the Year who slipped severely in the draft due to off-the-field issues.
Dennard has undeniable talent, and though he's a bit undersized for an NFL cornerback (5'10"), I think he can seriously challenge Kyle Arrington for time in the slot.
Question 4: Which rookie has to step up?
Kyle: Jake Bequette is a rookie that may be asked to contribute a lot for a third-round pick. He will need to step up and handle that role well if he wants to show he deserves to be a part of the defense moving forward.
Chandler Jones may be the higher pick and play the same spot essentially, but I think he needs a little more time to develop.
Looking down the list of selections from this year's draft, I do not think anyone will have more expected of him in 2012 than Jake Bequette. If veteran Andre Carter does not return, he may be just the key to the Patriots' pass rush. 
James: On a rare occasion, I am going to have to completely disagree with you here, Kyle. I think if the Patriots expected Bequette to play a larger role than Chandler Jones in their rookie seasons, they would have drafted Bequette before Jones.
Bill Belichick has been extremely apprehensive to draft pass-rushing DE/OLBs in the first round throughout his career in New England. In fact, barring Richard Seymour, he has never done it (I don't think Ty Warren counts, he's more of a pure 3-4 DE).
It seems Jones has been coined a "project" by just about all of Patriot Nation since he was drafted, and I just don't agree with this notion. While I will agree that Jones is a raw talent (as are most drafted players), I still believe that the Patriots fully expect him to play a large role on the defense as a rookie.
With Mark Anderson in Buffalo and Andre Carter still lingering in free agency, Chandler Jones absolutely has to step up.
Question 5: Which second-year player has to step up?
Kyle: Shane Vereen is a player who barely saw the field a year ago, but this year he could be viewed as the favorite to serve as the team's running back on third downs and in spread formations.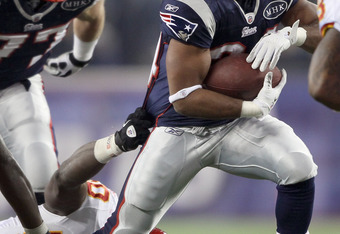 Elsa/Getty Images
Vereen is capable of explosive plays, but in order to showcase that, he must first show the coaching staff he is capable of the most important thing they look for in a third down back, pass-protection. Even if he is a great athlete with the ball, if they cannot rely on him to protect Tom Brady when called upon, he will be fortunate to ever see the field outside of maybe kick returns.
He will have a battle with Danny Woodhead and perhaps even Joseph Addai to earn the role, but as a second-round pick only a year ago, the team would love for Vereen to reach out and grab that spot.
James: Vereen should be fun to watch in 2012, and ditto for Stevan Ridley.

However, I think Ras-I Dowling is a second-year player that absolutely needs to step up and take on a starting role immediately in 2012. Being the first pick of the second round in last year's NFL Draft, there is no doubt that the Patriots have high expectations of Dowling going forward.
The Pats were routinely burned by tall, big and physical WRs last season and Dowling, standing at 6'1'' and weighing nearly 200 lbs, should help alleviate that issue.
Starting his first two NFL games, beating out veteran CBs Leigh Bodden and Kyle Arrington, it's clear that the coaching staff was high on Dowling prior to his hip injury. Having had corrective surgery and now the opportunity to experience a full offseason, I look to Dowling as a player whose development is as important as anyone on this defense.

That will wrap things up. Thanks for joining me, Kyle. It's always refreshing to get a different point of view. Let's do it again soon.

You can find more from James DiMaio on his B/R profile or by following him on Twitter @JamesDiMaio.
Kyle Cormier can also be found on his B/R profile or by following him @KyleJCormier.