Philadelphia Eagles 2011 Season Rewind: 10 Plays to Remember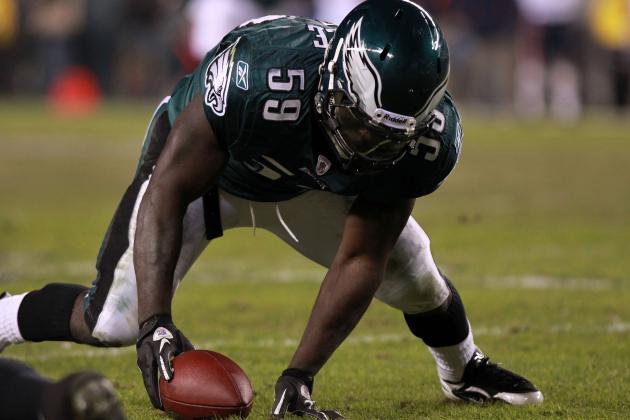 Nick Laham/Getty Images

To help pass the time during the driest period of football news, I thought we'd take a look back at the 2011 Philadelphia Eagles season and reminisce about good plays.
This is meant to complement my "evil twin" article titled "Philadelphia Eagles 2011 Season Rewind: 10 Plays to Forget", when we strolled down misery lane at plays that pissed us off.
Therefore, it's only fair that we remember the good stuff as well, even if there wasn't quite as much of it as the bad stuff.
As a matter of fact, I struggled a little bit finding 10 plays worth mentioning, whereas I had no problem coming up with a long list of bad plays.
Go figure.
Oh, in case you're wondering what "WTG" stands for, it's "Way To Go!" As in the opposite of the vastly more popular "WTH."
I'll be doing a weekly series of WTG and WTH articles starting in September, because every game has moments where we all yell "WTH!" and/or "WTG!"
So, after burning my brain trying to remember plays that stood out more than just a touchdown play, this is what I came up with.
Begin Slideshow

»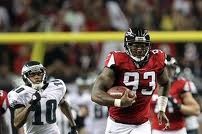 Photo: Jason Getz / jgetz@ajc.com
Your initial reaction to this play may have been more like WTF!, but in retrospect it was an absolutely great individual play by DeSean Jackson. It showed great hustle and the elite speed Jackson possesses.
The Eagles were up 10-7 and had a first-and-goal at the Falcons' 4-yard line at around the two-minute mark of the first half. Michael Vick drops back, gets sacked and fumbles.
Instead of seeing the Eagles go up 17-7, or at least 13-7, we see Edwards pick up the loose ball and begin streaking down the field.
Ronnie Brown gave good chase, but it was Jackson, whom trailed Edwards by about 20 yards, who chased him down for the touchdown-saving tackle. That's right, the tiny 5'10", 170-pound wide receiver tackled the big 6'5", 270-pound defensive end.
To me, this type of play shows more about Jackson than one of his highlight-reel touchdowns.
If you want to view the play, click here.
This was another great individual effort play. It came toward the end of the first half. The Eagles were trailing the Bears 10-3, so it was a huge momentum shifter for the Eagles.
Matt Forte caught a pass out in the flat. Rolle proceeded to strip the ball, then pick it up and run it in for the score. It was perhaps the best play by an Eagles linebacker all season.
With the Eagles down 21-10 in the third quarter versus Atlanta, Jeremy Maclin took a simple wide-receiver screen pass and turned it into an exciting 36-yard touchdown.
Though he might not be as fast as DeSean Jackson, Maclin still has good speed of his own.
*Note: The play we're talking about here is the first one seen in the above video clip.
This was actually the same play as the Maclin screen pass. However, it provides an example of something Jason Peters did on a routine basis.
Just watch how Peters gets out in front and down the field. He's 15 yards downfield when he makes the block and helps spring Maclin for the score. Awesome stuff from the big man!
Offensive line play sometimes goes unheralded. The only time the average fan notices is when an offensive lineman does something wrong. Peters' athleticism and what he actually brought to the offensive line is something all fans, myself included, should appreciate.
In 2011, Peters' skills were highlighted and he dominated under Howard Mudd's scheme. Not having him in 2012 is a huge blow to the team. He will be sorely missed, especially on plays like that.
I remember seeing this play and being like, WTG, Jenkins! Well, it was probably more like: "Kill the QB! However, he was lucky he didn't receive a penalty for helmet-to-helmet contact.
It was a defensive play at the beginning of the game and, at the time, I thought it was going to "set the tone" for the game.
There's almost nothing better than a killer hit by a defender to get you fired up!
If you want to see Jenkins put the smack-down on a New York Giant, click here.
So, have you noticed that four of these first five plays were all in the same game against Atlanta? It was probably the most exciting game of the season. That's because there were numerous big plays and the score went back and forth all night.
However, here are a few other plays that didn't involve a battle of the birds.
*Note: The sack on Ryan is the first play in the video clip.
This was an incredible catch showing great concentration by Celek. It didn't come at a pivotal time of the game. The Eagles were up 14-0 in the second quarter when this took place.
It was just a great individual effort by Celek and certainly elicited a "WTG" reaction.
With less than two minutes to play, the Eagles were clinging to a seven-point lead over the Giants. In a two-minute drill, Eli Manning drove his team from their nine-yard line all the way to the Eagles' 21.
They had a first and 10 with roughly 1:30 left and were moving the ball effectively. However, Manning started to roll out to his right, allowing Babin to catch him quickly from behind.
Babin was able to punch the ball out and it was recovered by Derek Landri.
Game, set, match.
This play was overshadowed by the fact that the Eagles were in the midst of a brutal losing streak and were losing horribly to Buffalo at the time. In addition, Vick threw four interceptions in this game.
However, with the Eagles down 28-7 in the third quarter, Vick busted loose on a 53-yard scramble to Buffalo's 10-yard line. This was the run that put him at No. 1 in all-time rushing yards by a quarterback in NFL history.
He eclipsed the record held by another former Eagle—Randall Cunningham.
I could not find this as an isolated play on YouTube, so you'll have to fast-forward this clip until about the 1:22 mark to see the play (vs. the Jets).
This touchdown run against New York is why some folks compare McCoy's shiftiness to that of Barry Sanders and why his Twitter name is "cut-on-a-dime."
Watch how effortlessly he avoids two defenders in the backfield with his amazing cut-back ability and then takes it to the house.
McCoy is truly a special running back and thankfully we extended his contract this year to keep him in Philly through at least his prime years.
This is a big play just because it shows that Jackson can, in fact, make the tough catch. Jackson is often criticized for not making more plays like this, particularly in the red zone.
You can see him here make the catch in-between two defenders and gets his helmet knocked off on the tackle. Who says DeSean isn't tough?!
This was also an important catch because it came on the Eagles' second possession of the 2011 season. After netting three total yards on their first drive, then watching the defense give up a TD on its first play, Jackson's catch provided a big spark that led to a game-tying score.
I will point out, though, that Jackson seemed to have his head on straight in the beginning of the season, thus the more inspired play. When he began to let his contract issue affect him, that's when we saw his drop-off in production.
This play, along with the earlier play in which he chased down Ray Edwards, show just how well a motivated Jackson can play.