The Battle For Los Angeles: Why The Lakers Will Always Dominate L.A.
June 23, 2012
Harry How/Getty Images
The Los Angeles Clippers, doomed by a history of cheap decisions and questionable judgment calls, have done it once again.
They were supposed to be the new Hollywood kids on the block, the new Purple and Gold if you will. Last offseason gave them all the makings of greatness and Chris Paul made the word "Clippers" hip and gave it trend. They were winning games and selling tickets. A revolution was taking place.
Then, the thinkable happened. Immediately after being swept in the second round of the 2012 NBA playoffs, the Clippers made two choices that will eventually cause their disaster and bring them back to, well, being the Clippers.
First, coach Vinny Del Negro's final contract year was picked up, meaning he'll be holding the reins for the red, white and blue for at least another year. And, second, general manager Neil Olshey was let go following stalled negotiations. He has since moved on to become the Portland Trail Blazers new GM.
Let's take a closer look at the deathly consequences soon to hit a franchise once brimming with promise.
Superficially, many would argue that Del Negro did a fine job in leading the organization to its best winning percentage in franchise history. On the surface, he looks like a coach with promise. But, having studied his style for years, I can tell you he is in fact the opposite of promise.
Stagnant would be a polite way to describe the Clippers' offense. It was not just lacking fluency, it was downright awful. The plays and schematics had no cohesion. Del Negro showed us what a team full of Kobe Bryants would look like: one-on-one basketball at its finest. And, the defense was even less effective than the non-existent offense.
I would argue that any coach could have matched the record Del Negro was able to post this season. It was a record based on the team's pure talent alone. Imagine Jerry Sloan's pick and roll between Blake Griffin and Chris Paul, or Stan Van Gundy's discipline and fire. Both coaches are available and they stuck with Del Negro. Vinny Del Negro? Are you kidding me?
Combine this with the fact that Chris Paul (unrestricted) and Blake Griffin (restricted) will become free agents after the next season. What is going on in the front office of Clipperland?
You mean to tell me that the same year Del Negro's contract expires is the same year that your superstars will both be free to sign elsewhere?
Did Chris Paul not make it clear when he gave the organization a two-year window when he arrived? Although he didn't say it aloud, his actions dictated one thing: Win and win now.
Del Negro has never been a winner and never will be. You would think a team that has been so bad for so long would finally get a clue by maximizing their opportunities, while securing their superstars and franchise in the process. Yet, they rehire mediocrity, which will be rewarded with even more mediocrity.
This, of course, does not equate to Griffin and Paul, and, if they think it does, they should be considered legally insane.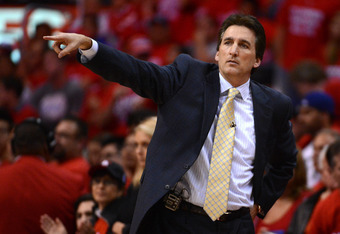 Harry How/Getty Images
Following Del Negro's rehire, general manager Olshey was shown the door. He was the very man who brought in Paul, Chauncey Billups and Nick Young. He would not include Eric Bledsoe in the blockbuster trade deal that landed Paul. And, we all saw first-hand these playoffs just how good Bledsoe can be. Olshey also signed Reggie Evans and retained DeAndre Jordan. He put all the pieces in place for a team that must win now.
To Portland's credit, the Blazers can recognize the importance of a man who can clearly get it done.
So, Del Negro stays and Olshey walks. For a franchise desperately needing to prove it can win, should it not have been the other way around? Donald Sterling was slowly undoing the losing reputation he had created. Yet, in one swift motion, like a baby unwilling to part with an old toy, he has anchored a legacy of misjudgments and terrible decision-making.
It should have become the war of the worlds, L.A. vs. L.A. Rome falls, Greece rises. But, with two characteristic decisions and two soldiers down, Greece challenged and Rome prevails, yet again. This city will always bleed Purple and Gold.