Why LeBron James Is Mentally Tougher Than We Give Him Credit for
June 22, 2012

Ronald Martinez/Getty Images
LeBron James stood up on the podium after receiving his NBA Finals MVP award, after holding the Larry O'Brien trophy, after winning his first title and was asked one of the most cliched questions in all of sports: What was the first thing that ran through your mind? 
LeBron could have said anything. He could have talked about how he was glad to get back at all the haters. He could have credited religion or family. He could have discussed his teammates or given credit to a game Oklahoma City Thunder team. He even could have said that he didn't have words to describe the feeling. 
Instead, he let us know that he has always been far more mentally tough than we have given him credit for using four simple words: "It's about damn time." 
ESPN's Stuart Scott continued the interview and made reference to the almost universal hatred and criticism LeBron has endured for the last two years, which led to the fascinating tidbit that James was bothered by being labeled as selfish.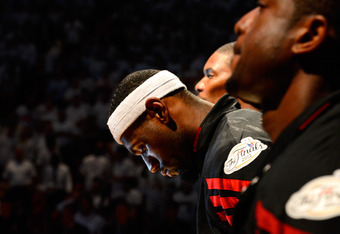 Ronald Martinez/Getty Images
Fans and the media alike have crucified LeBron for every failure in crunch time. They have said that he has lacked the mental strength to make the right decision when it matters most. If LeBron was mentally tough, he would have made the decision to take the final shot and not passed the ball away to Udonis Haslem or whoever else was open. 
Maybe it wasn't that he was mentally weak. Maybe he was just trying to get rid of the selfish stigma, one that he in no way deserved. 
Regardless of his late-game decision-making, LeBron just proved that he is one of the most mentally tough athletes in sports right now. 
How many players have faced the level of scrutiny that he has dealt with for two years? How many have had every single move criticized, every decision derided, every word spoken torn apart?
There is putting a player under a microscope and then there is what LeBron had to deal with. Among the group of athletes that have had to deal with this kind of scrutiny, you can count them on one hand. 
Now, how many of these players got the job done? The list dwindles, but LeBron is still on it.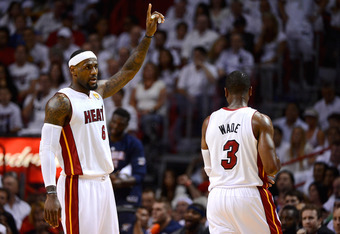 Ronald Martinez/Getty Images
The amount of mental toughness required to overcome the obstacles LeBron had to deal with is off the charts. Yet he put everything aside when he stepped onto the court and delivered one of the greatest individual performances in postseason history.
Thanks to LeBron, the Heat became the first team in NBA history to overcome deficits in three separate playoff series.
When Miami was down 2-1 and playing in Indiana with Chris Bosh out and Dwyane Wade struggling, LeBron stepped up with 40 points, 18 rebounds and nine assists. When Miami was down 3-2 in Boston, LeBron put up 45 points, 15 rebounds and five assists.
Time and time again, he stepped up when the Heat needed him to. LeBron was an assassin. When he got that stone-cold, expressionless look on his face, we all knew it was over. The outside world was shut out and the basketball court became the only world that mattered.
The result of his efforts was not only a ring, but also a tacit declaration that he was, and is, mentally tough.