Charlotte Bobcats: A Look at the Possible Starting Lineup for 2012-2013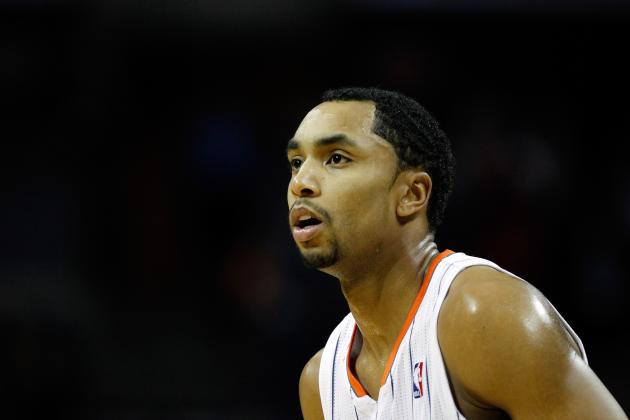 Streeter Lecka/Getty Images

I've been trying to think of a topic for this article for a while. I'm a huge Charlotte Bobcats fan, and just like anyone else who cares about Charlotte basketball and saw the Bobcats play last season, I was embarrassed by what was happening on the floor.
Initially, this was basically going to be a love letter to Gerald Henderson, who I believe is in the midst of a breakout that will put him in the All-Star game within another season or two. I was going to write an article about why the Bobcats need to build around him and treat him as the franchise player.
But I can't shake the drive and potential and pure natural talent of point guard Kemba Walker out of my head.
I can't shove aside the monstrous defensive prowess and raw physical power of Bismack Biyombo.
I can't look past what happens with the second pick, whether it's traded or taken and I can't look past the possibilities of free agency.
So, sorry Gerald—this isn't all about you.
Instead, I'm going to take a look at the potential starting lineup, some key bench players and explain why we should be excited about the coming years. Mike Dunlap was a head-scratching hire, but early impressions are great. He looks to develop the young players on the roster and, according to George Karl, has an elite mind and passion for basketball despite his journeyman-like experience.
There will be a lot of conjecture in this article and this article could be moot by tonight with free agency starting, draft picks being traded, or anything else that can happen. But here's what I believe will be the starting line-up for the Charlotte Bobcats in 2012-2013 and why we can be excited.
Begin Slideshow

»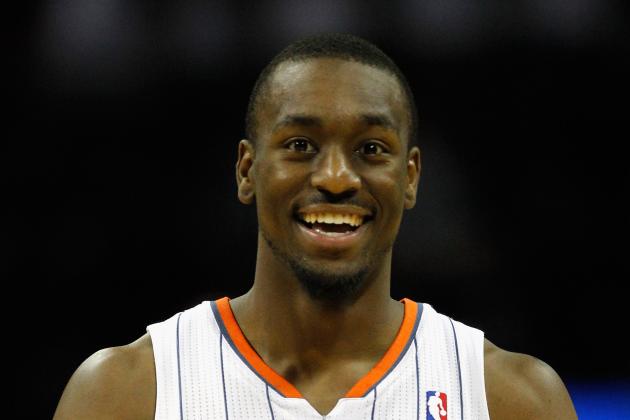 Streeter Lecka/Getty Images

This is a really tough pick, so I'm going to kind of take a middle ground here. If the Bobcats decide to keep DJ Augustin (who is set to become a restricted free agent), he will start at the beginning of the season.
Kemba Walker will be the starter by mid-season, though.
DJ Augustin was drafted and treated as the point guard of the future in Charlotte, but he has been unbelievably disappointing and has not developed into a good enough starting point guard.
On top of that, he has a propensity to get injured (which was the reason Kemba Walker saw so much playing time last season) and if the Bobcats keep him this season, he's just a stopgap to give Kemba a little more time to develop.
Augustin showed last season that he is a capable passer and I think that is the major thing Kemba must be able to learn from Augustin. Kemba is wired to score and he showed his desire to be the go-to scorer for the Bobcats last season, sometimes to great success, but altogether he was an inconsistent shooter. He only shot 36 percent from the floor, which is simply not enough for a point guard, or for anyone in the NBA for that matter.
Via Basketball-reference.com, Kemba averaged 16.1 PPG, 4.7 RPG, and 5.8 APG per 36 minutes. Those stats are not terrible, but I don't think Kemba has realized his role as a Bobcat yet.
He must refine his passing abilities to create opportunities for other teammates. This will obviously raise his assist numbers, but more importantly, it will open Kemba up more to take smarter shots. He can put the ball into the net, but he just took too many overly-ambitious shots last season.
Pass first, shoot second. That is what a small point guard should be, and that is what Kemba must become.
Predicted Season Stats for Kemba Walker
30 MPG, 15.5 PPG, 7.5 APG, 4.6 RPG, 1.0 SPG, 42.0 FG percentage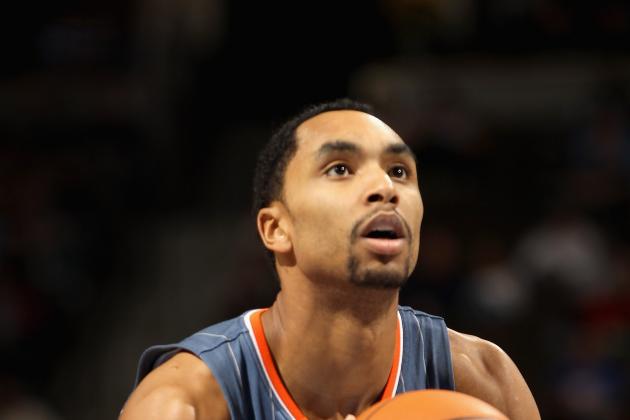 Doug Pensinger/Getty Images

As I stated initially, this entire article was going to be my "love letter" to Gerald Henderson and the player that he is destined to become.
I do believe that, regardless of the progress Kemba makes and regardless of who is picked out of the draft or who we get in return for the draft pick, Gerald Henderson should become the face of the franchise and the player the Bobcats build around.
Gerald Henderson has a very particular style of play and I believe his style of play with the right pieces around him is going to make him and offensive force next season.
Henderson is a slashing shooting guard, capable of making impressive drives to the rim for short range jump shots or lay-ups/dunks. He also possesses a solid mid-range jump shot, but is not a very good option from behind the arc. Does he sound like anyone else you know?
How about Dwyane Wade?
No, I'm not going to be the guy who calls Gerald Henderson—a number 12 pick who has a three-year career average of 9.6 PPG—the next Dwyane Wade. I am, however, going to say that he can become an offensive threat with the right pieces around him that will draw comparisons to Dwyane Wade.
He needs Kemba to feed the ball to him more, he needs a good frontcourt to open up lanes for him and he has the tools to be an All-Star.
Hendo needs to be the next go-to scorer in Charlotte and I think he is going to be just that next season.
Predicted Season Stats for Gerald Henderson
34.5 MPG, 22.3 PPG, 6.5 RPG, 3.2 APG, 1.2 SPG, 47.0 FG percentage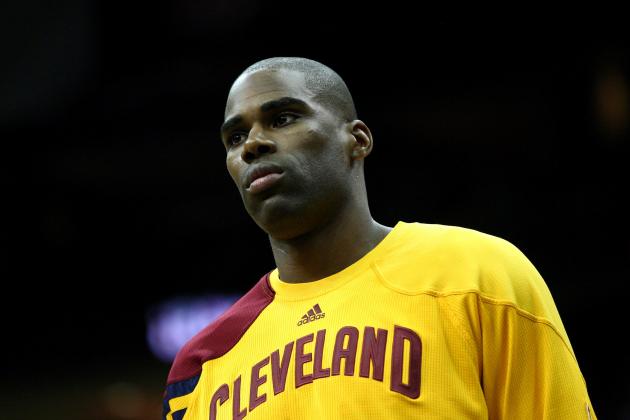 Chris Chambers/Getty Images

Sam Amico of Eox Sports Ohio reports Antawn Jamison may be on the Bobcats' wish list, and I think the Bobcats would be wise to sign him.
Jamison, at 36 years of age, is obviously beginning the final phase of his career. As a North Carolina native, he would like to finish his career by playing for his hometown team and his veteran leadership is something the Bobcats could desperately use.
Not to mention, he's still playing some great basketball.
Putting the 6'8" Jamison at SF instead of Corey Maggette makes a lot more sense, as Jamison has proven to be less fragile and overall is a better player. With forwards on the roster that need mentoring, Jamison is just the man to do that.
He averaged 17.2 PPG and 6.3 RPG last season, is a capable defender, is a great leader and I think his desire to come to Charlotte is unique. Not many free agents are going to want to come to Charlotte to be apart of a massive rebuilding project, but Jamison's desire to come and finish his career here is wonderful and encouraging.
Jamison is a good enough scorer that defenders will be forced to guard him in the post, which is exactly what playmakers like Henderson and Walker need to take more open shots.
The Charlotte Bobcats would be picking up a leader who wants to be a Bobcat and a good player who, despite his age, is still capable of playing good basketball.
Predicted Season Stats for Antawn Jamison
27.5 MPG, 15.2 PPG, 5.6 RPG, 2.2 APG, 0.5 BPG, 43.0 FG percentage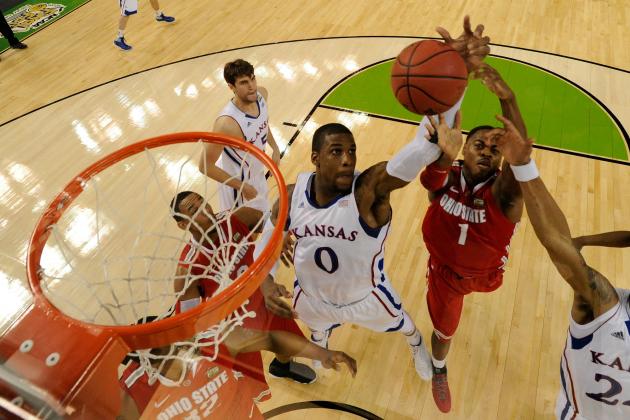 Pool/Getty Images

More conjecture, but I think this is what the Bobcats need to do with the second pick.
Draft Thomas Robinson.
He has the potential to be a double-double machine, an elite rebounder and a solid scorer. He has drive, unbelievable work ethic and a naturally strong, muscular frame that should make him a strong power forward in this league.
Some sites list him at 6'9, others at 6'10. Who cares? He's tall and muscular and a prototypical power forward.
Robinson starting at the beginning of the season depends on a few things: what the Bobcats do with Tyrus Thomas and Bismack Biyombo and what they decide to do at center.
I think Thomas needs to be amnestied and I'll get to Biyombo in a minute. I think Robinson needs to start immediately. If not immediately, then as soon as humanly possible.
Pairing Robinson opposite Antawn Jamison, one of the best forwards in NBA history, would cause many mouths to drool in Charlotte. Having a mentor like Jamison teach a physical, gifted young guy like Robinson is an ideal situation, and should lead to Robinson becoming one of the better forwards in basketball within a couple of years.
He has a nose for the ball, he seems to be able to rebound from everywhere, and he can get to the rim to score. Critics will point at his propensity to take mid-range jump shots too frequently, but if he can start to hit those more consistently and as long as he doesn't interfere with type of player he needs to be—a powerful post player—I don't see that being a huge problem.
This is all, of course, purely conjecture. But I'm going to assume that Robinson starts from day one alongside Antawn Jamison and performs capably enough to be considered for Rookie of the Year honors.
Predicted Season Stats for Thomas Robinson
30.5 MPG, 14.8 PPG, 9.6 RPG, 2.2 APG, 1.0 BPG, 49.0 FG percentage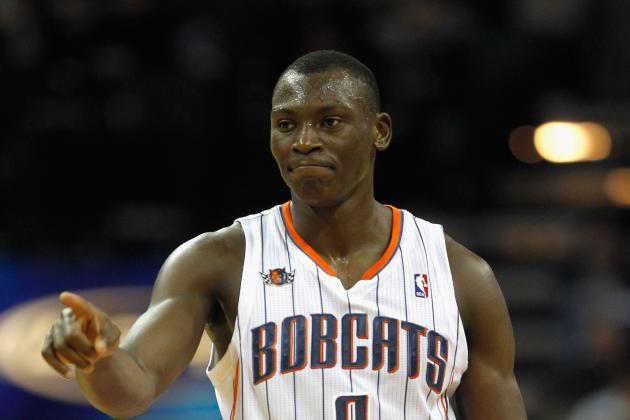 Streeter Lecka/Getty Images

B-Smack.
I know what you're thinking — Bismack is a forward, he's too short to play center. But Bismack is somewhere between 6'9 and 6'10 and has a monstrous 7'6 wingspan that allows him to play much bigger than he actually is.
Bismack is likely never going to score a whole lot. His offensive game is just not refined yet. Even when it does become more refined, he will still be there as a defender and rebounder first and a scorer second, especially with the other potential talent that is going to be around him.
Many favorable comparisons have been made between Biyombo and Serge Ibaka of the Oklahoma City Thunder, and, as I've mentioned in my articles before, I think that's a spot on prediction.
Per 36 minutes last season, Biyombo scored 8.1 PPG, gathered 9.1 RPG, and blocked 2.8 shots per game. With the exception of the shot block numbers, none of that is particularly impressive, but this is keeping in mind the fact that Biyombo was considered a very raw project pick and doesn't even turn 20 until late August of this year.
At center, his defensive capabilities are going to be able to shine. He showed up big in games against the Magic paired against Dwight Howard, considered the best big man in the game, and defended him capably. Under center, Biyombo will not be the tallest center, but he will be one of the most raw physically-gifted centers.
Some experiments can be made rotating Biyombo into and out of the other forward positions with Jamison and Robinson and members off the bench, but I believe his biggest impact will be made under center this season. He's still a project, but I think next season is going to be impressive for the big guy.
Predicted Season Stats for Bismack Biyombo
30.1 MPG, 9.8 PPG, 10.7 RPG, 1.1 APG, 3.0 BPG, 49.5 FG percentage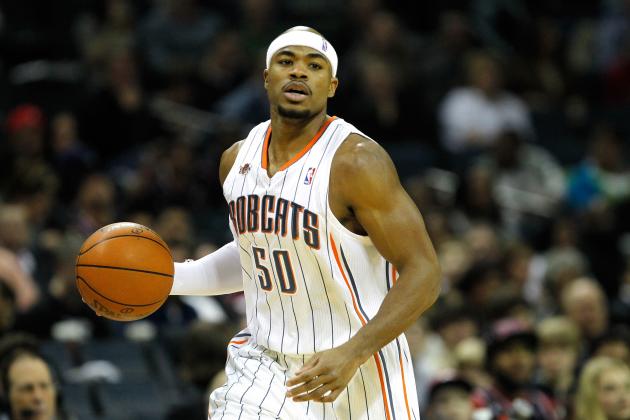 Streeter Lecka/Getty Images

There is going to be movement around the Bobcats organizationally, so I'm only going to talk briefly about three players that may come off the bench and contribute well.
Corey Maggette
Maggette may still very well start for the Bobcats in 2012-2013. Him being on the bench is contingent upon the draft and what is done in free agency for the Bobcats, but he very well may be the starting SF for Charlotte next season.
I think he would be better utilized off the bench. Maggette is at the very end of his career and, while he was fairly effective when he played this season, he has just become an injury magnet. Limiting his minutes would be in his own and in the organization's best interest.
I don't believe he should be amnestied (that should be Tyrus Thomas), because he can still contribute positively from the bench and he is another veteran leader on a young team. Maggette could still get 20-25 MPG off the bench next season and the Bobcats would be wise to gamble on his contract for one more season, if for no other reason than for his leadership.
DJ Augustin
As I mentioned earlier, Augustin is a RFA and, if he is kept by the organization, will likely start at the beginning of the season. I think Kemba Walker will take over fairly quickly, so I'm considering Augustin a bench player if he isn't traded, which he very well could be.
Augustin is more of the type of PG that I want Kemba to be (pass first), but he lacks the confidence to lead this team and he is not a good enough shooter to play the point as a starter. He can become a valuable bench player, or he could become trade bait early in the season. Either way, I think Augustin's career in Charlotte is coming to an end.
Byron Mullens
Mullens was one the few pleasant surprises in Charlotte last season and had far and away the most productive season of his career individually (9.3 PPG, 5.0 RPG, 0.8 BPG, 22.5 MPG).
Mullens has a good jumpshot, but at seven feet tall, he should be able to do more under center. He is basically pushed around and beat up under the hoop, is not a very capable rebounder and lacks any sort of real defensive prowess in the paint.
He's a role player, he can come off the bench to give some of the other big guys a break, he will score some points, eat some minutes and will likely continue to be a fan favorite. Could also be trade bait.
2nd Round Pick
I'm not going to predict who the Bobcats might take with the top pick in the second round, but this is a very deep draft this season. Players like John Jenkins (perhaps the best pure shooter in this draft), Draymond Green and Doron Lamb are all considered late first round/early second round picks. Any one of them could contribute off the bench in a big way.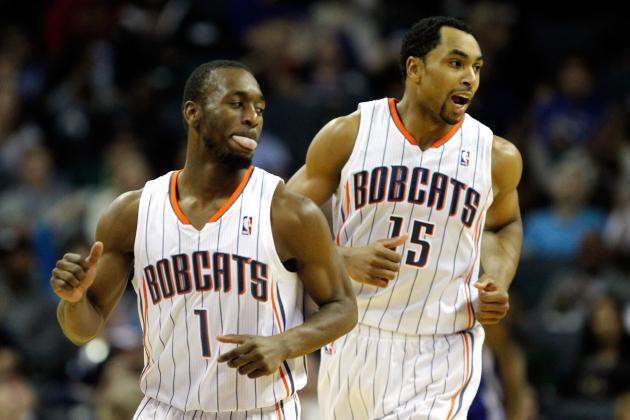 Streeter Lecka/Getty Images

I'm excited because I can feel this team getting better. I see the potential seeping from the pores of the young players on the court and, with more experience, a new coach driven by player development and perhaps a key veteran pick-up in free agency, this team is going to get better.
With the core group of players this team already has and could have by the end of this offseason, the Bobcats will not be in the basement for long. They're not going to be a playoff team next year, maybe not the year after that, either. But they will be soon, and it will be because of the young talent.
Let's just pray Michael Jordan doesn't do anything to screw things up. Trading Gerald Henderson would be a disgraceful move. There are players on this team who are hugely expendable (I'm talking to you, DeSagana Diop) and it seems almost certain the Bobcats will amnesty someone before this offseason is over. If Tyrus Thomas draws any interest in terms of a possible trade, they should send him to whoever wants him for a bag of celery and a high five. If not he should be amnestied.
There are things to look forward to with this team. After a 7-59 season in which we saw virtually everyone either under-perform or injure themselves, it's hard to look at the positives. But they are there, and they will begin to stand out.