2012 NBA Finals: 5 Silver Linings for the Thunder If They Lose Game 5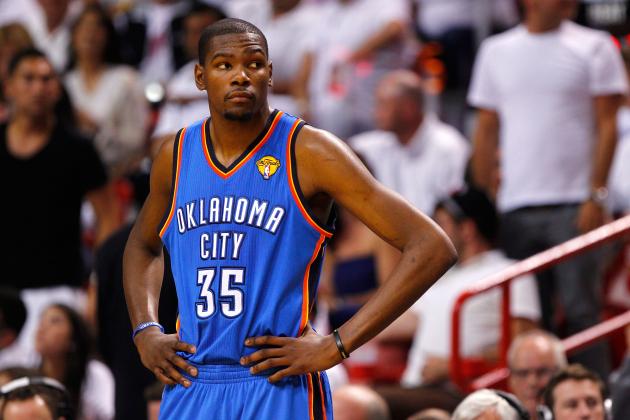 Mike Ehrmann/Getty Images

While the NBA Finals are far from over, it's looking more and more like Kevin Durant and the Thunder are going to lose to LeBron James and the Miami Heat.
It's always hard to come so close to a championship and fall short, but losing this series wouldn't be the end of the world for OKC. Every cloud has a silver lining, and in Oklahoma City's case there are five benefits to losing this series.
Begin Slideshow

»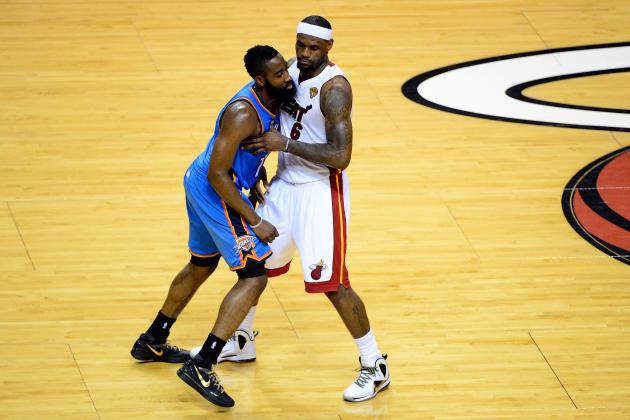 Ronald Martinez/Getty Images

There's no sugarcoating it: James Harden has been awful in the Finals. He's been held to single-digit scoring in three of the four games, and has been called for far too many stupid fouls while guarding LeBron James.
This might be the best possible long-term outcome for the Thunder. Before the series, many thought it would be impossible for the Thunder to re-sign both James Harden and Serge Ibaka. Many thought James Harden would get a maximum contract.
But now? There's just no way that that's going to happen. Nobody is going to pay that kind of money to someone who has choked so badly on the biggest stage.
Harden will still command a big contract, but suddenly it doesn't seem impossible for both he and Ibaka to stay with the Thunder. It might take a little bit of restructuring on Sam Presti's part (perhaps using the amnesty clause on Kendrick Perkins), but now it seems far more likely that the Thunder can afford both Harden and Ibaka long term. If OKC is going to be the league's next dynasty, they'll need both of those guys.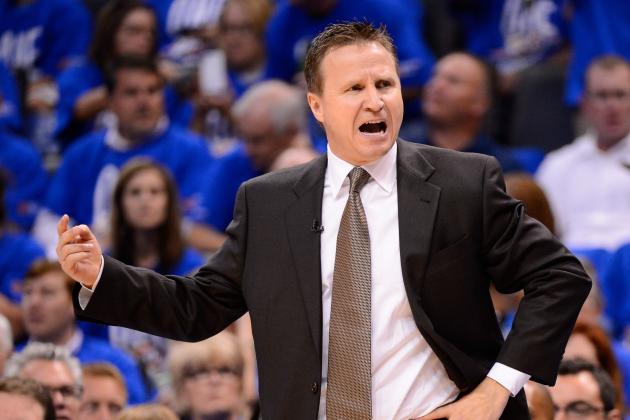 Ronald Martinez/Getty Images

It's been widely reported that Scott Brooks was offered a three-year, $10 million contract and rejected it.
It has also been reported that the Blazers may be interested in trying to steal Brooks. Even if they fail, if any team without a coach sees Brooks become available they'll at least give him a call.
Losing the finals might make him less valuable to other teams. Oklahoma City will do everything they can to bring him back regardless, but Paul Allen has far deeper pockets than Clay Bennett. If Brooks wins the championship Allen may offer him a contract he can't refuse.
Similarly, if Brooks wins a championship in Oklahoma City this year he may feel like he has nothing left to prove with the Thunder.
Losing Brooks would be a big blow to the Thunder but admittedly not a lethal one. If Brooks did leave, every available coach on the market would want that job. That includes Phil Jackson.
Don't get me wrong, I'm 99.99999 percent sure that Scott Brooks isn't going anywhere. Lowering his market value just adds a couple of nines to that percentage.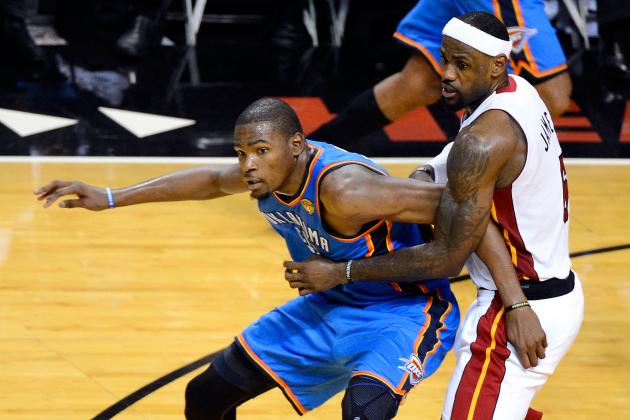 Ronald Martinez/Getty Images

Pat Riley came up with the term "disease of more" to describe what happens to a team after winning a championship. Players want more of everything: shots, exposure, money, etc...
The only thing harder than winning a championship is doing it again.
The Thunder seem like a classic case of the disease of more. If they win, Russell Westbrook might not be satisfied just being Durant's sidekick. He's one of the 10 or 15 best players in the league, and he's more than capable of running his own team.
James Harden might not be satisfied coming off of the bench, even though that's what's best for the team.
Serge Ibaka may no longer be willing to just be a defensive anchor. He may want more shots.
Losing, especially in the manner in which they currently are, would keep the Thunder motivated. They're only going to get better as players, but they need the requisite motivation to keep playing at a championship level as a team.
Oh, and it might help retain Harden and Ibaka. If they get their championship now, they may be inclined to chase the money as free agents. If they lose, they may not want to take the chance of never winning one and re-sign in the offseason.
Motivation is one of the most important components of any championship team. It has shown in LeBron's game during these playoffs, and if Kevin Durant and the Thunder want any chance of beating them in the future they're going to have to match that level of commitment.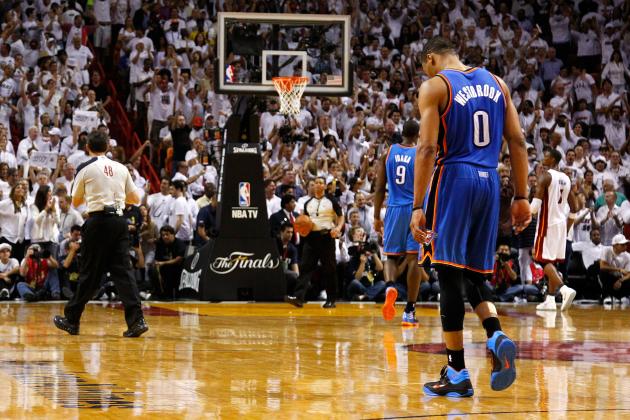 Mike Ehrmann/Getty Images

Russell Westbrook was fantastic in Game 4. That doesn't change the fact that there is no scenario where Russell Westbrook should ever shoot the ball 32 times.
Westbrook has taken 100 shots in the series. Kevin Durant has taken 80. What's wrong with that picture?
Westbrook is an amazing player. But he's not Kevin Durant and he'll never be Kevin Durant. As well as they play together, they'd be even better if Westbrook would focus more on getting Durant the ball rather than creating his own shot.
He's been facing these criticisms throughout his entire career, but maybe losing the NBA Finals because he didn't pass the ball will be enough to wake him up.
Russell Westbrook is one of the most talented players in the league and will be an All-Star for the next decade, but if he wants the Thunder to be the dynasty they can be, he has to learn when to pass the ball. Losing this series to Miami might be just the kick in the pants he needs.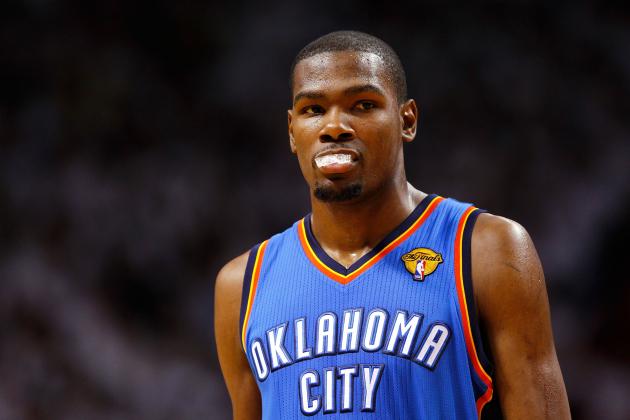 Mike Ehrmann/Getty Images

Kevin Durant might be the best player in the league, but he has holes in his game that LeBron has exposed so far in the Finals.
For someone with his length and athleticism, Durant should be among the best help defenders in the league. He and Russell Westbrook should be forcing as many turnovers as LeBron and Dwyane Wade.
But they aren't. Durant's man defense isn't elite either, and that has shown when he's had to defend LeBron. To be fair, nobody can defend LeBron, but Durant needs to get to a level where he can at least contain him.
LeBron has also physically bullied him. LeBron has at least 15 pounds on him despite giving him three inches. He has shown on the national stage why Kevin Durant needs to bulk up.
These are flaws that aren't going to go away overnight, but are very fixable. Durant is known as an incredibly hard worker, but it's year five and these issues haven't gone away. Just like losing to Miami could change how Russell Westbrook plays, getting embarrassed by LeBron on the biggest stage might be just what Durant needs to put on some muscle and become an elite defender.