Joe Maddon Shows off Awful 1979 Tampa Bay Rays Throwback Uniforms
June 20, 2012

The Tampa Bay Rays have decided to destroy all of the fashion progress that we have made since the 70's when they announced that they would turn back the clock to 1979 next weekend. 
Deadspin's Barry Petchesky reports on an eyesore from the future that is looking to the past.
Apparently, the Rays will put the following powder blue nightmares on their players next weekend when they turn back the clock one painful notch at a time. 
Here is the uniform via the Twitter feed of Jonathan Gantt, a Tampa Bay Rays Communications official.
Joe Maddon models the Rays "hypothetical" 1979 uniform for "Turn Back the Clock" game on June 30: twitter.com/Jonathan_Gantt…

— Jonathan Gantt (@Jonathan_Gantt) June 20, 2012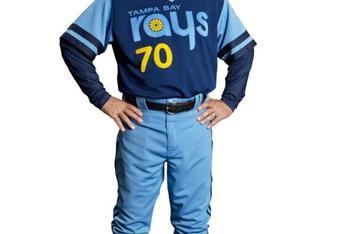 Ahhhhhh! 
The Deadspin report explains the atrocity of the color blue you see above. 
"This time around, they've retro-imagined what the Rays jersey might have looked like had the franchise existed in the '70s, a dark time for baseball fashion." 
Oh, so they are supposed to be awful. At least that is what I assume the premise was, because they certainly didn't utilize the best of 1979.
If they were going to re-imagine the past, why not do it in a way that tells the tale of a fashion utopia, where tacky never set foot on the baseball diamond?
In fact, I feel a bit like Rainier Wolfcastle at the moment. 
With all that gentle ribbing out of the way, the Rays pretty much aced this one. This, unfortunately, is exactly what Rays uniforms would have looked like back in 1979. 
Question for the masses: is it a coincidence that this uniform is based around the year 1979, same as my birth? Because after that, it was all fashion excellence, including hyper colors, Zubaz pants and faded haircuts. 
Yes, I will take credit for the decades of swag that followed the dark ages known as the 70's. You are all very welcome. 
Follow me on Twitter for swagtastic information.