L.A. Lakers: Why Dwight Howard for Andrew Bynum Trade Needs to Happen Now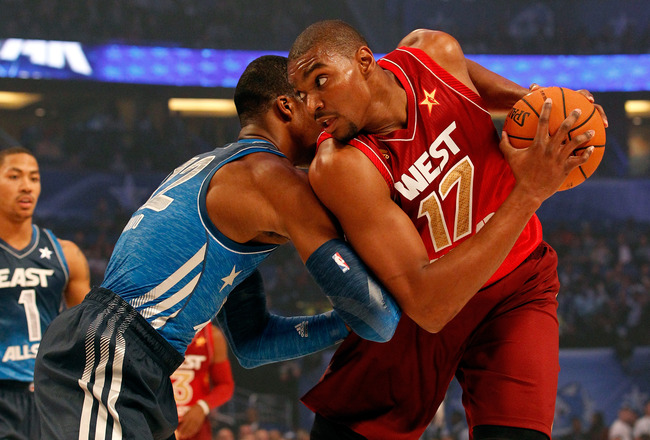 Ronald Martinez/Getty Images
The Los Angeles Lakers are in a precarious position at this point, and the biggest solution to their early playoff exits in the past two seasons seems to be to trade Andrew Bynum or Pau Gasol—or both.
Now, Pau Gasol getting traded will likely lead to a handful of good players coming back in return to give the Lakers depth and a greater number of options.
However, the trade scenario that has plagued the blogosphere over the past decade it seems has been any variation of Dwight Howard going to Los Angeles in exchange for Bynum.
Now, at various points in the past year there have been musings that the Lakers should trade both Bynum and Gasol for Howard, but realistically that leaves them with little wiggle room for the upcoming season, so any notion of that should be chucked out the window right now.
However, if the Lakers are smart they'll send a package offer down to Orlando with Andrew Bynum as the centerpiece in a trade for Dwight Howard—and they'll do it before the season starts.
Dwight Howard's Trade Value Is at an All-Time Low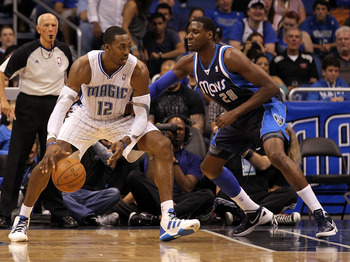 Sam Greenwood/Getty Images
The past six months have looked like a presidential campaign for Dwight Howard. He's said one thing to the cameras and another to his bosses, has played immature games and flip-flopped more than a gymnastics class, and with that campaign his popularity has plummeted.
At this point, the biggest reason that Dwight Howard lost the Defensive Player of the Year award is because nobody liked him. Sure, Tyson Chandler turned the Knicks into a good defensive team, but he's at least got Iman Shumpert to help out. Howard, on the other hand, is playing with a bunch of guys who think defense is what keeps their dogs in the yard.
You could make the case for Chandler, sure, but the fact that he finished behind Serge Ibaka is laughable.
What does this all have to do with anything? Well, quite frankly, the Magic are at the point where getting rid of Howard would probably be better than keeping him for a season, and after realizing nobody was going to pay their huge price last year, they'll surely knock it down this season.
Andrew Bynum's Trade Value Is at an All-Time High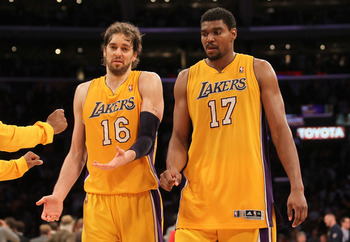 Stephen Dunn/Getty Images
It used to be that Andrew Bynum was the injury-prone, immature, raw talent out in Los Angeles that nobody was sure what to think of, and now phrases like "best center in the NBA" are being thrown around.
Whether you believe that or not, one thing that is undeniable is the fact that Andrew Bynum is no longer a "raw" talent, although he still may be slightly immature and a bit injury prone, although that stigma is sliding away quickly.
The fact can't be ignored that everyone put money down on Bynum's odds to be the player most impacted by the condensed schedule, most likely missing a big chunk of the season due to injury. However, he played 60 out of a possible 66 games this season, which is pretty darn impressive.
Dwight Howard Is Still Better Than Andrew Bynum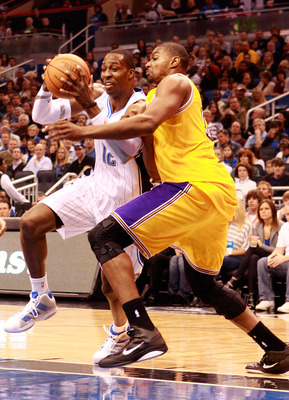 Sam Greenwood/Getty Images
There are arguments one way and the other, but the fact remains that Dwight Howard is still the best center in the NBA.
Offensively, the edge goes to Bynum when it comes to offensive skill set, but Howard is so big, strong and athletic that he's able to score regardless.
Basically you're getting a player on the offensive end who is going to make between 55 and 60 percent of his shots, draw a bunch of fouls (Bynum will make more free throws than Howard), get offensive rebounds and dunk the ball a lot.
On the defensive end it's still not a contest—Dwight Howard wins this one above all the rest of the centers in the league.
Dwight's Got the Hardware, but Not the Ring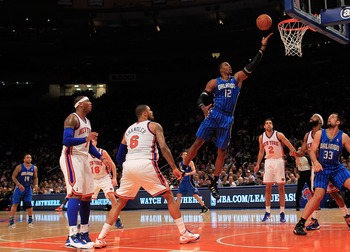 Chris Trotman/Getty Images
It seems like the time is coming for NBA players when they realize that individual accolades are great and all, but the biggest goal is to win a championship. Sure, it seems simple, but it's something that often gets overlooked now that players are referred to as "brands."
LeBron James is currently on the verge of his first title, Deron Williams looks like he's going to be headed to a team he believes can win a title—not where he can earn the most money—and the guys up in New York are looking to return the New York Knicks back to the top of the basketball world.
So, of the greatest players in the NBA, that leaves Dwight Howard sitting in Orlando on a team that is basically him and a bunch of washed-up veterans who can shoot threes and big white dudes who can shoot mid-range jumpers, which looks to be the worst team housing a superstar at this point—as far as futures go, anyway.
Hell, I'd rather be Kevin Love with the Timberwolves at this point.
Anyway, what better way is there to give yourself the best shot at a title if you're Howard than to team up with Kobe Bryant, who'll light the competitive fire under the belly of the Swiss Federal Council?
Dwight Will Likely Sign an Extension with LA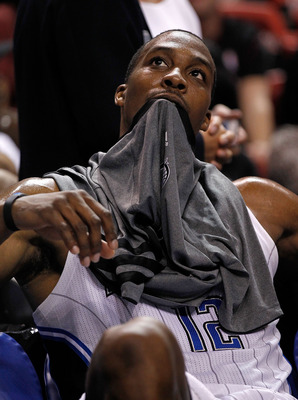 Mike Ehrmann/Getty Images
One of the oldest parts of the Dwight-to-LA rumors has been the fact that Dwight himself wants to play in Los Angeles. Why wouldn't he? I mean, he'd get to follow in the footsteps of some of the best big men to ever play the game.
Unlike most teams that would have to worry about Dwight leaving for another team after being with them for a year, it's likely that Howard would sign an extension with the Lakers should they decide to trade for him.
So, Los Angeles won't be renting him, which is a concern of most teams. They would likely be locking down their starting center for the next decade.
Kobe Bryant's Years Are Winding Down
Ronald Martinez/Getty Images
Kobe Bryant is only 33 years old, but he's played 16 of those years on a basketball court, leaping 60 times a game, running for 36 minutes a game and banging his body into men his size and bigger. At some point he's going to slow down, and the Lakers need someone to pass the torch to.
Now the question that the Lakers have got to ask themselves at this point is whether or not they think Andrew Bynum is going to be a franchise player by the time Kobe's next contract rolls around—which'll be the beginning of the 2014-15 season—or if they'd be better off throwing their chips on another number.
In the end, the dominating defense that Howard brings to the table along with an offensive game that isn't much less efficient than Bynum's—plus the fact that he's only two years older than Bynum—has to give the edge to Dwight Howard.
The Price They Could Pay If They Don't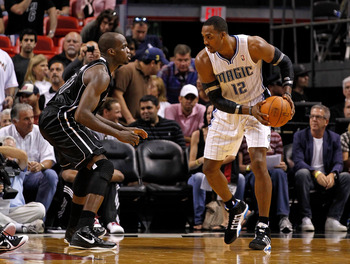 Mike Ehrmann/Getty Images
Let's say the Lakers do decide to stand pat with Andrew Bynum at center, they break a dollar and trade Pau Gasol away and end up with a team that actually is seven players deep.
Then what?
Well, they play through the season, they get a top-three playoff berth—as usual—and they go into the playoffs with high expectations.
If they win, then great, but what happens if they have another early playoff exit? Where do they go from there?
Suddenly they're stuck with their roster. Sure Dwight Howard'll finally be a free agent, but they won't have the money to sign him. Instead they're stuck with a team that's still not good enough to make it to the Finals with a superstar who is eating up their cap space for another season and a center who they need to re-sign, and give him plenty of money to stick around.
At that point their future is less bright, and it's why they should go ahead and start the transition over from Kobe Bryant to another, more proven superstar in Dwight Howard sooner rather than later.
Keep Reading

Los Angeles Lakers: Like this team?