LeBron James' 'Cramp Game' Puts Miami Heat on Brink of NBA Title
June 20, 2012

Mike Ehrmann/Getty Images
There are cramps, and then there are cramps.
There are the kind that bother your brain, like the ones that overcame Russell Westbrook and the young Oklahoma City Thunder. And then there are the kind that lock up your leg, like the ones through which LeBron James played from halftime on (per ESPN's Brian Windhorst) in the Miami Heat's 104-98 win in Game 4 of the 2012 NBA Finals on Tuesday night.
Like a lack of electrolytes was ever any match for LeBron's desire to silence his detractors and move one step closer to finally hoisting the Larry O'Brien Trophy for the first time.
James sure didn't seem like he would've needed an IV of Gatorade after a first half that looked "passive" on tape, though putting up 10 points, six rebounds and eight assists while guiding the Heat back from a 17-point first-quarter deficit is presumably enough work to stir up a debilitating dose of lactic acid in a hurry.
That monkey clinging so tenuously to his back probably didn't help matters either.
If James was struggling with any pain in the third quarter, he certainly didn't show it. LeBron poured in another 10 immediately after the half, including Miami's last eight points prior to the start of the fourth quarter, albeit with a pair of missed free throws mixed in.
And then, with the Heat nursing a two-point lead at the 5:18 mark, LeBron fell to the floor on a drive to the basket. He took his sweet time getting up, and could do little more than hobble around once he did.
James was in such pain that he needed to be carried off the floor, with trainers vigorously attending to his right quad, like a NASCAR pit crew scurrying to get a car back on the track.
With LeBron out, Kevin Durant was finally free to move and shoot without the biggest, "guardiest" small forward on the planet pushing and overpowering him at every turn.
Four points by the Durantula, a pair of miscues by Mario Chalmers, and it was high time for LeBron's return. Somewhere between Willis Reed dragging himself onto the floor for Game 7 of the 1970 NBA Finals with a torn thigh muscle and Paul Pierce ditching the wheelchair in Game 1 of the 2008 finals, there was James, back on the court with 4:05 left to play, after falling down and getting back up.
And like Reed and Pierce before him, James' presence was enough to spark Miami to victory. A three-pointer from straightaway—LeBron's last three points of the night—put the Heat up for good at 97-94.
LeBron came out of the game with just under a minute to play and could do little more than watch, with a combination of agony and ecstasy, as Russell Westbrook went all Russell Westbrook and Mario Chalmers scored five of his 25 points to seal the deal for Miami.
But his work had been done, and done remarkably well—26 points, nine rebounds, 12 assists (one fewer than the Thunder had) and two steals, along with a defensive effort that left Kevin Durant straining to get open looks for most of the night.
To be sure, it was no "Flu Game," no Michael Jordan laboring through 44 minutes of physical hell to score 38 points, rip down seven rebounds, drop five dimes, snatch three steals and block a shot (for good measure) in a two-point win in Game 5 of the '97 finals. James wasn't stricken with illness from start to finish in this one.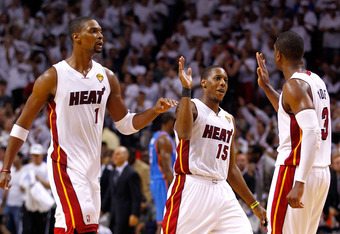 Mike Ehrmann/Getty Images
Nor did he have to do so much on his own. He had Dwyane Wade, a former NBA Finals MVP, stuffing the stat sheet with 25 points, five rebounds, three assists, two steals and two blocks. He had Chalmers donning a mustache, a red hat and blue overalls to the effect of 25 points, including 15 in the fourth quarter. He had Chris Bosh clawing his way to 13 points and nine boards like a velociraptor storming its way through an industrial kitchen.
Not that their contributions need to detract from how brilliant LeBron was, even (and especially) without being brash. It was "just" another virtuoso performance in a seemingly never-ending string of them. LeBron's been so good for so long this playoff run that he's made all-time greatness seem rote and monotonous, like Barcelona playing the "beautiful game" to near-perfection and evoking little more than boredom.  
With one more rebound, James would've etched his name alongside those of Magic Johnson, Wilt Chamberlain, Bill Russell, Bob Cousy and Larry Bird as the only players in league history to record more than one triple-double in the NBA Finals over the course of their respective careers.
Instead, LeBron came away with something much more important, much more immortalizing—a win for his Heat, who now own a historically insurmountable 3-1 series lead. No team has ever relinquished such a commanding advantage in the finals, not in 30 previous instances overall or 13 since the format flipped to 2-3-2.
These Heat won't likely be the first. James won't let them, and the mistake-prone Thunder, valiant as their efforts have been and will be, won't let themselves.
Maybe the series is over in five. Maybe OKC pushes it to six. The basketball gods would be grateful, given how glorious the competition has been between these two teams. But, at the end of the day, LeBron is too close to that last, inevitable step toward his first ring that so many thought (and some hoped) he might never achieve.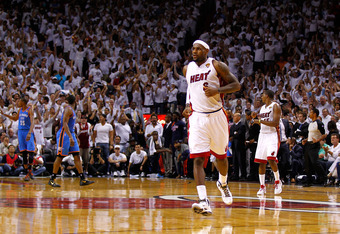 Mike Ehrmann/Getty Images
The jokes and the memes won't disappear, though. There will be new ones, of cramps in the clutch, to go along with the cracks about LeBron's massive headband and receding hairline.
But it's LeBron who will laugh last and laugh hardest. He has a defining moment now—the "Cramp Game," they'll call it.
Now, all that's left is the defining moment, when he can finally fling the monkey off his back and shout to the heavens like he's Kevin Garnett.
In the meantime, a little extra hydration couldn't hurt.