8 Encouraging Signs Heading into Tennessee Titans' 2012 Season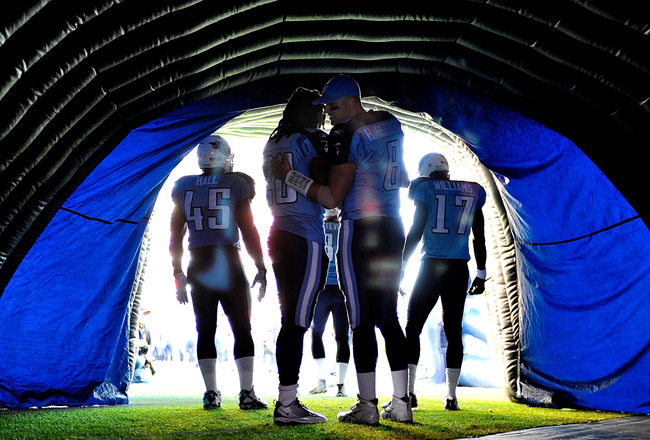 Grant Halverson/Getty Images
It's that time of year when everyone is feeling pretty good about their team—call it optimism season.
Everyone looks at the new names wearing their teams' colors with rose-colored glasses on, believing that everyone signed and drafted will be an instant hit and that any breakout candidates on the roster will rise to their peaks.
Of course, things don't always go as planned, otherwise we wouldn't have the term "bust" in our collective vocabularies.
However, there are usually clues that lead us to believe certain things written and said about players. Here is the most encouraging news Titans fans have to look forward to so far.
Coaching Staff Having a Full Offseason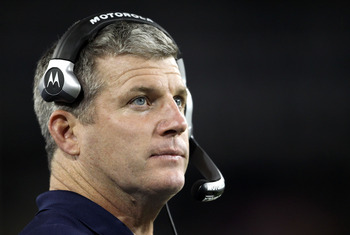 Andy Lyons/Getty Images
Last year, neither OC Chris Palmer or defensive coordinator Jerry Gray had the opportunity to teach the playbooks to the team.
Despite the lockout hampering Mike Munchak's regime's first season, the Titans still managed to improve on the previous season's record by going 9-7.
With a full offseason to work with, Palmer will be able to have the offense learn more intricate plays, and Gray will be able to do a lot of the things we heard him talk about last year but never saw.
Jurrell Casey and Karl Klug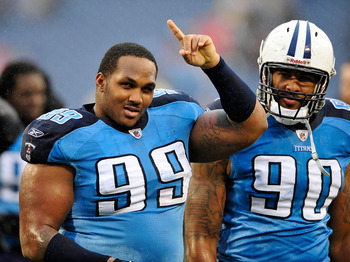 Grant Halverson/Getty Images
Having a deep rotation of defensive linemen has long been a hallmark of Tennessee Titans football, but with the departure of Jeff Fisher went some of the team's quality.
The Titans were without former team sack leaders Kyle Vanden Bosch and Jason Babin, who had both moved on in recent years.
Combine that with what proved to be an erroneous decision to move Jason Jones to defensive end and the team was left with sub-par talent across the board ...
Except for a couple of mid-round selection rookie named Jurrell Casey and Karl Klug. The two rarely shared the field but easily led the way for the teams otherwise poor unit.
Casey was an elite level run-stopper in his first year, while Klug led the team in sacks and was a constant pest up the middle.
The team did add Mike Martin to the position, but otherwise the position is largely the same. Perhaps this season the two will share the field more often, providing a very balanced combination of run and pass defense from the interior.
With Wimbley now there to add pressure from the outside along with a still improving Derrick Morgan, there is no telling how good these two young stalwarts can be.
Kemerion Wimbley Addition
The Titans had one of the league's most mediocre pass rushes last season with only 28 sacks on the year.
The addition of Kemerion Wimbley from the Oakland Raiders is expected to help remedy the situation. In his career, Wembley has posted 42.5 sacks in six seasons, good for a little more than seven sacks per year.
Seven sacks is a welcome addition to Tennessee, as the team leader in the category posted that amount last season.
According to a CBSsports report, Mike Munchak thinks Wimbley has been a consummate professional as well:
"He's a pro, he practices the way you want him to," Munchak said of Wimbley. "We can do different packages with him and get some mismatches with him in the pass rush."
The team hopes Wimbley's addition will help first-round draft pick Derrick Morgan finally become the player he was drafted to be.
Michael Griffin Maturing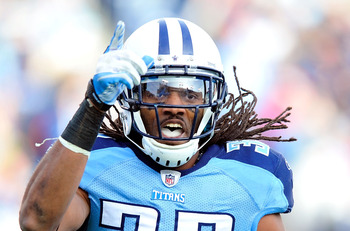 Grant Halverson/Getty Images
Heading into this offseason, Michael Griffin was on the chopping block.
He was, and may still be, an extremely inconsistent player who struggled with separating his personal life from the game and playing well regardless of those around.
However, the Titans quickly discovered how shallow a pool of talent there is at the safety position in the NFL and despite all the latter negatives, Griffin is still considered a top-10 safety.
Since being franchised, and now re-signed, Griffin has taken the initiative in becoming a leader and has displayed some improved work ethic, according to an NFL.com report.
"Michael is a talented and successful young player for us," said Titans general manager Ruston Webster. "The goal is to keep a core of talented young players together and let them grow and Griff fits in that group. He showed a great deal of professionalism in how he dealt with this situation and he is invested in making this team better."
If Griffin plays anywhere near the level he did in 2010—153 tackles, four interceptions, 14 passes defended, two forced fumbles and two fumble recoveries—it should go a long way in covering up for the departure of Cortland Finnegan.
Kenny Britt's Recovery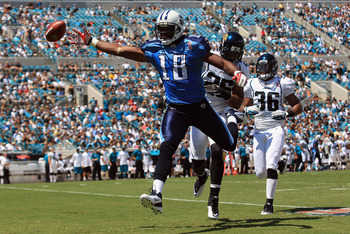 Streeter Lecka/Getty Images
Remember last year around this time? People were worried whether Kenny Britt would be suspended or even make the roster due to his sixth run-in with the law since being drafted by the Titans.
Luckily, neither of those things happened, and we got a glimpse of what Britt can become when healthy. Through the first two weeks of the 2011-12 season, Britt brought in 14 catches for 271 yards and three touchdowns.
Then, in Week 3, his season ended with a torn anterior cruciate ligament injury. Since then, Britt has had two surgeries and has been running cutting drills as recently as Thursday, without a brace.
Britt even stated that he is a week ahead of schedule in his recovery process.
Young Cornerbacks Corps Stepping Up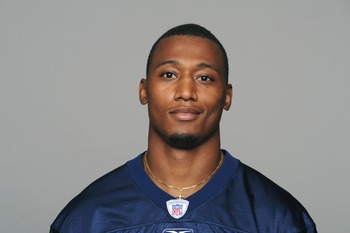 Handout/Getty Images
Long-time annoyance to all opposing receivers Cortland Finnegan is no longer with Titans after the Titans balked at the $10 million a year offer the St. Louis Rams gave him.
The team still has quality options in Jason McCourty, who after a poor rookie season has continuously shown marked improvement, and Alterraun Verner, who boasts experience at nickel and outside.
Verner is in a battle to take over Finnegan's former role, while McCourty has taken over the mantle of No. 1 corner.
In the meantime, second-year man Tommie Campbell has shown his work ethic after being lauded for his improved coverage technique.
Chris Mouton, coming of an ACL injury, and rookie Coty Sensabaugh figure to be the next to in line at the position and round out a very young, fast and athletic group of talent.
The emergence of Campbell could be a major boon for the franchise, allowing it to move on seamlessly from the days of the feisty Finnegan.
Drafting of Kendall Wright
In the 2010-11 season, the Tennessee Titans called a total of 474 passing plays. Last season, under the new coaching regime, there were 584 passing plays.
If that wasn't a big enough sign that the Titans had finally moved its offense into the modern NFL, drafting Kendall Wright left no doubts.
Unless there is an elite defense to pair with a team's elite running game, that team isn't going anywhere. Even then, those teams have not been successful in recent years when it comes to winning Super Bowls.
Since being drafted, Wright has excelled in learning the split end, flanker and slot receiver positions and offensive coordinator Chris Palmer plans to get him on the field early and often.
If Kenny Britt is healthy and Nate Washington shows the same skill he did last season, the Titans can have a scary passing attack in 2012.
Chris Johnson Bulked Up and in Shape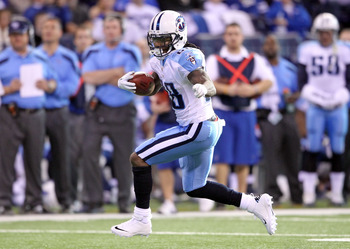 Andy Lyons/Getty Images
Chris Johnson came into training camp late and out of shape last year after holding out for a huge $53 million contract.
According to Dan Pompei of the National Football Post, "people who know" Johnson say that the running back has rededicated himself and will have a bounce back season.
CJ2K has spent a ton of time around the Titans' training facility and weight room and has put on eight to nine pounds of muscle as part of his strong commitment to the Titans' offseason program.
"A lot of the weeks he has been here all five when that is not even necessary to do," Munchak said. "I think he is realizing the benefits of being here and the benefits of being around his teammates. Like I said right from the beginning that builds a lot of chemistry and a lot of camaraderie and I think that is one of the biggest things that he has helped us with."
With an expanded passing attack and a return to form by Johnson, the Titans have the potential to field an elite offensive unit.
Keep Reading

Tennessee Titans: Like this team?