New York Giants: Which Super Bowl Team Was Better?
June 19, 2012

Nick Laham/Getty Images
The New York Giants have shocked the world twice in a five-year span, coming from nowhere to beat the New England Patriots and win the Super Bowl. 
A championship is a championship, and so Giants fans probably couldn't care less which team was technically stronger. That said, it's a fascinating debate which is ripe for the least busy part of the offseason, and thus was launched earlier today by Ed Valentine from the popular Giants blog, Big Blue View.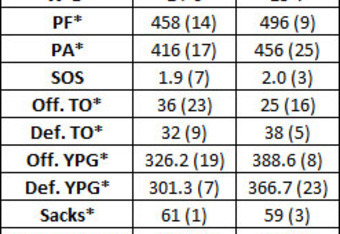 Shall we compare?
The similarities are kinda awesome. The '07 Giants won an extra game, but the '11 Giants won their division. The '07 squad outscored its opponents by 2.1 points per game, while the '11 team did so by 2.0 points per game. 
They were similar, too, in terms of pass-rushing prowess and their ability to force turnovers on defense. 
Where they differed is that the recent Giants team was much more dangerous offensively, particularly through the air, while the '07 team was sloppier and less efficient. They made up for that, however, on the defensive side of the ball, where they surrendered 65 fewer yards per game than the 2011 Giants did.
That '07 team out-gained their opponents by 25 yards per game, while the more recent champion did so by 22 yards per game. 
The numbers indicate that the '07 Giants were just as weak in pass protection, but that wasn't actually the case at all. Eli Manning was sacked nearly as often in 2011 as he was in 2007, but he faced far more pressure last year. The offensive line on the 2007 team was undoubtedly better.
What also didn't make it onto the chart was that the 2007 G-men were much more effective on the ground, where they averaged 4.6 yards per attempt that year but only 3.5 this past season. The 2011 secondary was also weaker, and as a result they gave up half a yard per attempt more than the 2007 pass defense did.
That 2007 Giants team didn't do anything particularly badly, but turnovers and a lack of elite players on offense were the big reason why they weren't considered a powerhouse until they actually won it all. 
The 2011 team had more polarity. They were extremely good at putting points and yards on the board, but they were extremely bad at running the ball, protecting the passer and defending against the pass (however, it was interesting to find that while the '07 team gave up 13 fewer 20-yard completions, they actually surrendered four more 40-yard completions than the '11 team did).
So the first Tom Coughlin championship team was more balanced and predictable, but a little less exciting. They lacked the sizzle that this recent winner possessed. They had zero All-Pros, while this past year's Giants had Jason Pierre-Paul as a first-team All-Pro and Victor Cruz as a second-team All-Pro. Osi Umenyiora was the only Giants Pro Bowler in '07, while Manning and Pierre-Paul made it in '11.
Additionally, this Giants team was probably hit by more potentially devastating injuries than the 2007 version, which is a big reason why Football Outsiders ranked the 2012 squad ahead of that one. 
The problem is that aside from Umenyiora, Plaxico Burress and maybe Justin Tuck, that team didn't have many dominant players. The most recent version has Umenyiora, Tuck, a much-improved Manning, Pierre-Paul, Victor Cruz, Hakeem Nicks and even the extremely underrated Corey Webster.
The only big-time contributor they've lost is Michael Strahan, who wasn't the same player at that point in his career anyway. 
That, to me, is why I'd give the 2011 Giants a small edge.
What do you guys think? Vote in the poll and comment below.