Houston Texans: Why Teams Must Watch out for Matt Schaub in 2012
June 19, 2012

Thomas B. Shea/Getty Images
The biggest question surrounding the 2012 Houston Texans is what version of Matt Schaub is going to appear on the football field?
A common thought right now is Matt Schaub will not be the same quarterback once he steps onto the field. Schaub and Andre Johnson were out of OTAs and minicamp for precautionary reasons, according to John McClain of The Houston Chronicle.
Making fans and NFL experts believe the Lisfranc injury suffered on his right foot will be too much for Schaub to overcome. 
But others, including myself, believe the Texans could still be heading into the Super Bowl's direction with the help of Matt Schaub at quarterback. 
Matt Schaub is a quarterback and not a running back.  I realize I may be oversimplifying the Lisfranc injury to a degree, but Schaub is not expected to cut and run around for a living.  He has already proven throughout his career that he is no Michael Vick.  In 2009, Schaub had the most rushing attempts of his career with 48.  Those 48 carries only equated to a total of 57 rushing yards. 
I realize feet are important to a quarterback.  But as long as Schaub can drop back and step into his throws, the Lisfranc injury should be of no concern to his on-field performance or playing style.
All of this concern over his injured foot might just be media driven anyways.  Houston lawyer and Houston Texans blogger Stephanie Stradley observed Schaub at practice and stated:
"Matt Schaub was doing agility drills on a side field with a number of other players who were not practicing. Looks like he is moving very well…He was moving very well.  If you didn't know he was injured last season, you wouldn't know by watching him now."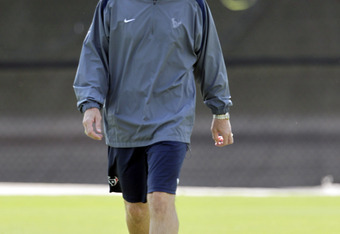 Bob Levey/Getty Images
According to McClain, Matt Schaub should be 100 percent healthy when training camp starts. 
The Texans may now be a better team both physically and mentally than the one Matt Schaub left. 
After Schaub's injury, the Texans three quarterbacks combined for five passing touchdowns and three interceptions.  Leading the charge was fifth-round rookie quarterback T.J. Yates.  With Yates at quarterback, the Houston Texans franchise won their first playoff game. 
One could argue, not much of that victory should be credited to T.J. Yates.  The Texans won the game as a team.  The Texans proved to themselves and the rest of the NFL that they can be productive and win in the playoffs without the services of two of their three most proficient offensive players. 
The Texans showed with the young Yates at quarterback that even in the absence of Matt Schaub and Andre Johnson, others like Arian Foster, Ben Tate and Owen Daniels could step up and lead this franchise.   
This is the team Matt Schaub is now walking into.  A Houston Texans franchise that has proven to themselves they can win football games as a team. Plus let's not forget, Matt Schaub is still walking into a locker room that went 7-3 with him as their starting quarterback. 
At 30 years old last season, Schaub showed no signs of slowing.  He still completed 61 percent of his passes, while throwing 15 touchdowns and only six interceptions.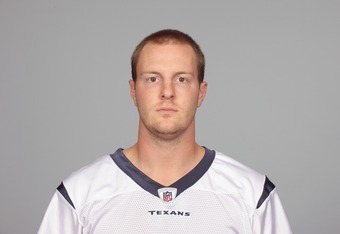 Handout/Getty Images
I would never argue Matt Schaub is an elite level NFL quarterback that should be compared to Tom Brady, Peyton Manning or Drew Brees.  But Schaub definitely ranks in the next level of NFL quarterbacks. 
Even at 31 years old, Schaub's level of play should be expected to far surpass the level seen from T.J. Yates.  So you combine Schaub with the level of confidence and talent the Texans franchise has shown, and things could be special this upcoming season for Matt Schaub and the Houston Texans franchise. 
Schaub's true level of success may not even have anything to truly do with him.  Even though Andre Johnson has experienced his own rash of injuries, he is still arguably the most talented wide receiver in the NFL.  He makes every other receiver and quarterback on the roster better. 
I know the argument can be made that the Texans lack real NFL depth behind the injury-prone Johnson and aging veteran Kevin Walter.  However, I do not think fans should discount the additions of DeVier Posey and Keshawn Martin though. 
With my current location, I have had the ability to watch both of these players throughout most of their collegiate careers.  I will state right now, I do not believe either will ever become great NFL wide receivers, but is that really what the Texans need from them? 
Andre Johnson is already the team's superstar at wide receiver and the undisputed No. 1 wide receiver on the roster.  Gary Kubiak wants nothing more than to move Kevin Walter back to his more natural position of the slot.  In order for him to do so, he needs one of his rookies to step up and prove their NFL worth quickly.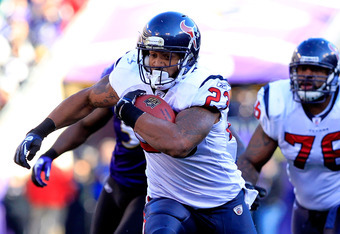 Chris Trotman/Getty Images
I believe that receiver will be DeVier Posey. 
Posey is a solid but unspectacular wide receiver, who reminds me a lot of a former Houston Texan Derrick Mason.  The addition of both of these receivers should nicely compliment the veterans that are already in place.    
In addition to Johnson, Schaub is still the proud quarterback of a backfield that possesses Arian Foster and Ben Tate.  Foster proved without Schaub last season, he has all the capabilities of taking over an offense when needed.  Ben Tate's 5.5 yards per carry and nearly 1,000 rushing yards is also not something to overlook.
Even the Texans' right side of their offensive line is improving.  Gary Kubiak stated, via Stradley:
"(on RG Brandon Brooks) I see flashes that he's capable of being a starter in this League.  He's got a great opportunity.  He's out there going head-to-head with Gump (Antoine Caldwell) every day…  With his size and stuff, there's been talk about that he's not our type of guy.  That's bull.  He can do everything we want him to do…"

"(on T Derek Newton) Newton is a totally different guy than last year.  He's much more understanding of pro football and schemes, so his talents are taking over.  He's going to push the heck out of (Rashad) Butler.  It's going to be fun to watch.  The best guy will come out of it, so he's doing well."
The starting quarterback is always credited too much success when the team is winning and given too much of the blame when the teams losses.  Why should the NFL be afraid of Matt Schaub and the Houston Texans?  Because the Texans have already proven they are one of the better teams in the NFL without Matt Schaub. 
Even if the Texans only get 80 percent of what Matt Schaub was, than they should be in the running for the Super Bowl.  If Schaub does come back fully healthy, than not only could he have a career season, but the sky just might be the limit for what this Texans offense is capable of accomplishing. 
Matt Schaub will be deadly this season for one reason above all others.  This Texans offense is stocked and loaded with Pro Bowl caliber talent.