NBA Free Agency 2012: Power Ranking the Most Dynamic Athletes on the Market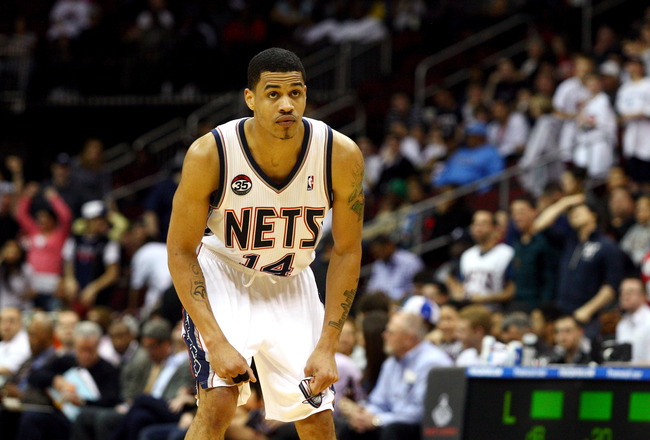 Chris Chambers/Getty Images
The 2012 NBA free agent class has the potential to change the landscape of the NBA, and at the front of that change is the infusion of the kind of athleticism to keep up with the Durant's and Westbrook's of the league.
Here's a look at the top 10 athletes in this year's free agent class, including both unrestricted and restricted free agents, so the playing field is level as some teams will match contracts and some teams won't.
10. Ryan Hollins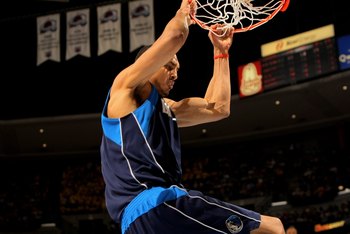 Doug Pensinger/Getty Images
Hollins is a lot of things on the court. He's loud, energetic and has a lot of characteristics as his current teammate, Kevin Garnett.
He also is one of the best athletes at the center position in the entire league, but specifically he cracks the top 10 of most dynamic athletes due to his high-ranging shot blocking and above-the-rim dunks.
Though he hasn't cracked a rotation of a good team yet, he's still young, and a very cheap option as a reserve center. Teams can capitalize on his potential at the point, and let him run out and do what he does best—jump.
9. Nic Batum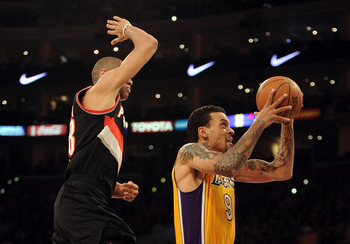 Harry How/Getty Images
The Portland small forward and Frenchman has made a name for himself with three-point marksmanship and solid defense, but he can also get above the rim any time he wants.
He helped make Gerald Wallace expendable and hopefully Portland can find a way to retain him in the free agent market, since he is a restricted player and they can match any offer.
8. George Hill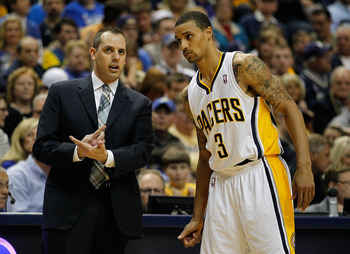 Gregory Shamus/Getty Images
Hill learned out how to to play the game from Gregg Popovich and Co. in San Antonio, but he did it with athleticism at IUPUI and during his experimental process as a rookie and young gun in the Alamo City.
Now the starting point guard for the Indiana Pacers, the creativity to finish with both contact and avoiding it has made him one of the most underrated players in the Eastern Conference.
He's one of the most athletic guards in the league on both offense and defense, and even though he's overshadowed by Granger, George, Hibbert and others, he still makes the list as one of the best athletes in the free agent class.
7. JJ Hickson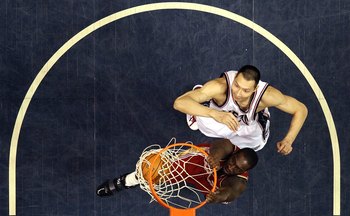 Jim McIsaac/Getty Images
Hickson was once deemed untradable by Cavaliers management, and boy did that one turn out to haunt them a little bit on the LeBron front.
However, Hickson has always been a great athlete without the polished skills of a true power forward. Now that he's got some more seasoning and the opportunity to pick a team, it will be interesting to see what kind of player he turns into—athletic showman or solid Brandon Bass-type.
6. Nick Young
Bonehead, no defense and ballhog are words that come to mind when you think of Nick Young, but don't forget to add uber-athletic to that list as well.
The video of his sweet 360 spin against the Mavs a couple years ago was good enough to land him a spot, but Young has plenty more to offer in his game on a nightly basis. If he didn't settle for jumpers so often he might be higher on this list.
5. Jeremy Evans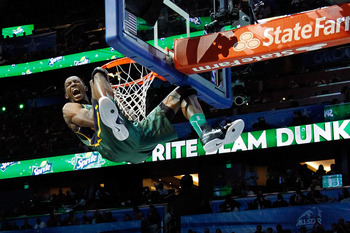 Mike Ehrmann/Getty Images
He's not at the top of the list just yet, but this young man certainly deserves mention even if his most storied accomplishment of his pro career is in a contest that many feel is dead.
Evans put on a show at the dunk contest in 2012, earning him the crown and the respect of his fellow top-notch athletes. He'll hopefully have a chance to show some of his other basketball talents very soon, and crack a rotation when he signs his new contract.
4. JaVale McGee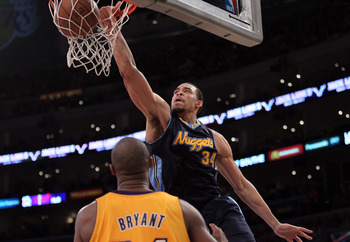 Jeff Gross/Getty Images
It's hard to believe McGee was a former small forward at Nevada, where his collegiate coach pictured him as a bigger version of a do-everything player.
Now, he's a center, and there's no one more athletic at his position except Dwight Howard. He makes shot blocks and even dunks look effortless, including the three-ball dunk at the dunk contest a couple years ago.
Truly one of the great athletes to watch in the sport.
3. JR Smith
Smith has long been one of the best athletes in the NBA, but this is one of the first times he's been a free agent. He found a home in China during the lockout, and then brought the Knicks some high-flying dunks and three-point shooting for their playoff run.
Now as a free agent, he'll have the luxury to decide which team he'll play for again. A return to the Knicks seems out of sorts, but wherever he plays he'll do the best he can to be the most athletic player on his team.
2. Shannon Brown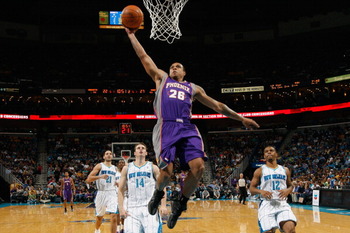 Chris Graythen/Getty Images
By the time Brown got to L.A. after his time in Charlotte, he was really only known for being able to dunk at a high efficiency. After that, he became Kobe Bryant's dunking partner, and the rest is history.
He's an unrestricted free agent yet again, and after not finding much success in Phoenix, could he return to the Lakers and bolster their bench?
Who knows, but Brown certainly is one of the most dynamic players in the fast break and can go off at any second.
1. Gerald Green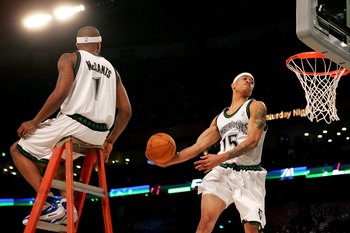 Ronald Martinez/Getty Images
The high-flying high schooler hasn't lived up to his potential as an NBA star just yet, but he had a breakout campaign for the Brooklyn Nets where he proved that he's still the best athlete in this group of free agents.
Whether it's getting up on the fast break or doing it at a dunk contest, Green has always found an NBA home because he's usually the most athletic person on the court when he's in the 10.
Green will find an NBA home this offseason, and make some pretty good money. Ironically, it's because he's improved as a shooter and defender, not because he's a better athlete than other people in the league.
Keep Reading