New England Patriots Must Prepare for Logan Mankins to Miss Start of 2012
June 18, 2012

Jim Rogash/Getty Images
The New England Patriots have a decision on their hands. All-Pro left guard Logan Mankins is working his way back from a torn ACL suffered in the AFC Championship game, but might not be ready for the start of 2012. As a result, the Patriots must prep Mankins' replacement.
According to ESPN's AFC East beat writer James Walker, Mankins could very well begin the season on the physically unable to perform list. If Mankins is placed on the PUP list, he would be unable to return to action until Week 6 at the earliest.
"The average recovery time is about nine months, which should take Mankins into November, if not later," said ESPN's Walker.
At this juncture, head coach Bill Belichick and director of player personnel Nick Caserio must hope for the best while expecting the worst. For the well-being of quarterback Tom Brady and the Pats' offense, a stopgap must emerge to fill the trenches.
Who can replace Mankins on the offensive line?
The answer will likely be a newcomer to Foxboro: Robert Gallery.
Gallery was signed by New England in March and provides the team with three assets—size, experience and versatility.
The 6'7", 325-pound lineman is not afraid to battle any pass rusher lined up in front of him. His massive frame is partly why he was the No. 2 overall selection in the 2004 NFL draft by the Oakland Raiders.
The 31-year-old is a seasoned veteran of eight NFL seasons with the Raiders and Seattle Seahawks. Gallery is used to having significant playing time, and has started 103 of his 104 games played.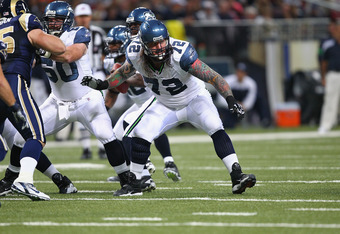 Dilip Vishwanat/Getty Images
What makes the Iowa product so valuable, however, is his position flexibility. The big blocker has seen plenty of action at both offensive guard and offensive tackle.
Gallery had this to say when Tom Layman of the Boston Herald asked about his fit with New England:
"It was a good fit for both of us," Gallery said. "I've been told that they are going to put the best five guys on the field. I'm going to be one of the best five guys, that's my goal."
Now, this all may be for not, as the Boston Herald's Jeff Howe reports that Mankins is slowly working his way back and improving. Yet, it's important to have a backup plan if the clock starts ticking on the 2012 regular season.
At the end of the day, it's hard to fill the void left by Mankins. Since he was selected in Round 1 of the 2005 NFL draft, the 30-year-old has started 104 contests.
If Mankins can't get on the field come Week 1, look for Gallery to jump into the fold.