NBA Finals 2012: Divvying Up Credit for Miami Heat's Game 3 Win vs. OKC Thunder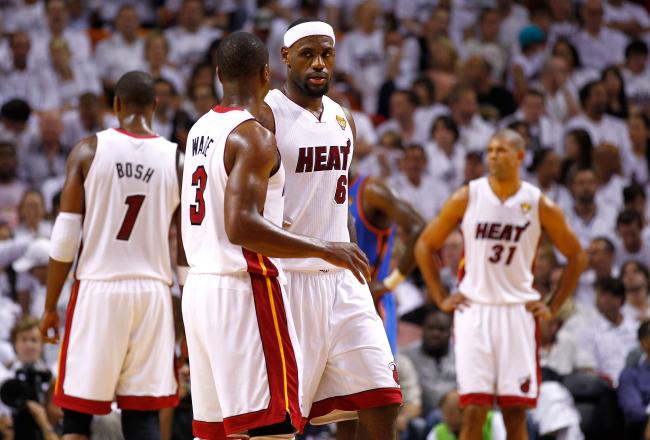 Mike Ehrmann/Getty Images
Let's put the Blame Game: Oklahoma City Thunder Edition on hold for a hot second here and (dare I suggest it?) give the Miami Heat some props for pulling out a gritty 91-85 win in Game 3 of the 2012 NBA Finals.
Sure, Thunder coach Scott Brooks looks like the goat of all goats for sitting Kevin Durant (with foul trouble) and Russell Westbrook (with...ummm...control trouble?) late in the third quarter, during which the Heat ripped off a 15-3 run to flip a 10-point deficit into a two-point advantage.
As easy as it is to throw around cliches about how OKC "lost" this game, let's not forget that Miami still had to take advantage of the situation (i.e. Daequan Cook, Derek Fisher and Thabo Sefolosha on the floor together) laid bare before their feet.
Though, truth be told, the Heat had plenty of their own foibles to deal with, like the fact that they hit 1-of-26 shots between three and 23 feet (per Hoopdata.com), or that they turned the ball over nine times in the fourth quarter, or that Chris Bosh couldn't hit the broad side of a barn after a solid stretch to start the game.
So how exactly did the Heat pull this one out again?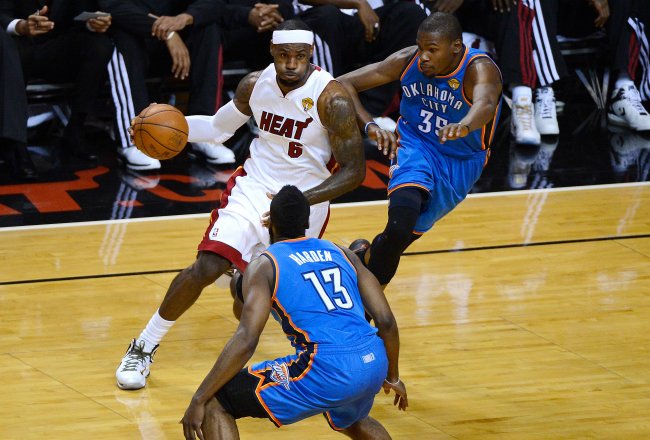 Ronald Martinez/Getty Images
If LeBron James deserved at all to be demonized for seizing up like Linda Richman in the fourth quarter in years past, then surely he's due for high praise when he comes through in the clutch—like he did in Game 3.
James was once again outstanding down the stretch, scoring eight points in the final frame—three of which came on a crucial and-one with less than four minutes remaining.
But it was 'Bron 'Bron's defense late in the game that was most impressive. After struggling at times to handle Durant's defensive length earlier on, James managed to flip the script, hounding the slender scoring champ with his own bulk and athleticism. As a result, the Durantula managed to hit just 2-of-6 shots from the field in the fourth, including a 1-of-5 performance while James was draped over him, according to ESPN.com's Brian Windhorst.
This, after Durant had lit up Miami for 33 points in the first two fourth quarters of this series combined.
Mind you, this is all without mentioning that LeBron played superbly throughout the first 36 minutes as well. In total, he scored 29 points (on 23 shots), which actually lowered his scoring average for these Finals from 31 points per game to 30.3. He pulled down a game-high 14 rebounds, including five on the offensive end, displaying the sort of hustle and determination you'd expect from a superstar still chasing his first ring.
And aside from a less-than-sightly assist-to-turnover ratio of 3-to-4, James was responsible, at least in part, for Durant's foul troubles (assuming the refs don't deserve all of the blame for calling things as tightly as they did between these two).
In other words, it was just another day at the office for LeBron—the best player on the planet and arguably the most gifted baller to ever grace the NBA.
Credit Share: 30 Percent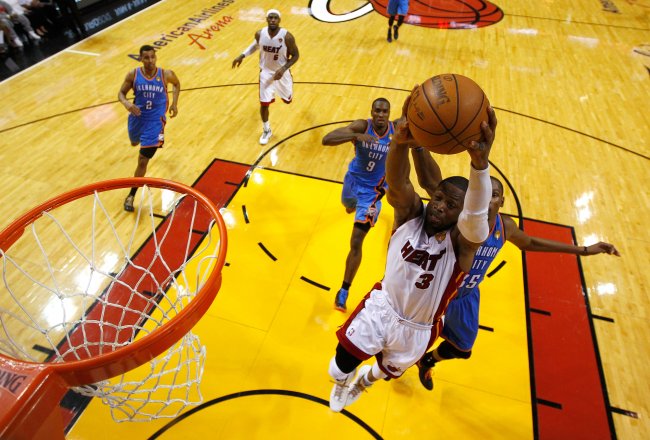 Mike Ehrmann/Getty Images
Of course, Batman's job is that much easier when he has 'Also Batman' by his side.
Not that that should diminish the contributions of either of Miami's caped crusaders.
To be sure, Dwyane Wade's night had as plenty of nadirs to accompany the usual zeniths. He missed 10-of-15 shots in the first half and registered a team-high five turnovers—four of which came in the fourth quarter.
But, by the same token, Wade did plenty to contribute positively to Miami's cause, to which his line of 25 points, seven rebounds and seven assists stands as an obvious testament. The former Finals MVP was particularly prolific in the third quarter, when he scored 11 points (including a five-for-six shooting stretch from the free-throw line) to catalyze the Heat's comeback while Durant and Westbrook sat for OKC.
Most impressive of all (at least, given Wade's age, injuries and the supposed decline that both factors portend), Wade played a game-high 45 minutes, including the last three quarters in their entirety.
Meanwhile, for those LeBron haters still lurking out there, James played a "measly" 44 minutes, with breathers scattered between the second and third quarters.
Credit Share: 25 Percent
Chris Bosh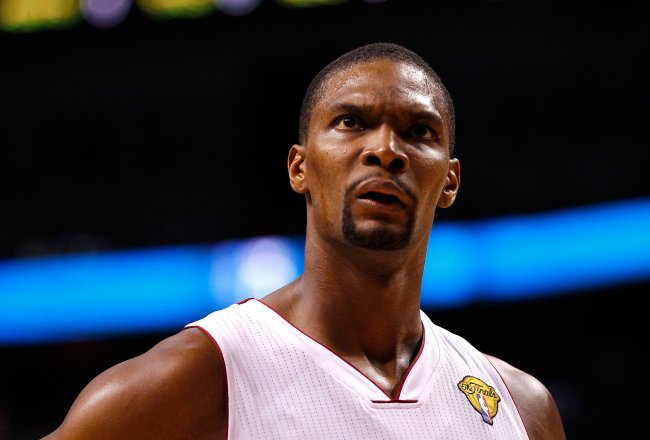 Mike Ehrmann/Getty Images
Okay, okay, so I dissed Chris Bosh earlier. Big deal. In all honesty, the guy was anything but a total drain on Miami's resources.
Granted, a 3-for-12 shooting performance doesn't exactly qualify as merit badge material, but Bosh's contributions elsewhere were enough to hold up the good name of big men everywhere—especially in a series that's seen it so sullied, thanks to the likes of Kendrick Perkins and Udonis Haslem.
CB4's performance on the boards was straight out of Locash, with 11 caroms (four on offense) to show for each inch of height after six feet.
His defensive effort was nothing to snub your nose at, either. Bosh made his fair share of big plays on that end of the floor, albeit against an OKC frontcourt that isn't exactly prone to intimidating or dominating offensively.
Credit Share: 10 Percent
Shane Battier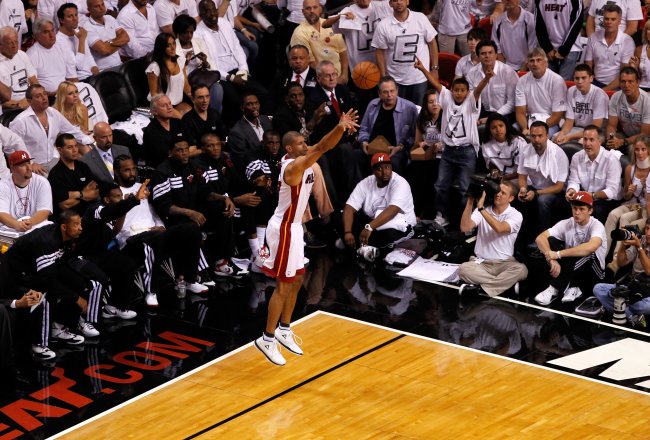 J. Meric/Getty Images
Two members of the Miami Heat managed to have perfect nights (statistically speaking), and Shane Battier was fortune enough to be one of them. The veteran swingman hit every shot he took, including all three free throws after drawing a foul on Serge Ibaka from beyond the arc in the third quarter.
Tormenting Ibaka has pretty much become Battier's "thing" in these Finals; as has hitting three-pointers, which he did twice on Sunday to up his total to 11-of-15 tries since the start of the series.
Not bad for a 33-year-old purple-pants'd protagonist who converted a career-low 33.9 percent of his attempts from deep during the regular season.
Credit Share: 8 Percent
Udonis Haslem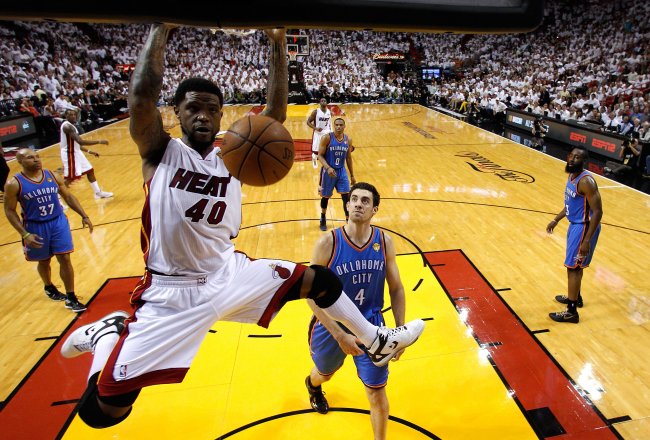 Pool/Getty Images
The other Mr. Perfect for Miami? Udonis Haslem.
Granted, he took all of one shot in 14 minutes; though, to his credit, he nailed it, along with all four of his free-throw attempts.
Additionally, the long-time Heat forward ripped down three rebounds and came up with a big block on Derek Fisher early in the fourth quarter to get Miami moving the other way. In total, the Heat were plus-10 whenever Haslem was on the floor—the starkest margin provided by any Miami player outside of Battier.
Haslem may not be the pivotal role player he once was, but his value to the Heat's cause has been as evident as ever in these Finals, even as his playing time continues to slip.
Credit Share: 5 Percent
James Jones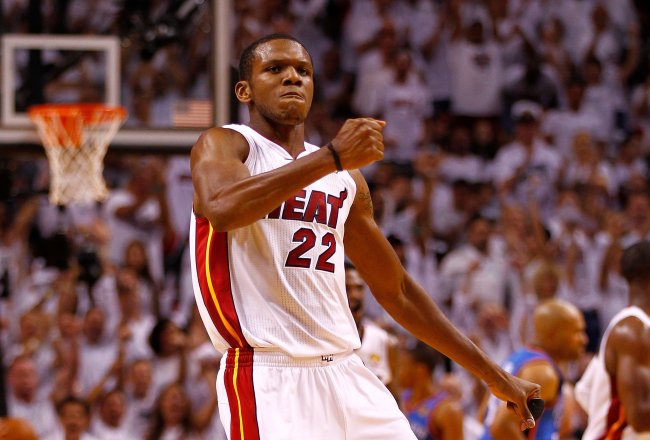 Mike Ehrmann/Getty Images
James Jones made his most meaningful foray into the Finals on Sunday. The Miami native hit a trio of free throws after being fouled by Fisher (in almost the exact same manner and spot that Battier was by Ibaka) in the third quarter, and contributed a three-pointer to the team's rally early in the fourth quarter.
And, for good measure, Jones chipped in a pair of rebounds and a steal.
Credit Share: 3 Percent
Mario Chalmers/Mike Miller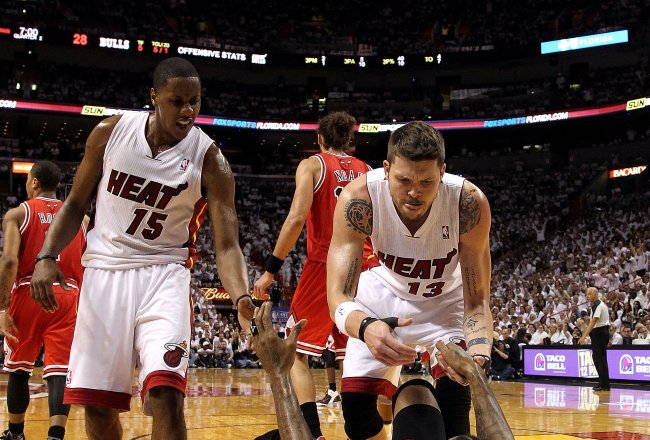 Mike Ehrmann/Getty Images
Yes, even the "most useless" players on Miami's roster made positive waves here and there. Mike Miller mustered up four points and had some surprising moments of defensive prowess before leaving the game for good less than two-and-a-half minutes into the second quarter.
And while Mario Chalmers stunk it up from the field (1-of-8 shooting, three shots blocked), he did enough in other realms of the stat sheet (i.e. three rebounds, three assists, two steals and a block) to merit a condescending head pat (or two) from LeBron and Wade.
Credit Share: 3 Percent
Erik Spoelstra
Mike Ehrmann/Getty Images
Last but not least, we come to Erik Spoelstra, whose impact on Game 3 had as much to do with immediate tactics and strategy as it did with principles and attitudes painstakingly instilled over the long haul.
Yes, Spo deserves some credit for fine-tuning the LeBron-Wade "Dueling Banjos" offense in such a way that it not only works, but is also effective enough to keep Miami afloat in the biggest of games despite a largely mediocre roster.
Who was most responsible for Miami's Game 3 win?
And yes, Spo gets some kudos for figuring out (to some extent, anyway) how to frustrate OKC's Big Three defensively. After all, despite all the flashy fast breaks and high-flying dunks, it's defense that's been the Heat's calling card ever since Spo took over for Pat Riley on the bench.
Which leads into the most important point of all: the Heat are capable of grinding out games in which they don't always play particularly well, thanks in no small part to the oft-maligned coach who, himself, hustled his way from lowly video coordinator to head coach of the most scrutinized team in NBA history over the course of the last decade-and-a-half.
Somehow, some way, a 41-year-old dude who never set foot on an NBA court as a player has managed to turn a team built around this guy, this guy and this guy into a gritty mess of bumps, bruises and floor burns.
#FireSpo? Hardly. The Heat probably wouldn't be here without him.
Credit Share: 16 Percent
This article is
What is the duplicate article?
Why is this article offensive?
Where is this article plagiarized from?
Why is this article poorly edited?