NBA Finals 2012, OKC Thunder vs. Miami Heat: Is Erik Spoelstra's Job Safe?
June 17, 2012

Ronald Martinez/Getty Images
It's a shame, really.
Erik Spoelstra has done remarkably well in his first four years as the head coach of the Miami Heat, reaching the playoffs four times and the NBA Finals in each of the last two seasons.
And yet, the guy can't sit down for breakfast without hearing about how his job is in jeopardy.
Of course, that sort of pressure and speculation are to be expected when you coach a team built around three All-Stars, including the best basketball player on the planet (LeBron James), a former Finals MVP (Dwyane Wade) and a big man who's equal parts giraffe and velociraptor.
Pat Riley didn't bring those three to South Beach to simply advance out of the Eastern Conference and lose to the best in the West in the finals every year. Their job is to win titles.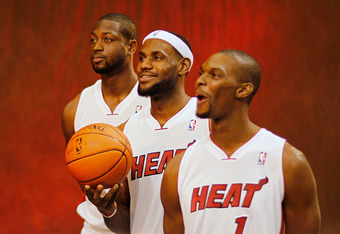 Mike Ehrmann/Getty Images
And Spoelstra's, in turn, is to get them to do just that.
Unfortunately, Spoelstra is still pushing for his first ring, though he's admittedly come close. He coached the Heat within two wins of the Larry O'Brien Trophy last year—the first of the Big Three experiment—and has them within three of making good on at least part of the promise that came with the summer of 2010.
Though five, six and seven will have to wait for a while, if only out of temporal necessity. After all, Spoelstra's a coach, not a miracle worker.
Still, what he's managed to do so far has been rather impressive. Spo already ranks 18th in regular-season winning percentage in NBA history, at 62.2 percent, and 16th in the playoffs at 58.5 percent. Of the 15 postseason coaches ahead of him, only three—Butch van Breda Kolff, Larry Bird and Scott Brooks—don't have at least one title to their names.
Granted, winning percentage isn't everything. There are 17 coaches in league history who've earned fancy jewelry despite win-loss splits worse than Spo's.
It's not as though Spo's tenure has been nothing but smooth sailing since 'Bron-'Bron and Bosh joined D-Wade in South Beach, either. There was the infamous "Bump with 'Bron" in November of 2010:
And then, there was this bit of boiling over with Wade on the bench during the conference semis against the Indiana Pacers:
Oh yeah, and don't forget that Spo gets another two strikes against him for being young (he's still only 41) and for never having set foot in the NBA as a player.
But ask those two about their coach now (as Tim Reynolds of the Associated Press did), and you'll hear nothing but support, as much from LeBron:
LeBron on Spo: "I think he's been great. Two straight Finals appearances and he's put us in position to win every game."

— Tim Reynolds (@ByTimReynolds) June 16, 2012
"Yeah, something was made of that blow-up in Indiana, but that shows how our relationship has grown. We've been together a long time. You don't have those kind of moments if you haven't been together. It's just like family members, just like a brother. We have moments, but we love each other and we move on from it, we grow from it. That's the way we are. That's the way our team is."
It's not just the players who have Spo's back, either. Team owner Micky Arison offered his own less-than-subtle endorsement of his head coach's performance after Game 1, which (you may remember) the Heat lost:
Question; Do u know which Coaches have lead there teams to back to back Finals in the last 25 yrs.

— Micky Arison (@MickyArison) June 13, 2012
Phil JacksonPat RileyLarry BrownByron ScottRudy TomjanovichJerry SloanChuck DalyErik Spoelstra

— Micky Arison (@MickyArison) June 13, 2012
As well he should. For one, four of those names (Brown, Daly, Scott and Sloan) came up empty in their respective first trips to the finals, much like Spoelstra, while the last two still don't have that precious hardware on their resumes.
Not to mention that Phil Jackson didn't even get to the finals in his first year with Michael Jordan and Scottie Pippen on hand. He had to wait for Daly's Pistons to snag the second of their back-to-back titles with Isiah Thomas, Joe Dumars and the rest of the "Bad Boys."
For his own part, Spo has done remarkably with a roster as top-heavy as the one he's been granted by Miami's front office. According to 82games.com, the Heat's Big Three constitutes the entirety of the team's players with positive net production numbers and simple plus/minus ratings of better than plus-two.
One of those three (Bosh) missed nine games during the meat of Miami's playoff run, and yet the Heat were still able to sneak their way into the NBA Finals. Spo may not have been on the court to make up for CB4's absence, but he still deserves at least some credit for keeping the team together through adversity and scheming around the issues that have arisen.
Now that Bosh is back in the starting lineup and Shane Battier is finally playing like the sweet-shooting, tough-defending veteran the Heat signed him to be, Spoelstra might finally have even the smallest inkling of depth at his disposal that he needs to overcome the young and talented Oklahoma City Thunder.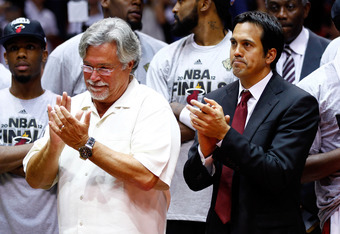 Mike Ehrmann/Getty Images
Even if he doesn't, don't expect Arison and Riley to simply shove him out the door. Spoelstra's been with the organization since 1995, working his way up from humble video coordinator to even more humble successor to the sideline throne of a now-twice-retired Hall of Fame coach.
And, if nothing else, Arison won't likely want to let go of a guy he inked to a three-year extension prior to the start of the season.
Especially if that guy brings him some hefty hardware later this month.