NBA Rumors: Latest News Surrounding Ray Allen
June 18, 2012

Mike Ehrmann/Getty Images
Ray Allen, Kevin Garnett, and Paul Pierce are the ones responsible for today's "Big Three" era in the NBA. But this summer, the three amigos might divorce the relationship that brought a championship to Boston in 2008. Ray Allen is currently a free agent, and speculation has already begun as to where he will sign.
Ray Allen lost his starting job to Avery Bradley this past season, so the question for Celtics GM Danny Ainge becomes this: How much should a bench player make?
Allen will want to sign with a team that has a quality shot at winning the title next season. Although Boston made it to Game 7 of the conference finals this year, there has been a changing of the guards in the East. With or without Allen, the Chicago Bulls, Indiana Pacers and Miami Heat will likely topple over the Celtics should they meet in the playoffs next spring.
Sports Illustrated's Chris Mannix reports (via WEEI.com) that Allen will be most interested in signing with the Los Angeles Clippers, Miami Heat or New York Knicks. All three of those teams would kill for one of the best three-point marksmen of all-time.
The Knicks, however, will not have much cap space this offseason, meaning they won't be able to make an offer above the league's veteran-minimum of $1.4 million. Winning a championship is surely Allen's main concern, but then again, a little extra cash never hurt anyone.
Allen would work well with both the Heat and the Clippers, but it seems that he's more of the missing piece for Los Angeles. When you think about the impact that Allen could have on either of these teams, he would improve the Clippers' record much more than he would the Heats'. Don't get me wrong, Ray Allen as a fourth scoring option for the Heat is terrifying, but I think he's a better fit for L.A.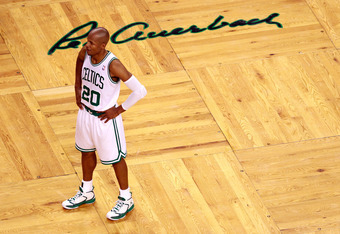 Jared Wickerham/Getty Images
Allen would receive far more touches with the Clippers, and he would mesh extremely well with Chris Paul. He has played alongside Rajon Rondo for the past five years, meaning a transition to someone like Chris Paul would take no time at all. But with the Heat, a team whose chemistry has been criticized the past two seasons, another guy demanding the ball is the last thing they need.
Allen really can't go wrong with his decision. He's such a high commodity in this league that all 30 teams will want a shot at signing him. He's going to have plenty of options and plenty of championship-caliber teams to choose from.
Whether it's on the East Coast or West Coast, Allen will be knocking down triples like he has done all his career—something that helps every team put a banner in the rafters.