Phil Jackson's Accurate Criticism of Knicks Shows His Cherry-Picking Philosophy
June 16, 2012

Kevork Djansezian/Getty Images
Phil Jackson has never been more accurate with his bold criticisms of man or team, but it proves he still isn't looking for a challenge. The Zen Master told HBO correspondent Andrea Kramer that he wouldn't have answered the call to coach the Knicks—even if they had offered it to him.
Jackson is quoted by Michael O'Keefe of the NY Daily News: "I wasn't gonna take that job, that's for sure."
In the interview for "HBO Real Sports" that airs on Tuesday, Jackson describes the Knicks as "clumsy" and he says that Carmelo Anthony and Amar'e Stoudemire don't fit together well. Amare needs a different system and Melo is a ball hog.
You're preaching to the choir on those issues, Phil.
All of those assessments are spot-on, but isn't a coach that's looking for a challenge supposed to embrace that sort of dynamic?
Kramer asks him the same question, to which he answered:
"Yeah," Jackson agreed. "Well, it never happened."
Some may argue that he is offended by not being contacted by Knicks' head man Jim Dolan, but I think there is a different issue.
While Jackson is accurate with his criticism, it exposes his cherry-picking mentality as a coach. Jackson has never had to build a team from the ground up. He has always inherited others' work, and arguably the best players in the NBA.
I know Phil is 66 years old, and it's a little late for long-term plans, but this has always been his M.O. In reality, the Knicks aren't that far away, but it's far from the near sure thing Jackson is most comfortable with.
While you can't sneeze at 11 championship rings, his success must be put into perspective. This mentality and approach is the reason I give coaches like Gregg Popovich and the late Chuck Daly an edge over Jackson.
These coaches were with their teams when the groundwork was being laid. To use a basketball analogy, Daly and Pop were there for all four quarters with the Pistons and Spurs, respectively. Jackson comes in late in the third quarter, after the starters have already put the team in great position to win.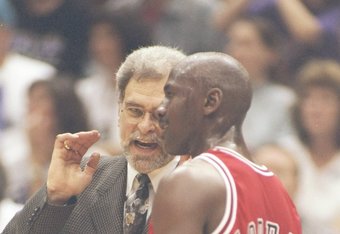 Brian Bahr/Getty Images
Jackson took over a Bulls team that had been knocking on the door against Daly's Pistons in 1989, and they had some guy named Michael Jordan that was pretty good. Jackson was hungry for his first opportunity then, but he couldn't have been handed a better situation.
When he left the Bulls, Phil took over a Lakers team that had been contending with a young Shaquille O'Neal and Kobe Bryant. This was yet another ready-made situation.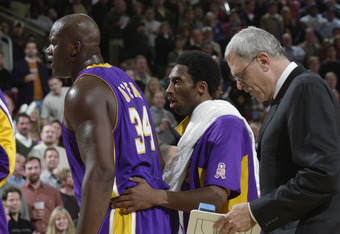 Otto Greule Jr/Getty Images
It's not to say that these accomplishments were easy, but this relief-pitcher approach to coaching has branded him in my opinion.
Taking the Knicks' job and guiding them to a championship would have been the ultimate accomplishment for Jackson. The team is talented, but nowhere near contending. It would have been the most impressive of his championships.
So while the Knicks may be clumsy, Jackson is calculated—to a fault.
Follow Brian Mazique and Franchiseplay.net for reactions, analysis and news from the world of sports and sports Video Games.