12 Early Winners and Losers of the Washington Redskins' Offseason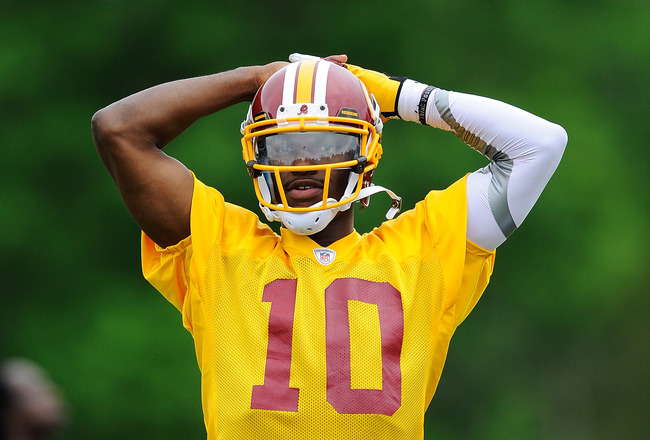 Patrick McDermott/Getty Images
This offseason has been uncharacteristically functional for the Washington Redskins, cap penalties withstanding. The buzz around the team is unanimously positive with the addition of Robert Griffin III and the foundation laid in Mike Shananhan's first two seasons as head coach.
The positive outlook doesn't change the fact that there are still winners and losers of the offseason.
With training camp on the horizon and a lot of room for change on the depth chart, there are going to be risers and fallers. Here are some of the winners and losers of the Redskins offseason thus far.
Winner: Pierre Garcon, Wide Receiver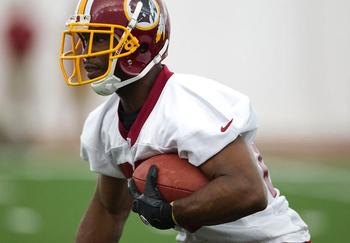 Photo by Associated Press
The Indianapolis Colts may have turned an abysmal season without Peyton Manning into the first overall pick, and ultimately Andrew Luck, but Pierre Garcon turned out to be the luckiest Colt of all. He turned a career year catching passes from nobodies and has-beens into a five-year, $42.5 million contract with the Redskins.
He is young, humble and loaded with the kind of talent the Redskins have desperately needed at wide receiver.
Though the Redskins hope Garcon can reproduce and improve upon his 70-catch, 947-yard season from 2011, there is no guarantee he will. How often do players excel on bad teams only to flounder on better ones?
Naysaying aside, Garcon came away with a big contract based on one season, which could be good for Washington, but is already great for Garcon.
Loser: Josh Morgan, Wide Receiver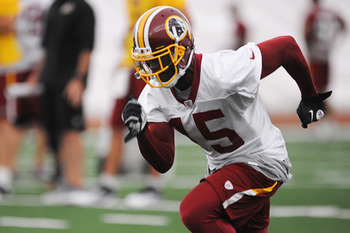 Photo by Brian Murphy
The second of the Redskins' offseason additions at wide receiver, Josh Morgan, has not been as lucky as Garcon. He signed a two-year, $11.5 million contract to leave the familiarity of San Francisco for the scrutiny of Washington.
Morgan is coming off of a brutal broken leg that has robbed him of five inches off of his 40-inch vertical and has limited him in minicamp.
However talented Morgan may be as a runner after the catch, and as a run-blocker, he has to prove he can be healthy and produce over the course of a season. No team gives a player $7.3 guaranteed to be a third or fourth receiver, which means the Redskins are expecting a lot from Morgan.
He may have the talent to be a great complement to Garcon, but he has a lot of work to simply get on the field.
Winner: Santana Moss, Wide Receiver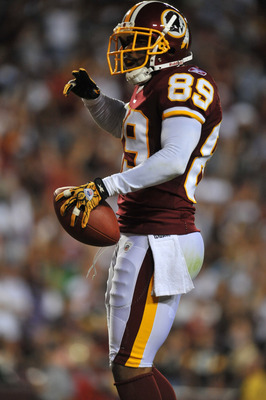 Larry French/Getty Images
Santana Moss is one season removed from a 93-catch, 1,115-yard season that proved he could still produce despite being a speed receiver on the wrong side of 30. At the coaches' request, and knowing he would likely occupy a slot receiver role for this upcoming season, Moss shed some 15 pounds and looks like his former agile self.
Not that Moss would ever coast to a spot on the active roster, but there isn't much competition for his spot as a the team's slot receiver.
The Redskins may keep Aldrick Robinson or Terrence Austin on as insurance at the slot position, but Moss is having one of his best offseasons. His veteran presence and versatility are invaluable, and now he's showing a commitment to being his best as an older receiver.
Loser: Brandon Banks, Wide Receiver/Returner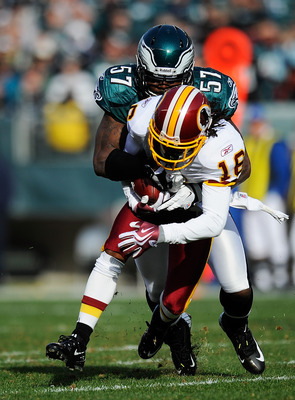 Patrick McDermott/Getty Images
After spending two seasons as an almost exclusive punter and kick returner, Brandon Banks will have to make the roster as a functioning member of the Redskins' offense.
The addition of both Josh Morgan and Pierre Garcon, the return of a sleeker and slimmer Santana Moss and the expected emergence of Leonard Hankerson means Banks won't likely crack the top four on the depth chart.
Banks has blazing speed and showed he can throw a nice deep ball, but he doesn't have the skills necessary to be a part of an NFL offense.
With the NFL's rule changes scaling back the impact a kick returner can have on the game, Mike Shanahan was forced to put Banks to the test. Banks isn't going to beat out Moss for the slot receiver spot, and Anthony Armstrong has been great during the team's workouts.
Don't bet on Banks to make the final cut through training camp.
Winner: Niles Paul, Tight End/Wide Receiver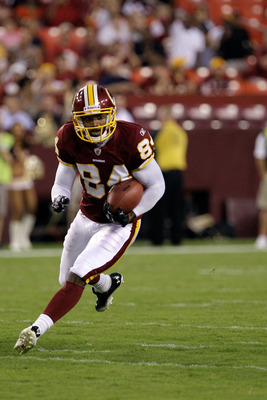 Rob Carr/Getty Images
Niles Paul has two catches in his career, and yet his spot on the roster is almost guaranteed, due in no small part to the versatility Mike Shanahan craves from his players. Paul, a wide receiver by trade, is being groomed as a tight end for the coming season, which adds a new dimension to an already deep position.
He may not overtake Fred Davis as the starter, but with Chris Cooley's health in question, he may see a lot of opportunities in his sophomore season.
It is an interesting move to turn a big wide receiver into a smaller tight end, but the prospect of mismatches and big plays is impossible to overlook. Davis is already too big for safeties and too fast for linebackers. Paul will be a nightmare to cover running routes from the end of the line, assuming he doesn't get blown up by defensive linemen in the process.
Loser: Chris Cooley, Tight End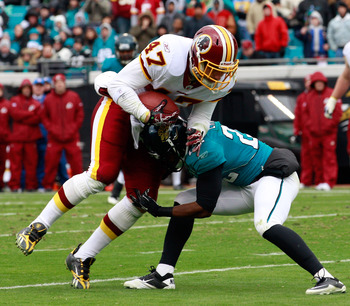 Sam Greenwood/Getty Images
Fred Davis may have already supplanted Chris Cooley as the team's top tight end, but nagging injuries may keep Cooley from factoring into Washington's offense early in the season. After missing 11 games last season, Cooley showed up trimmed down, but knee, hamstring and groin injuries have kept him from displaying any renewed spring in his step.
Add to that the presence of Logan Paulsen, the position switch of Niles Paul and the signing of Beau Reliford, and the deck is stacked against the tight end formerly known as Captain Chaos.
The biggest thing working against Cooley is his contract, which is worth $7.65 million over the next two seasons. Though he'd likely restructure to remain with the team he loves so much, it doesn't guarantee a featured role on offense.
Cooley's experience and ability to find the soft spot in coverage are good reasons to keep him around, but they are rendered useless if he can't get healthy and stay healthy.
Winner: Chase Minnifield, Cornerback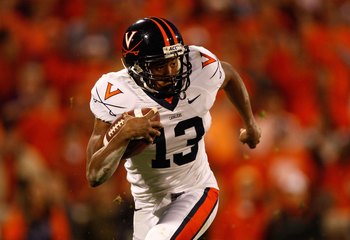 Streeter Lecka/Getty Images
There is little question that Josh Wilson and DeAngelo Hall will be the starting corners for the Redskins come opening day. The depth chart behind Hall and Wilson is not so certain, and Chase Minnifield put his best foot forward in the team's offseason workouts.
Minnifield was projected as a late first-round pick on some boards but fell into the undrafted free agent pool following microfracture surgery in January.
Incumbent nickel corner Kevin Barnes hasn't progressed as the team had hoped, which could give Minnifield a shot at a major role on defense. He hasn't made any spectacular plays through OTAs and minicamp, but he's done all the right things.
According to the Washington Post, Raheem Morris is "ecstatic" that the two-time first team all-ACC selection fell into the Redskins' lap.
Winner: Evan Royster, Running Back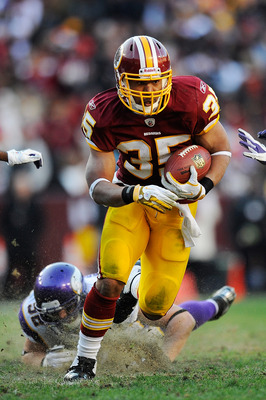 Patrick McDermott/Getty Images
Evan Royster may not be the unquestioned starter on opening day, but he is getting a lot of work with the starting offense with Roy Helu, Jr. and Tim Hightower recovering from the injuries that interrupted their seasons.
Mike Shanahan is committed to the running-back-by-committee approach, but the extra reps heading into training camp can't hurt Royster's case.
He finished last season with a pair of 100-yard games, while averaging 6.3 yards per carry and breaking off two 28-yard runs. Getting some extra reps during the offseason is a great way for Royster to carry his momentum from last season into the new season.
Loser: Kevin Barnes, Cornerback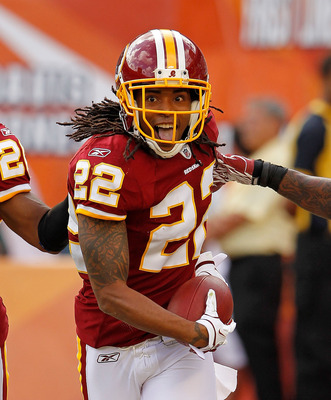 Mike Ehrmann/Getty Images
With Raheem Morris tasked with making something out of Washington's secondary, Kevin Barnes may find himself bumped down on the depth chart. He didn't perform to expectations, especially in covering slot receivers.
Rookie Chase Minnifield and former Minnesota Viking Cedric Griffin may force Barnes into a smaller role on defense.
Morris has Barnes playing some safety, but the depth at safety means he would be in a reserve role, with the top two corner spots locked up and too much competition to be a shoo-in for the third corner.
Winner: Jammal Brown, Right Tackle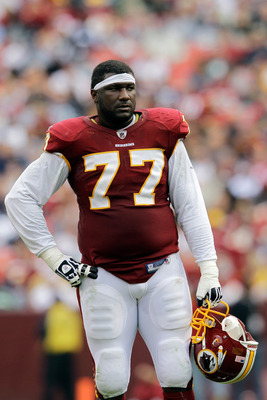 Rob Carr/Getty Images
Through injuries and inconsistency, it looks as though Jammal Brown has finally turned a corner. He's as healthy as he has ever been sine joining the Redskins, and he made an effort to take yoga classes during the offseason to improve his balance and flexibility.
Luck was on Brown's side this offseason, as the Redskins failed to land any of the free agents they targeted to replace him.
It remains to be seen if Brown can truly be the rock on the right side of the line, but he's shown up for offseason activities and has even made an effort to fix the way he walks. It has been a different offseason for Brown, but perhaps change will prove to be good for the veteran right tackle.
Loser: Rex Grossman, Quarterback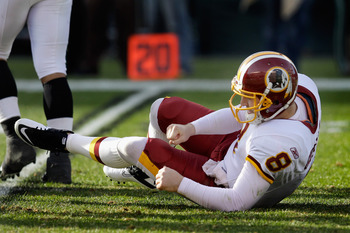 Rob Carr/Getty Images
Rex Grossman performed exactly as expected last season, wowing fans with his ability to make plays and his uncanny ability to complete passes to opposing defenses. Last season was every bit of the roller coaster ride that embodies Grossman's career.
With Robert Griffin III and Kirk Cousins added in the draft, Grossman went from starting quarterback to second, possibly third, on the depth chart.
Grossman's one-year deal entitles him to a roster spot, but only as a emergency quarterback should something go terribly wrong with Griffin. He's got experience in the offense, but the bit about being fully confident in his abilities wasn't going to last Mike Shanahan more than a season.
Winner: Robert Griffin, III, Quarterback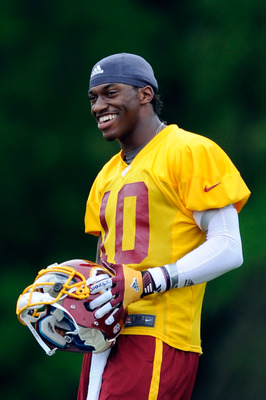 Patrick McDermott/Getty Images
What can you say about Robert Griffin III that hasn't already been said? The Redskins have every hope that he can and will be their franchise quarterback for the next decade or so, and he has shown nothing to make anyone think otherwise.
Spurning the half-hearted advances of the Indianapolis Colts to opt for offseason workouts with Kyle Shanahan has give RGIII a headstart in the offense.
There are predictions and expectations galore for Griffin's first season, but it all seems secondary to the excellent offseason work he has done. It is as if he can do no wrong. Mike Shanahan is rarely the cheery type, but he and Griffin are "smitten" with one another, as Aditi Kinkhabwala of NFL.com writes.
Shanahan's track record with quarterbacks is pretty illustrious, so for Griffin to have him smiling is a testament to his abilities and his potential.
Keep Reading

Washington Redskins: Like this team?