Why Ndamukong Suh's Controversial 2011 Will Fuel a Huge 2012 Season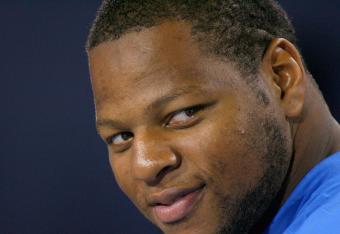 Is this the face of someone who would kick a man while he's down? Well, yes, it turns out. Now we see how he moves forward with his career.
Rick Stewart/Getty Images
Is Ndamukong Suh a good man or a bad man?
Think carefully before you answer that question. It's loaded that way for a reason.
Now that you put the requisite amount of thought into it, I'll tell you there's no right answer.
Suh is simultaneously a good man, a bad man and a very bad man. Which one takes precedence is all about your perspective.
In reality, these elements of Suh's public persona all mix together in a very complicated way. Off the field, the man is an educated, classy philanthropist (if occasionally a slightly reckless driver).
On the field, he's a human wrecking ball with zero compassion for his opponents. This is what Lions fans love, opposing fans despise and the NFL fines.
But nobody gets to the point Suh is at in his career without knowing how to work through adversity. Suh has had some less-than-brilliant moments (his initial explanation for the Evan Dietrich-Smith kick, for instance), and he is developing the same kind of "me against the world, commish is out to get me" mentality present in guys like James Harrison.
But Suh isn't calling out the commissioner, much less his teammates, just yet. That's because he's just playing the game the same way he always has, and he's only started facing this "dirty play" criticism since joining the NFL.
From that perspective, why wouldn't he think it's the NFL, not him, that has the problem?
Suh has certainly been stubborn about changing his hyper-aggressive style, and I would be remiss to point out that he should not (and perhaps cannot) change his playing style. He's aggressive, he hates quarterbacks and he hits people he doesn't like as hard as he physically can.
In 2012, Ndamukong Suh is going to...
Sometimes he does that in ways the league frowns on, and the yellow handkerchiefs come out as a result.
But that's all part of who Suh is. As with any player as aggressive as Suh, you take the good with the bad and hope the bad fades away with time.
In this case, that might actually be feasible. While Suh has committed a total of nine personal fouls in his first two seasons, do you know how many of them occurred after the infamous kick?
A grand total of zero. In fact, his only infraction of any kind was an encroachment penalty against the Packers in Week 17.
Now, we're talking about three games after Suh's suspension here, so I'll gladly admit that this is a small sample size. But so are the first two seasons of a career, especially when the "sophomore slump" is something that happens to dozens of rookies every year.
And assuming that Suh is ready to come out and put his issues behind him on the field in 2012, he has a bunch of things working in his favor this year.
For starters, he should have Nick Fairley next to him, which may take some of that double-team pressure off of him, or at least lower the percentage of snaps he needs to take in 2012, keeping him fresher for longer.
But perhaps more importantly, Suh is highly motivated, not only to show that his rookie production wasn't a fluke, but to show that his negative image from last year was. He is likely to use that "me against the world" point of view, not to become surly and bitter against the league, but to affect change in his own play and public perception.
Ezra Shaw/Getty Images
Of course, I will virtually guarantee that Suh gets called for a personal foul at some point in 2012, but that's not always as bad as it sounds.
Facemasks, roughing the passer, horsecollar tackles and a cavalcade of other borderline between-the-whistles calls are all classified under "personal foul."
It's virtually impossible to go a season as a defensive player without getting at least one personal foul on accident, and Suh will undoubtedly fall victim to at least one, even if it's the result an egregiously blown call.
But this after-the-whistle nonsense can and should be eliminated next season, because that is not indicative of the kind of person Suh appears to be. Should it continue, those perceptions may have to change, but after only two seasons, I'm reserving judgement.
Because to this point, it has been a tale of two Suhs: the unstoppable force and model citizen from his rookie season, and the guy who tallied more personal fouls than sacks in his sophomore season.
Even though I find a large percentage of Suh's issues to be massively overblown because of his high profile, I'll still readily admit that I want the rookie Suh more than the sophomore Suh.
But what I expect to find in 2012 is neither of those, but rather, a third-year Suh who has developed physically, mentally and emotionally to the rigors of the NFL game and all that comes with it.
This Suh would understand how to deal with the media, keep his emotions under control on the field, and understand the game well enough to beat trap blocks and tight end whams.
Pipe dream? Maybe, maybe not. All I know is that if and when that Suh shows up, the league that already has him on the watch list is going to need to look out all over again.
This article is
What is the duplicate article?
Why is this article offensive?
Where is this article plagiarized from?
Why is this article poorly edited?

Detroit Lions: Like this team?