St Louis Rams: Friday's Rams News and Notes at Noon
June 15, 2012

Welcome to Friday's St. Louis Rams "News and Notes at Noon", the elite destination for all major Rams headlines and other information of interest to Rams Nation. 
St. Louis Rams Complete Offseason Program; Jeff Fisher Says Rams Expect to Win
Yesterday, St. Louis wrapped up the offseason program. Nick Wagoner recapped the conclusion of mini camp and the offseason as a whole in this blog at stlouisrams.com. 
One portion of Wagoner's multi-faceted report that stood out was this quote from Jeff Fisher after a reporter asked him if the team was hungry to win: 
No, not hungry to win, they expect to win. Everybody does. The past is the past but we are looking forward with that expectation to win football games.
The mentality of Jeff Fisher has clearly trickled down to the players. In the past, the Rams expected to compete and progress. Under Fisher, they are expected to win.  
A second piece of information shared regards offensive coordinator Brian Schottenheimer's feelings regarding second year tight end Lance Kendricks and the tight ends as a whole:
I know one thing, I think starting with Lance (Kendricks), we really liked Lance back in New York when we looked at him. I think he's got a chance to be a terrific all around player.

Then we are complementing him with guys that can do some stuff in the running game, also some matchup (stuff). We have some really talented young players. I think if you watch DeAngelo Peterson out here, even Jamie Childers is a guy that showed up and we'll be excited to get (Mike) Hooman(awanui) back.

Tight ends create a problem in this league in our opinion for matchups because you can get in multiple formations with those guys and sometimes they are in the backfield and sometimes they are playing receiver and sometimes they are in line and that allows you to create problems for a defense.
For more on the Rams tight ends, please check this piece from Ryan Van Bibber for turfshowtimes.com. 
Please click the link above for Wagoner's entire report which includes some terrific information and insight on the Rams offensive line and much, much more from Rams Park. 
James Laurinaitis is "Perfect" For Defense According to Assistant Head Coach Dave McGinnis
According to former NFL defensive coordinator and head coach Dave McGinnis, now the Rams assistant head coach and a defensive assistant, middle linebacker James Laurinaitis is an ideal fit for this defense, as shared by Ron Clements in this post at cbssports.com:
He's the perfect middle linebacker for this defense. The ultimate linebacker for this defense when it starting evolving was Mike Singletary. I was with Mike for 11 years. The quarterback of the defense is the middle linebacker. In this system, he has to be so in tune and right in the defensive coach's skin. He has to understand it and know it from a lot of different angles. We could not have asked for a more perfect middle linebacker to install this system than James Laurinaitis. He's exactly what you need.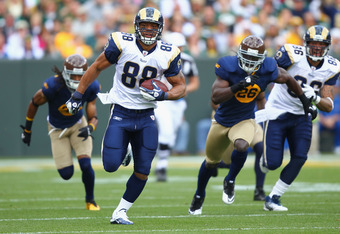 Dilip Vishwanat/Getty Images
Jeff Fisher Is Pleased With The Rams' Progress 
According to this piece by Jim Thomas of the St. Louis Post-Dispatch, head coach Jeff Fisher is pleased with the progress the team has made to this point: 
I'm pleased with where we are right now. Guys have a great understanding of how we practice and what we're trying to get done in the playbook. It's important when they take off — and they need to get away — that they continue to build their conditioning level and work and train for training camp and not put the book down.

They know how to play from the time the ball is snapped to the whistle, and how important it is to prepare to play that way. I'm looking forward to all this work that we've done, going back to early April, translating into good things at camp once the pads go on and then in the preseason. These guys are looking forward to playing again.
In the above-linked piece, Thomas shares more from Fisher and does a splendid job reviewing the Rams 2012 offseason to date. 
St. Louis Signs Linebacker Rocky McIntosh; Mike Sando Looks at the Rams' LB Corps
According to this report from Nick Wagoner for stlouisrams.com, the Rams have signed veteran linebacker Rocky McIntosh, formerly of the Washington Redskins. 
Last year, the 6'2', 242 pound six year veteran posted 65 tackles and a sack in eight starts.  For his career, McIntosh has tallied 471 tackles, eight sacks and three interceptions.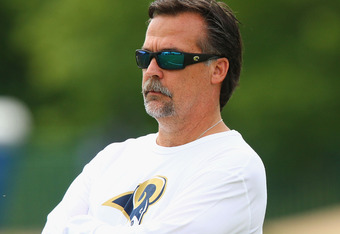 Dilip Vishwanat/Getty Images
McIntosh was a full time starter for Washington from 2007-2010 and should compete strongly for a starting spot in St. Louis this season. 
The Rams continued to add depth to what was a thin group of outside linebackers with the aforementioned acquisition.
In addition to the acquisition of McIntosh, the Rams previously added veteran free agent OLB's Mario Haggan and Jo-Lonn Dunbar, not to mention a group of undrafted free agent linebackers and a seventh round LB in Aaron Brown. 
For more on the Rams continually evolving linebacking corps, please read this nice assessment by Mike Sando for ESPN. 
Sando shares this from Scouts Inc. who said the following of McIntosh: 
 "active playmaker" with "great range inside out to the ball."
Sando points out that McIntosh shared time in Washington under suspended Rams defensive coordinator Gregg Williams and should know the Jeff Fisher defense well due to his prior experience in the system, which should give McIntosh an advantage over other LB's. 
Multitude of Mini Camp Updates From Ron Clements of CBS Sports 
The aforementioned Ron Clements of CBS Sports shared a multitude of Rapid Reports regarding mini camp and individual Rams players here.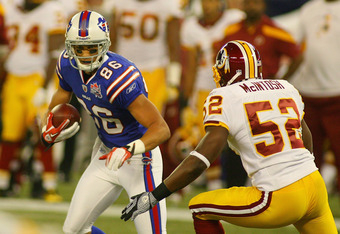 Rick Stewart/Getty Images
Please click the above-link for information on Janoris Jenkins, Trumaine Johnson, Jeff Fisher, linebacker coach Blake Williams, offensive coordinator Brian Schottenheimer, the group of tight ends, Sam Bradford's height and much more. 
Teams Inquiring About Rams' Cornerbacks
From a report via Ryan Van Bibber of turfshowtimes.com, Jeff Fisher stated that the Rams have already began receiving calls from other teams regarding some of the young cornerbacks on the roster. 
It was not made clear as to who teams were calling about but one could deduct that names likely asked about include young veterans Bradley Fletcher, Jerome Murphy (who I profiled here) and Josh Gordy. 
Although I do not expect the Rams to move any of their CBs, Bradley Fletcher, who is recovering from a second major knee injury in three years, is a free agent following this season and could make more sense to move than any of the others.
Obviously, teams would know that newly-signed corner Cortland Finnegan is going nowhere nor are rookies Janoris Jenkins or Trumaine Johnson. 
For the first time in a long time, it looks like the depth and talent level in the defensive backfield of St. Louis is upper echelon. 
If the group can play to their potential, in conjunction with what could be a dominant pass rush, the Rams could field a defense that creates intense problems for opposing passing games this year. 
 
Terrific Look at Last Day of Mini Camp Via Brandon Birkhead for TST
Brandon Birkhead was on hand for the last day of Rams mini camp with other St. Louis season ticket holders and shared a detailed report on what he saw in this post for Turf Show Times. 
Birkhead shared his observations on Michael Brockers, several Rams receivers, Trumaine Johnson, Harvey Dahl and Jeff Fisher taking time to address the fans in attendance. 
As Birkhead astutely asked, would former head coach Steve Spagnuolo have done this? I do not remember him doing so and it is yet another example of a difference in the operational styles of Fisher and Spagnuolo, who was labeled as a control freak by Birkhead in the above-linked post. 
In just about every aspect of the Rams operation we have seen thus far, things look better than they did under the aforementioned regime of the since-departed, first-time head coach, even in regard to some of the off field public relations stuff, as the example above points to. 
Tony Softli Looks Ahead to Training Camp 
Former NFL executive Tony Softli shares his take on what has occurred during OTA's and minicamp and takes a look ahead to next month's training camp in this piece for 101sports.com.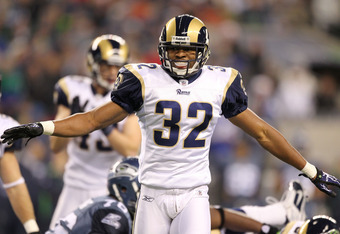 Otto Greule Jr/Getty Images
Softli shares some of his own previous experiences while putting a tie on the Rams offseason to date and what is just around the corner for the players and coaches as they move into the month of July and towards the 2012 regular season.
More on the Rams' Lease and the Arbitration Process
In this piece for stltoday.com, Matthew Hathaway looks at the ongoing lease negotiations and what could be expected in the months to come.  
Hathaway quotes Jeff Rainford, chief of staff to city mayor Francis Slay, in regard to the ongoing aforementioned arbitration process:
It's not the end of the process, it's more like the beginning. 

The CVC could win (in arbitration), and then we don't have to have a conversation about what it takes to keep the Rams for another 10 years. And if it doesn't work out, it just means the region is going to have to come together and decide what we want to do.
In the above-linked piece, Hathaway shares a great deal of additional information regarding what is to come regarding ongoing negotiations between the Rams and the St. Louis Convention and Visitors Commission regarding proposed upgrades to the Edward Jones Dome, the Rams home venue since 1995.
Rodger Saffold Muscles Up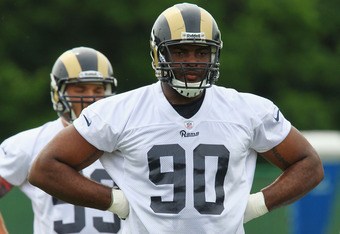 Dilip Vishwanat/Getty Images
According to this lengthy and detailed article by stlouisrams.com senior writer Nick Wagoner, St. Louis left tackle Rodger Saffold has muscled up during the offseason.
In fact, Wagoner says Saffold has made some of the greatest gains on the roster after tearing a pectoral muscle while bench pressing midway through the 2011 season. 
For his part, Saffold seems happy with his progress in the weight room: 
It's been a road for me because it was hard to get back on the bench after getting injured like that and then get back in there and lift that kind of weight again. It was tough. But I was able to get through it.

Oh, I'm a lot bigger. It's thanks to those guys. Adam and Rock did a great job. I've gained weight just lifting weights and eating right. It's helped me a lot to stay here and work with the same people who know about my injury. I'm going to be ready to go for training camp.

Adding this strength is meant to just make me better overall so everything is a little bit easier when I am back on my game. The rehab, the one on ones I've had with coach (offensive line coach Paul Boudreau), it's looking much better for all the technique stuff that I needed to correct.
In the same piece, Jeff Fisher touches on how the Rams are bringing him along slowly by design and how he is pleased with Saffold's progression: 
Not only in the weight room but in the individual stuff, he's doing really well. We're just holding back the contact. He's very, very close to being cleared - definitely for camp. He's very athletic, smart. He's going to get the job done out there. There's no doubt.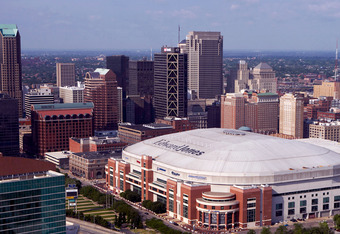 Please click the above-linked article for much, much more on the Rams young left tackle. 
Best Attendance Ever For a Jeff Fisher Offseason Program
According to Jeff Fisher via this report from Ron Clements of cbssports.com, the Rams players participation in the offseason program was the best that Fisher has ever seen and that it sets the standard for future years: 
That's the bar now for us moving forward.

 
What Are Various St. Louis Media Members' Expectations for Rams Wide Receivers? 
Roger Hensley asked colleagues with the St. Louis Post-Dispatch what people should expect from the Rams wide receivers in 2012.  
The answers, as you can read here, are interesting and vary from individual to individual. Kathleen Nelson, for one, expects free agent addition Steve Smith to have a bigger impact than many are expecting.  
Have a great day and a great weekend, STL Rams Nation. 
Shane Gray covers the St. Louis Rams daily as a Featured Columnist for Bleacher Report. You are encouraged to check out the rest of his work here. Gray also owns and operates stlramscentral.com.