Comparing LeBron James 2012 NBA Finals' Play to Debacle Against Dallas Mavericks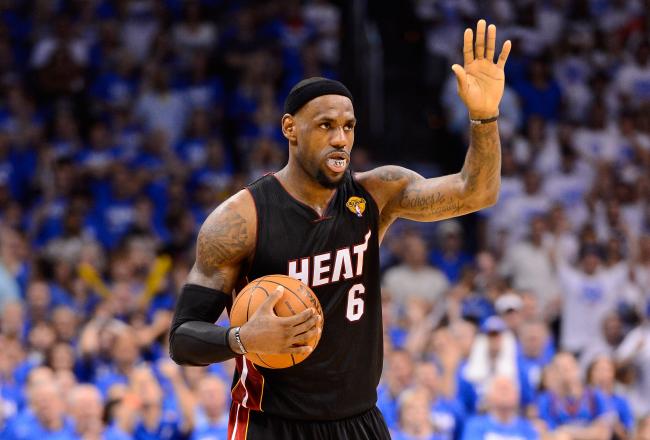 Ronald Martinez/Getty Images
One year ago, LeBron James took center stage against the Dallas Mavericks, and NBA fans witnessed a bigger flop than we'd see if James Harden, Dwyane Wade, Manu Ginobili and Blake Griffin played two-on-two.
This year, the best player in the NBA is out to redeem himself and has been the driving force for the Miami Heat in the 2012 NBA Finals, a series that remains tied after two games.
Truth be told, it's hard to find a larger disparity between two sets of performances in the Finals by one player, especially given that there's only a year of separation. Everything about James' game has been better during the second go-around with the Heat.
Instead of passively letting Wade try to take over the game, LeBron is insisting that he remain the go-to player when it matters most. He's no longer standing in the corner and looking uncomfortable, but rather, taking the reins, impressing and continuing to go about his business.
In Game 2, LeBron hit a tough bank-shot over the outstretched arms of Thabo Sefolosha late in the fourth quarter, and then coolly drilled two free throws to keep the Heat lead at more than a single possession. The most impressive part of the charity shots was that neither one hit anything but the nylon of the net.
Not only did LeBron make the shots, but there was never any doubt that they were going in. Can you imagine that sentence appearing in an article about the versatile small forward 365 days ago?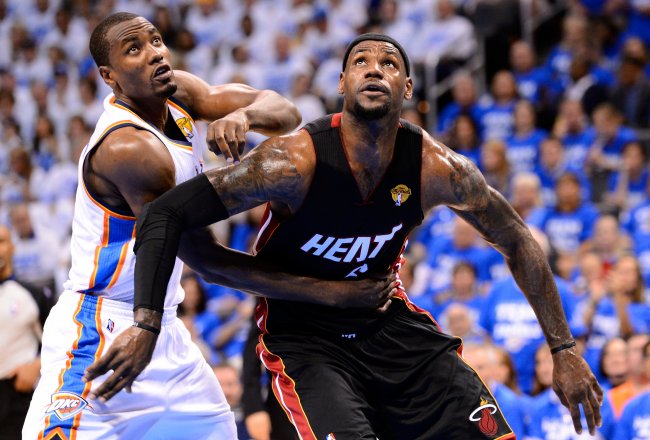 Ronald Martinez/Getty Images
Here's the breakdown of the stats for the two series (via Basketball-Reference.com):
| | | | | | | | | |
| --- | --- | --- | --- | --- | --- | --- | --- | --- |
| | Points | Rebounds | Assists | Steals | Blocks | Turnovers | FG% | FT% |
| 2011 Finals | 17.8 | 7.2 | 6.8 | 1.7 | 0.5 | 4.0 | 47.8 | 60.0 |
| 2012 Finals | 31.0 | 8.5 | 4.5 | 2.5 | 0.0 | 3.0 | 45.7 | 90.5 |
It's hard to make it much more obvious than those numbers do. James is much more involved in the game across the board while playing at a significantly higher level. In Game 1 of the 2011 NBA Finals, James' usage rate was 18.7. It was 27.6 in Game 2.
Through the first two games of this year's Finals? 34.9 in Game 1 and 33.2 in Game 2.
From start to finish, LeBron is looking to dominate and take over the game, a task which he's carrying out rather successfully.
Going back to the above chart, I'd like to focus on the assists and free-throw percentage columns, as both indicate a shift in LeBron's mentality.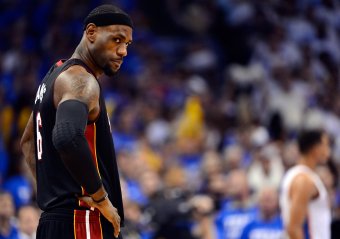 Ronald Martinez/Getty Images
While the decrease in assists per game from last year to this year may appear to be a negative, I'd instead view it as LeBron fundamentally changing the way he's playing and being less content with letting his less-skilled teammates shoulder the burden on the offensive end of the court. James' assist totals could be a lot higher because his teammates have missed a significant amount of shots that he's tried to assist them on, but that's beside the point.
As for the free throws, James has increased his percentage a staggering 30.5 percent between the two series. As the most isolated play in basketball, as well as the one that players like James have the most muscle memory for, free throws are the truest barometer of mental state.
The fact that he's in the zone and knocking down a ridiculous amount of his charity shots is truly telling.
All in all, the difference between 2011 Finals LeBron James and 2012 Finals LeBron James is quite large. Other than sharing the same name, nothing about them has been similar.
This article is
What is the duplicate article?
Why is this article offensive?
Where is this article plagiarized from?
Why is this article poorly edited?