NBA Rumors: Kevin Garnett's Best-Case and Worst-Case Free Agency Scenarios
June 14, 2012

Mike Ehrmann/Getty Images
In what looks to be a very weak class of unrestricted free agents, Boston Celtics forward Kevin Garnett will be one of the more popular ones on the market.
A return to the Celtics isn't out of the question, but the Boston Herald reported that KG would want to see what the Celtics roster looks like before making a decision.
That alone could mean KG switches uniforms next season.
With that in mind, let's take a look at the best and worst-case scenarios for Garnett as a free agent.
Best Case: Boston Celtics
Not leaving at all would benefit Garnett, as he's loved in Boston and doesn't want to be a guy playing in multiple different uniforms at the end of is career.
If Danny Ainge improves the roster quickly in the offseason, it could be enough to entice Garnett to stay where he can both chase a championship and be a mentor to the younger Boston players.
That's a big if, though, as Ainge likely won't have much time to make such improvements before KG wants to make a decision.
Runner-Up: San Antonio Spurs
The Spurs were linked to KG immediately after they were eliminated in the Western Conference Finals.
According to Buck Harvey at mysanantonio.com, the Spurs organization tossed out KG's name as an option.
It's always been thought that Tim Duncan and Garnett dislike each other, but while some teams will have more money to offer and some might have more young talent to put around him, the Spurs could give Garnett the closest thing to what he had in Boston, a veteran core with a chance to contend.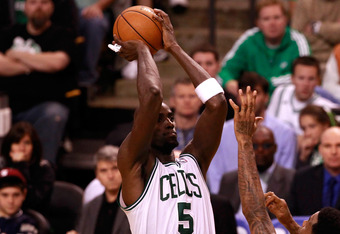 Jared Wickerham/Getty Images
Worst-Case Scenario: Brooklyn Nets
The Nets also have been linked to KG, as Colin Stephenson of the Star-Ledger reported that the Nets will look to upgrade the power forward spot by aggressively chasing Garnett.
This is a bad idea for KG, as it's doubtful he will want to wait around and see what happens as far as the Dwight Howard situation goes. If the Nets don't acquire Howard, they likely will lose Deron Williams, and KG isn't going to want any part of a rebuilding process.
As free agency nears, there will likely be plenty of more suitors for KG's services, but as you can see, the market is heating up for him already.
Follow Matt Shetler on Twitter for news, reaction and analysis from around the NBA.