Nick Swisher: Men's Health Magazine Survey Ignorant, out of Line
June 13, 2012

Scott Cunningham/Getty Images
On June 13th, CBS New York reported that Men's Health magazine recently did a "secret survey." In this survey, the mag asked 100 MLB players who they deemed the most hated ballplayers in the league.
Naturally, Alex Rodriguez came in second on this list behind Chicago White Sox catcher A.J. Pierzynski. Pitcher Joba Chamberlain made the list as well.
But then Yankees outfielder Nick Swisher's name came up. He came in third with nine percent of the vote.
"Everything about (Swisher) is annoying, from his mannerisms to his always wanting to 'bro' it down," an anonymous AL veteran said. "Being around him is just exhausting."
Understand I have no emotional connection to any of the ballplayers selected, but Swisher is the best Men's Health could do?
Talk about drive-by media at its worst, not to mention doing it anonymously is cowardly to say the least.
Regardless of what baseball fans might think of the Yankees, I could name many players more maligned than Nick Swisher (cough Jonathan Papelbon, Jose Reyes and Carlos Zambrano).  
In Swisher's defense, not since Dave Henderson, have I seen a ballplayer exude so much positive energy both on and off the field (and during interviews).
Swisher is big league baseball's version of Dick Vitale.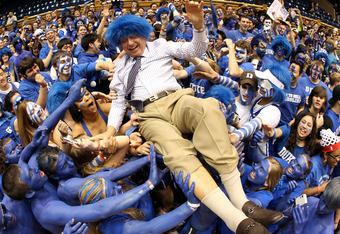 Streeter Lecka/Getty Images
Call Swisher obnoxious. Call him what you will. But in a game that emphasizes a "never let them see you sweat" psychology, Swisher is not afraid to wear his emotions on his sleeve. He plays the game like he is a kid in a candy store. With his eyes wide open and an ear-to-ear smile on his face, Swisher plays baseball in a refreshing, rock-star like manner.
Sometimes it seems as if Swisher is playing the last game of his career. Always playing blue-collar, and playing chatty-Cathy with opposing ballplayers, Swisher at times looks like he is going to pull a Sharpie and a baseball card from his back pocket after a single and ask the first baseman, "Mind if I have your autograph bro?"
But I bet if Swisher did ask, I am certain the majority of big league first baseman would sign right on the spot.
As a writer I would love to be the fly on Swisher's batting helmet during some of his conversations with players on opposing teams.
Moving to the locker room, Swisher also seems to be the kind of guy who could blow a hole through tension with his goofy sense of humor. With all the pressure the Yankees face to win each and every day, the locker room always needs a guy like this.
While the odds of Swisher being enshrined in the Hall of Fame are stacked against him, he nonetheless harbors intangibles the box score cannot account for.
Even if these intangibles are deemed obnoxious.

So for Men's Health to say Swisher is a hated man is straight ignorant, as is the decision to make the poll anonymous.
This is especially true when one considers Swisher's consistent support of American troops.
If I were a player and the magazine asked me to demean a fellow ballplayer, I would tell the magazine to take a flying lick of a rolling Lifesaver.
Yet at the same time, perhaps the above quote about Swisher was inspired by Swisher himself, which lends me to temper my zealousness.
Either way, it would be interesting to see the list of players, who participated in the survey. If it is true that 100 anonymous ballplayers snitched on fellow players, then writers could assemble a list of men never to be trusted again.
Related Articles:
5 Yankees Rookie Cards to Invest in Before they Skyrocket
Derek Jeter Shuns Time, Sets Sights on Orioles Cal Ripken Jr.