Derek Jeter Shuns Time, Sets Sights on Cal Ripken Jr.
May 28, 2012

Al Bello/Getty Images
New York Yankees shortstop Derek Jeter has written a storybook career many aspiring baseball players can only dream of. During his 18-year career, Jeter has treated the Big Apple to spectacular defensive plays, thrilling game-winning hits and euphoric taste of five World Series championships.
A slew of memories seared into the minds of millions, the Yankees captain has also garnered several honors and achievements in what seems like a flash of time. Jeter earned American League Rookie of the Year in 1996 and won the World Series MVP in 2000. A 12-time All-Star, "Captain Clutch" also has five Gold Gloves and four Silver Slugger awards to his credit.
In 2009, Major League Baseball awarded Jeter the Roberto Clemente Award for his excellence on the field and in the community. A short while later, Sports Illustrated heralded Jeter the Sportsman of the Year.
Sadly in 2010, Jeter looked like a man writing the final chapters of his prolific career. A career .314 hitter, Jeter batted just .270 with a .340 OBP, .370 SLG and .710 OPS.
More painful to watch, Jeter also endured a rough start to the 2011 campaign. Through mid-June Jeter batted just .260 before going on the 15-day DL with a calf injury.
Many people feared they were watching the sharp decline of one of the most iconic figures in sports the past two decades.
But as Ken Rosenthal of Fox Sports pointed out, Jeter is a proud ballplayer who will go down swinging. Rosenthal was right. Since returning from injury, Jeter's career has evolved into a suspense novel. This began at Yankee Stadium on July 9, 2011 when Jeter became the first Yankees player to join the 3,000 hit club. Impressive enough, Jeter achieved this hit in dramatic fashion when he deposited a home run into the left field seats off Tampa Bay Rays hurler David Price.
After this 5-for-5 performance, Jeter went on to hit .387 in the month of August, en route to finishing the 2011 season with a respectable .297 batting average.
Like a resolute marathoner picking off tired runners ahead, Jeter passed Roberto Clemente, Al Kaline, Wade Boggs, Rafael Palmeiro, Lou Brock, Rod Carew, Rickey Henderson and Craig Biggio on the all-time hits leaderboard along the way.  
Now nearing June 2012, Jeter looks like a Renaissance man frolicking in the fountain of youth.
While Jeter has slowed at the plate of late, he is still hitting .338 with five home runs, 18 RBI and an .845 OPS. Jeter's 67 hits are second in the league behind hot-hitting San Francisco Giants outfielder Melky Cabrera.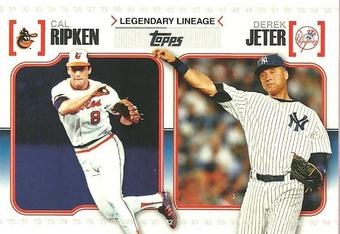 Enjoying this late-career success, Jeter has also continued to climb the all-time MLB hits list. He is now 15th on this list, after passing Dave Winfield, Tony Gwynn, Robin Yount, Paul Waner and George Brett.
This is some pretty impressive company to say the least.
But Jeter is nowhere near finished marking off his checklist of career achievements.
Having long passed the "Iron Horse," Lou Gehrig, in hits, Jeter now has his scopes set on "The Iron Man," Cal Ripken Jr. 
Ripken achieved 3,184 hits during his storied career. Jeter is just 30 hits shy of moving past Ripken into 14th all time.
When Jeter moves past Ripken is anyone's guess. Barring an injury, and with torrid hit streak Jeter could pass Ripken against the Mets at Yankee Stadium (June 8-10). However, a more realistic projection is that Jeter does this on the road in either Atlanta or Washington DC. And even if Jeter does hit a wall of sorts, the Yankees play the Mets again at Citi Field (June 22-24). 
It would surely be great to watch Jeter break Ripken's record in New York, whether at Yankee Stadium or Citi Field. But regardless of where Jeter achieves this feat, it would be terrific to see Ripken in attendance when it happens. Ripken was a true ambassador for the game of baseball. Jeter has been as well. To have two icons in the same ballpark would be like the complete passing of a torch.
But more importantly, it would also be a memorable experience for millions of baseball fans that have been truly blessed to watch both men play.
And at the end of the day, it makes me wonder what shortstop is capable of continuing the storybook legacy these men have so brilliantly written.

Related Articles: