Matt Cain Fires Perfect Game, Finally Earns National Respect
June 14, 2012

Jason O. Watson/Getty Images
On June 13th, Bay Sports Net reported that 27-year-old hurler Matt Cain was the most underrated pitcher in the major leagues.
Cain certainly has the attention of the national media now. For with the wind streaming right to left at AT&T Park on Wednesday, this 6'3" 230-lb pitcher sailed to greatness.
Cain became the first pitcher in Giants franchise history to throw a perfect game and the 22nd pitcher in MLB history to accomplish this feat.
Cain's perfect game came in San Francisco's 10-0 victory over the Houston Astros.
The last Giants pitcher to throw a no-hitter was lefty Jonathan Sanchez on July 10, 2009 versus the San Diego Padres.
The last right-hander to toss a no-hitter for the Giants was John Montefusco, who did so in 1976 against the Atlanta Braves.
Cain's brilliant performance—including 14 strikeouts, a broken bat single, and one spectacular diving play by Gregor Blanco—officially marks the arrival of the long-overdue national respect he deserves.
Equally impressive, Cain also tied Sandy Koufax's record for most strikeouts in a perfect game. Koufax had 14 strikeouts during a perfect game in 1965. 
In April, the Alabama native signed a six-year extension with the Giants worth $127 million, according to USA Today sportswriter Bob Nightengale.
Since signing, Cain has certainly lived up to high expectations. With Wednesday's victory, Cain is now 8-2 with a 2.18 ERA. Cain also has 96 strikeouts to just 16 walks in 95 innings pitched. Cain's WHIP shrunk to 0.85, as batters are hitting just .192 against him. For the season, Cain has surrendered just 23 earned runs.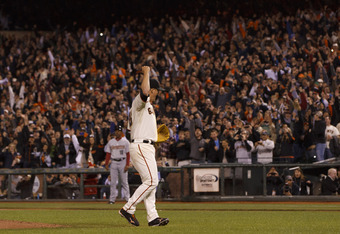 Jason O. Watson/Getty Images
Wednesday was not the first time Cain flirted with a perfect game. On April 14th, Cain carried a perfect game into the sixth inning against the Pittsburgh Pirates. But of all people, Pirates starting pitcher James McDonald slapped a single to left field in the Giants victory that day.
According to John Shea of the San Francisco Chronicle, Cain has three one-hitters during his career. The first came on May 21, 2006 against the Oakland Athletics. The second was on May 28, 2010 versus the Arizona Diamondbacks. The third of course came against the Pittsburgh Pirates.
Cain's performance thrust him into strong contention for the 2012 NL Cy Young Award, alongside New York Mets pitcher R.A. Dickey (10-1 with a 2.20 ERA) and St. Louis Cardinals standout Lance Lynn (10-2 with a 2.42 ERA).
But more importantly for Cain, Wednesday's performance will go down as one of the best in big league history.