NBA Finals 2012: Westbrook More Important Than Durant for Thunder Success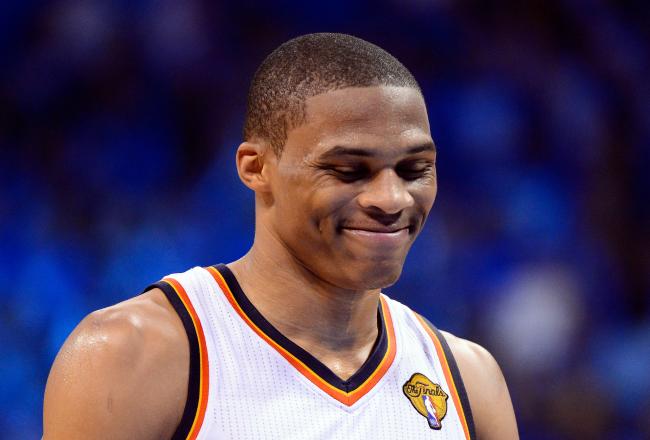 Ronald Martinez/Getty Images
While Kevin Durant stands head and shoulders above the rest of the players on the Oklahoma City Thunder roster in terms of prowess on the basketball court, Russell Westbrook is even more crucial to the success of the team in the 2012 NBA Finals than his high-scoring teammate.
Durant provides the scoring punch—and it's a hell of a punch, a knockout blow really in most instances—throughout the game, usually culminating in an impressive display of shot-making in the second half. He's the most glamorous player and the biggest superstar.
However, Westbrook is the heart and soul of the team. The point guard plays with unrelenting passion and aggression, both of which open up options for himself and the rest of his teammates.
When Durant is on fire, the defense doesn't change much but rather accepts the fact that an unstoppable juggernaut is about to tear through the ranks until it cools off. When Westbrook starts drilling long-range jumpers, the entire game changes.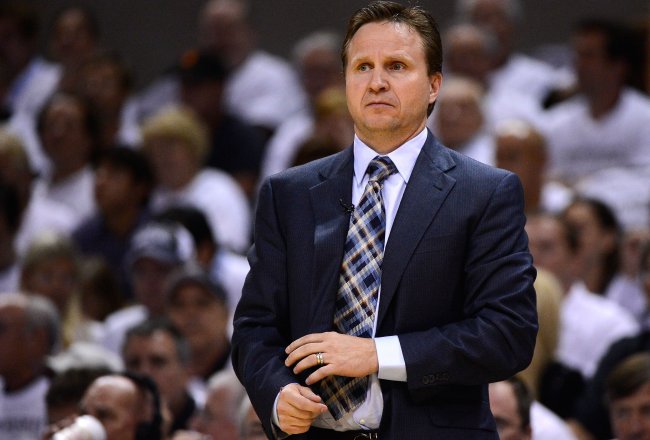 Ronald Martinez/Getty Images
While Westbrook has suffered through his share of poor performances, both turning the ball over too often and clanging shots off the iron with frightening consistency, it's hard to find many instances that players and coaches within the Thunder organization have complained about.
Have you ever heard Durant speak poorly about his point guard? In fact, the opposite has happened, as relayed by Grantland's Bill Simmons:
Does it make sense that Durant's point guard is averaging as many shots per game (19.4) as the modern-day cross between George Gervin, Tracy McGrady, Ray Allen and Spider-Man (19.5)? Of course not. Durant doesn't care. He knows that Westbrook needs those shots to get going; hence, he gives them to Westbrook. Here's how KD explained it yesterday when he came after Skip Bayless for downing Westbrook:

"We're worse when I take more shots. Like I said, [Bayless] doesn't know a thing. I don't think he watches us. I think he just looks at the stats. And traditionally, a point guard is not supposed to take more shots than everybody else on the team. But we're better when he does do that, and he's aggressive. And I'm better when I'm out there facilitating, rebounding, defending and being more efficient on my shots with less shots."
Once more, when Westbrook catches fire, the entire game changes.
Defenses have no idea what in the world to do. Do they play him tight and risk/guarantee that he uses his explosiveness to get into the lane for a finish, a foul or a dish-out to an open teammate? Do they back off and give him more passing lanes while he drills shot after shot?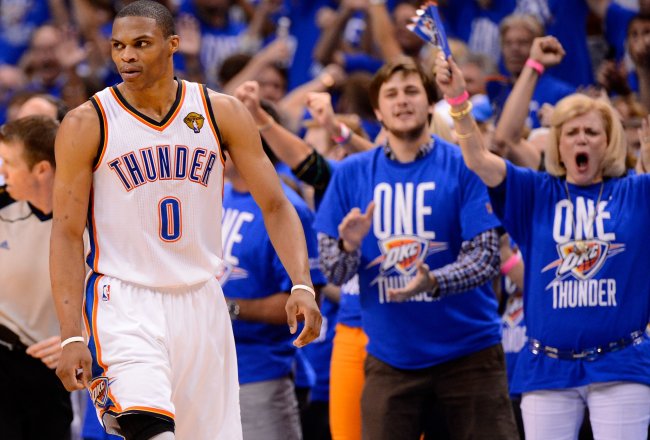 Ronald Martinez/Getty Images
There's no easy answer because there isn't an answer. When Westbrook is feeling it, he's a one-man offensive wrecking crew.
However, when Westbrook is off, he has the potential to become a one-man offense-wrecking crew. Note the subtle, yet incredible important difference.
This simply cannot be said about Durant. In fact, it's the volatility of the former UCLA shooting guard that makes him more important to the Thunder's success than Durant's consistent greatness.
While Durant may suffer through a poor shooting performance, he doesn't have the ability to almost single-handedly lose a game. Westbrook does because he displays no conscience when he plays, instead choosing to shoot his way out of his slump while providing a major detriment to the team's success.
Just look at the best and worst playoff performances for each of the two Thunder superstars.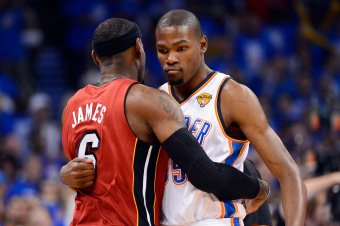 Ronald Martinez/Getty Images
It's hard to pick just one "best performance" for Durant this postseason, but I'm rolling with the Game 4 performance in the Western Conference finals that helped level the series with the San Antonio Spurs. In that game, Durant shot 13-of-20 for 36 points and added six rebounds, eight assists and a block while turning the ball over once.
Durant was at his worst in the second game of the playoffs when he went 5-of-17 from the field for 26 points, 10 rebounds, an assist, two steals and seven turnovers. Yet even in that game, Durant managed to contribute on the boards and dominated at the charity stripe to minimize the hindrance he became to the team.
As for Westbrook, his best performance—at the expense of a 37-point game against the Los Angeles Lakers—came in Game 1 against the Lakers in the Eastern Conference semifinals. The athletic floor general made 10 of his 15 shots from the field and all six from the free-throw line for 27 points. He also recorded seven rebounds, nine assists and two steals while recording just one turnover.
Who is more important to the Thunder success?
However, his worst performances come a little more often. The one that stands out against the backdrop of the other poor showings in the postseason (which aren't occurring as often as I'm making them sound) came in Game 1 of the Western Conference finals. Westbrook was only 7-of-21 for 17 points. He also added five rebounds, five assists and four turnovers.
Both players can provide staggering highs for the team, but it's Westbrook who has the unfortunate tendency to occasionally produce a dizzying low.
Even if he isn't the best player on the team, his performances are the most important to the Thunder's mutual goal of allowing James Harden's beard to scratch up the Larry O'Brien trophy.
This article is
What is the duplicate article?
Why is this article offensive?
Where is this article plagiarized from?
Why is this article poorly edited?

Oklahoma City Thunder: Like this team?