What Impact Will the Justin Forsett Signing Have on the Texans?
June 13, 2012

Jay Drowns/Getty Images
When a team runs an offense the way the Houston Texans do, it is, in fact, very important to have a capable third-string running back.
The Texans offense lives and breathes through the rush, and their backs are required to have a bone-jarring amount of carries. Despite missing three games due to injury last season and barely playing in the final game of the season, Arian Foster had the sixth-most amount of carries in the NFL with 278 attempts.
Ben Tate, the Texans' backup running back who had a breakout season last year, ranked 22nd in the league with 175 carries. 
The more carries that a running back is forced to endure, the more likely his body is to begin to break down. Therefore, the health of Foster and Tate could be in a bit of a precarious position with the amount of rushing attempts they have taken in the past, and also with the amount of carries they will take in the future.
In order for the Texans to be safeguarded against an injury to either one of their talented running backs, whether major or minor, it is imperative for them to have a back who can step into the system and garner success.
When the Texans signed Justin Forsett, a former running back for the Seattle Seahawks, they found a third-string back who can do just that.
Forsett, an extremely small running back, stands at 5'8" and weighs a meager 198 pounds. His size has limited his chances to find success in the NFL, and his less-than-average speed has not contributed well either.
Forsett, however, has the skill-set that is required of running backs that play in a zone-blocking scheme, which happens to be the running scheme that the Texans utilize.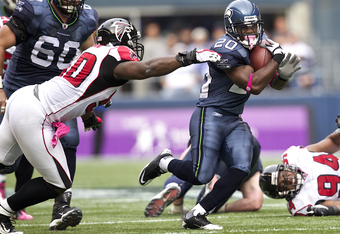 Stephen Brashear/Getty Images
Forsett has incredible vision, like Arian Foster, and that allows him to locate and quickly react to holes that the offensive line opens up. Also, one of his greatest qualities as a running back is his quick, one-cut ability that any back needs to succeed in the zone-blocking scheme.
He should be able to benefit from playing in Houston's offensive system, and hopefully for the Texans, he should have the potential to perform adequately if he is called upon to receive more attempts due to a possible injury to either Foster or Tate.
In addition to being able to attain success in the Texans' rushing system, Forsett can find ways to contribute to team, other than just through the rush.
Forsett has been a receiving option out of the backfield for the duration of his NFL career. In three seasons, he has totaled 730 receiving yards in limited playing opportunities. He has supple hands, and he is actually quite a talented route-runner. Forsett can become a very capable third-down running back for the Texans if he can hone in on and improve his skills as a receiver.
Also, if either Keshawn Martin or Trindon Holliday cannot solve the Texans' problem with finding a competent returner, then Forsett can effectively take over the returning duties. 
Forsett has experience as an NFL kick returner, and while he is not the most dangerous threat—he has not scored a single touchdown as either a punt or kick returner—he has been a dependable and safe option at both returning positions.
His best season has a returner came in 2009, when he averaged 24 yards per kickoff return and even broke out a career-long 46 yard return.
While Forsett will only see significant time at the running back position if either Tate or Foster succumbs to injury, he can find ways to contribute to the offense, whether if its as a receiver out of the backfield or a punt/kick returner.