Predicting 2-Deep Denver Broncos Depth Chart, Pre-Training Camp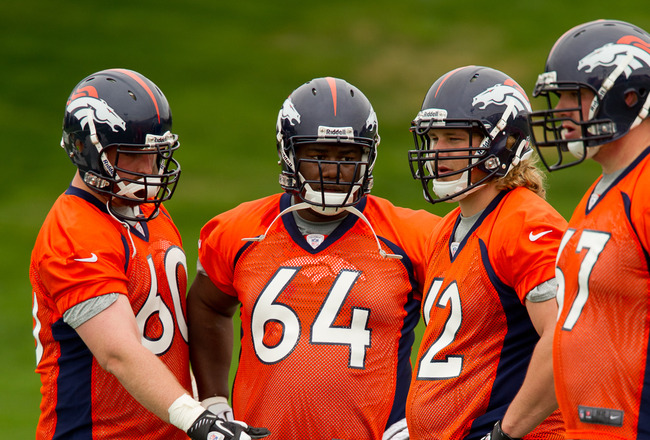 Justin Edmonds/Getty Images
It's time to put on the "coaches hat" and figure out what the Denver Broncos depth chart is going to look like once the dust settles from training camp.
A lot of these decision can be informed by following the dollars, and draft picks for that matter, to determine which players the team has invested in to be impact players for the team. Still, others are stalwarts at their position and not in any real jeopardy of losing their starting role regardless of training camp performance.
That doesn't mean that there won't be some surprises and chances for players to shine enough to earn their way into the top of the depth chart.
Here is a two-deep projection for each position's depth chart in 2012.
Quarterbacks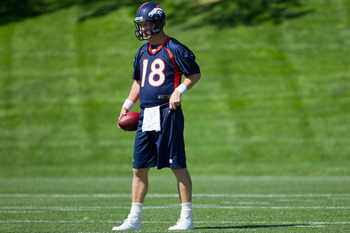 Justin Edmonds/Getty Images
There are almost $100 million reasons why this depth chart is how it is, but don't leave out the Super Bowl and MVP trophies as well. As for a backup, Denver will protect their young project, Brock Osweiler, by keeping him out of the line of fire in 2012.
Running Back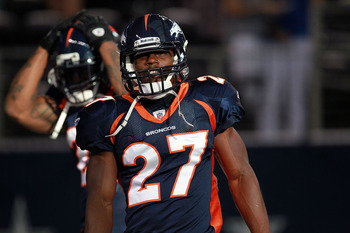 Ronald Martinez/Getty Images
Again, there is little drama here considering Willis McGahee revived his career last year and proved that he was a solid No. 1 back for Denver.
This is a position, though, where it doesn't matter too much who is two and who is three because that will be a pretty fluid situation for the Broncos offense. Still, Knowshon Moreno was on the verge of something really good when he got hurt last year, and it will mean a lot to him financially and personally to recapture it.
As a side note, since it appears that Chris Gronkowski is the only true fullback on the roster, he gets the nod at that position. Hopefully, his turn at protecting Peyton Manning goes better than protecting Tony Romo.
| | | |
| --- | --- | --- |
| Running Back | Willis McGahee | Knowshon Moreno |
| Fullback | Chris Gronkowski | |
Tight End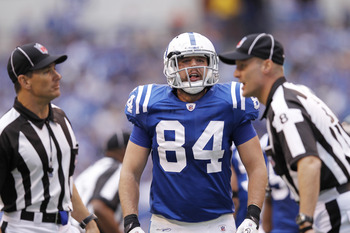 Joe Robbins/Getty Images
This position is where there could be some real competition for the top two spots on the depth chart, but the smart money says that Denver will have a lot of rotation from this position.
The main combatants will be Jacob Tamme, Joel Dreessen and Julius Thomas vying for the majority of the snaps.
Give the inside track to the player who knows Manning better than the others in Tamme, but watch out for Thomas in terms of a breakout season.
| | | |
| --- | --- | --- |
| Tight End | Jacob Tamme | Julius Thomas |
Wide Receivers
Justin Edmonds/Getty Images
Here is the real barn burner competition in Denver Broncos training camp considering the type of fireworks that are expected from Denver's passing game.
The first and second positions are firmly entrenched and inter-changable with Eric Decker and Demaryius Thomas, but beyond that, it is really anyone's guess. Another good guess is whether or not Denver will keep five or six receivers on the roster. For the sake of giving more players a chance, let's call it six.
Andre Caldwell was a sneaky good free-agent pickup. Brandon Stokley will have enough left in the tank to reconnect with his old friend Peyton, and Eric Page was underrated coming out of Toledo.
| | | |
| --- | --- | --- |
| WR 1 | Demaryius Thomas | Matthew Willis |
| WR 2 | Eric Decker | Andre Caldwell |
| WR 3 (Slot) | Brandon Stokley | Eric Page |
Offensive Line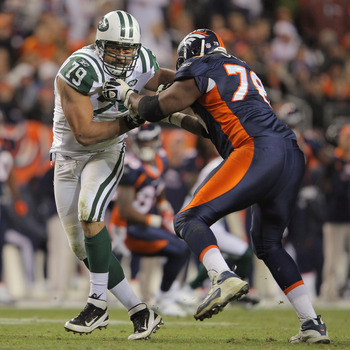 Doug Pensinger/Getty Images
This is a group that is going to remain unchanged from last year in the starting ranks and will be expected to improve even from last years surprisingly good performance.
In the backup role, there will likely be some player flexing between a few positions in order to free up roster space at other positions of need.
Holdover Manny Ramirez is solid and flexible, while Ryan Harris could be a starter in some other NFL cities. Newcomer Philip Blake may have an outside shot of pushing JD Walton for the center position, but his draft position will keep him on the roster. There could be one more reserve lineman that sticks around in Chris Clark or CJ Davis, but that all depends on roster spots.
| | | |
| --- | --- | --- |
| Left Tackle | Ryan Clady | Ryan Harris |
| Left Guard | Zane Beadles | Manny Ramirez |
| Center | JD Walton | Philip Blake |
| Right Guard | Chris Kuper | Manny Ramirez |
| Right Tackle | Orlando Franklin | Ryan Harris |
Defensive Line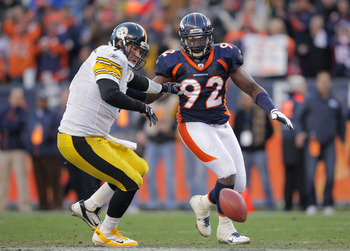 Doug Pensinger/Getty Images
The always hotly discussed defensive line is another spot where the positions are far from guaranteed, but it seems certain that there are some players that the team would like to see step and take the spots on the inside.
On the outside, it is a guarantee that Elvis Dumervil and Robert Ayers will reprise their roles as defensive ends.
Derek Wolfe should be able to prove that he is starting caliber right away because if not, John Elway and his draft strategy will have a lot to answer for. Furthermore, the return of Justin Bannan, as well as Ty Warren to the active roster, needs to be accompanied by effectiveness to justify their signings.
| | | |
| --- | --- | --- |
| Left Defensive End | Robert Ayers | Malik Jackson |
| Left Defensive Tackle | Ty Warren | Justin Bannan |
| Right Defensive Tackle | Derek Wolfe | Kevin Vickerson |
| Right Defensive End | Elvis Dumervil | Jason Hunter |
Linebackers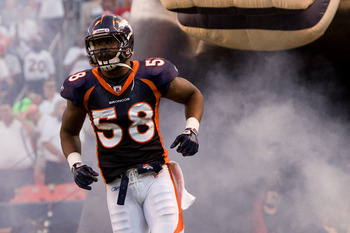 Justin Edmonds/Getty Images
The linebacking corps will look identical to last season as well, provided that DJ Williams actually gets to see the field. That's a big if, so for the sake of argument, this slide will take a look at what it might be like if he is out the full six games or ultimately cut by the Broncos (which is admittedly less likely).
Von Miller will anchor this group which, without Williams, will be very young and under-experienced as far as starting games in the NFL goes. However, Denver believes in the talent and the coaching being provided by Jack Del Rio.
| | | |
| --- | --- | --- |
| Strong Side Linebacker | Von Miller | Mike Mohamed |
| Middle Linebacker | Joe Mays | Nate Irving |
| Weak Side Linebacker | Wesley Woodyard | Danny Trevathan |
Secondary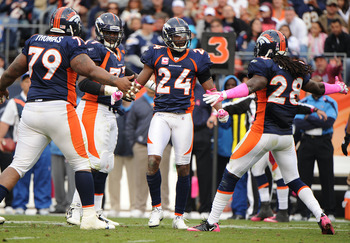 Bart Young/Getty Images
Sooner or later, people will stop talking (and writing) about the loss of Brian Dawkins in the secondary, but the fact is that Champ Bailey is still around, and Denver worked extremely hard to upgrade this portion of its roster.
This may be one of the areas where the team looks very different, but some old faces that are extremely versatile and effective will stick around like Chris Harris and Rafael Bush.
Even though he was underwhelming in his rookie campaign, a newly re-focused Rahim Moore should join Quinton Carter in his rightful spot as the future power pair at safety for the Broncos.
| | | |
| --- | --- | --- |
| Left Cornerback | Champ Bailey | Chris Harris |
| Strong Safety | Quinton Carter | Rafael Bush |
| Free Safety | Rahim Moore | Mike Adams |
| Right Cornerback | Tracy Porter | Drayton Florence |
Specialists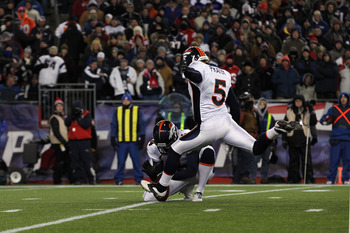 Jim Rogash/Getty Images
There are some rumblings about Matt Prater holding out, and while that may be true, it still won't affect his status as the starting kicker for the Broncos on opening weekend. Prater, along with the Broncos, know that Denver is the best place for him, and that will allow both parties to come to an agreement.
Britton Colquitt should be equally as entrenched at punter and should be the next player to be extended and taken care of so that he remains a Bronco for the foreseeable future.
In a pinch, these two players could sub for one another, but if either were to get hurt, a replacement would be signed in short order the next week.
| | | |
| --- | --- | --- |
| Kicker | Matt Prater | Britton Colquitt |
| Punter | Britton Colquitt | Matt Prater |
Keep Reading

Denver Broncos: Like this team?