St. Louis Rams: Monday's Rams News and Notes at Noon
June 11, 2012

Welcome to Monday's St. Louis Rams "News and Notes at Noon", the one stop destination for all major Rams headlines and other updates of interest for Rams Nation. I hope each of you had a good weekend. 
A good amount or Rams related information has been released since Friday's News and Notes so I will do my best to catch everyone up.  
Chris Long Impressed With Sam Bradford's Toughness 
Obviously, the Rams 2011 season was tough.  However, according to Sam Bradford's teammate Chris Long (in an interview with Bernie Miklasz as shared by Mike Sando of ESPN here), it was Bradford's toughness that caught his attention: 
I couldn't think higher of Sam as a competitor or as a guy. I'm a D-lineman and toughness is a premium for us and that is one tough son-of-a-gun. He's a competitive dude and he's a dude that eats, sleeps and breathes football. I have to pull his arm to get him to go do anything fun, so his nose is always to the grindstone, but he is rejuvenated and I think he's going to get some more help. 

I certainly think as the whole team thrives, Sam will thrive and vice versa. We're really excited about that and we couldn't be more confident in the guy we have under center.
Last season, Bradford was brutalized in the backfield all season long by an onslaught of pass rushers while also playing several weeks with an ongoing high-ankle sprain that he eventually succumbed to by the end of the season.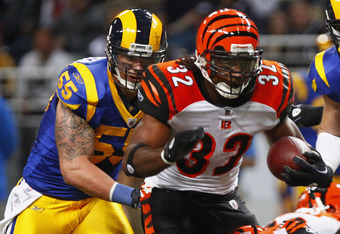 Whitney Curtis/Getty Images
James Laurinaitis and Chris Long Begin Talking Extension With Rams 
According to Rams Chief Operating Officer and Vice President of Football Operations Kevin Demoff as reported here by nfl.com, the Rams have begun initial contract talks with James Laurinaitis and Chris Long:
We're in the process of starting initial conversations with both players, and I'm optimistic that both will wear the horns for years to come. We have plenty of cap room in 2013 and the plan is to re-sign both of them.
Both Laurinaitis and Long are in the last year of their deals and will become free agents if they are not retained by St. Louis. 
Each player is entering his prime and figure to be vital cogs in the defense for years to come, assuming they are indeed locked up beyond this season. 
Long's agent is Kevin's father, Marvin Demoff, something that could aid in making negotiations go smoothly. 
Three Under The Radar Moves That Could Help St. Louis 
According to Mike Sando of ESPN and this piece, three potentially significant offseason changes for the Rams include the signing of former New York Giants and Philadelphia Eagles wide receiver Steve Smith (a 2009 Pro Bowl performer), the special teams overhaul (at kicker and punter) and the addition of versatile former New Orleans Saints linebacker Jo-Lonn Dunbar.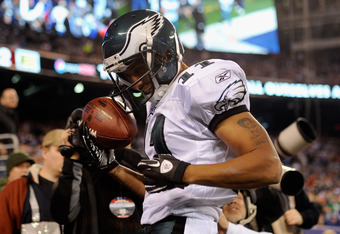 Patrick McDermott/Getty Images
Obviously, if all three moves pan out, these three moves will not be remembered in such a under the radar manner, rather, they will be heralded as major moves that helped in the renovation of the Rams. 
Robert Quinn Named One of John Clayton's Top 10 Breakout Players for 2012
According to veteran NFL reporter John Clayton, Rams second year defensive end Robert Quinn checks in at No. 6 on his top10 list of breakout candidates for 2012.  According to Clayton, Quinn should have some good opportunities due in part to the attention that players around him are expected to receive: 
After a slow start last season, Quinn had four sacks in the final eight games. He could be freed up against single blocking now that Chris Long needs double-team blocking and Michael Brockers and Kendall Langford have been added at defensive tackle.
I expect big things from the duo of Quinn and Chris Long, as I expressed in this submission last week. 
Marshall Faulk Does Not Want Football To Become Less Violent
According to a column from Bryan Burwell of the St. Louis Post-Dispatch, Marshall Faulk says that he does not want to see the game of football become a different game than the one he grew to love: 
It's pretty simple for me. Player safety is 'Go play golf. Go play basketball where they call fouls for slapping you on the hand.' ... But it's football. I hope guys get to play longer and there aren't as many injuries as there were in the past.

But I'm sorry, it is a contact sport. And I will feel cheated to a certain extent (if too many changes are made) because I want to watch the contact sport that I grew up loving and watching, but I know that's no longer possible.
The Hall of Fame St. Louis running back shared how football was a game that provided a positive opportunity for him growing up: 
Football was an outlet for guys like me. I was a fighter when I was a little kid. It was a way I could hit people or take advantage of people and didn't get in trouble for it. I enjoyed it and loved contact as a kid. ... Look, nobody made me play football. The problem is the NFL supposedly didn't tell (former players) what could possibly happen if you keep playing. It's just like smoking cigarettes. They tell you what can happen if you smoke cigarettes. It's on the back of the pack. And now there are (public) smoking areas, but it's not illegal to smoke. They don't let you only buy one pack a day. There are no rules on it.
Faulk does not feel that the game can remain the same if further safety measures are taken. 
One can certainly be justified in disagreeing with Faulk, even passionately, but I respect him for boldly stating his beliefs even as several former players have filed lawsuits against the NFL due to related matters and for taking a stand that is essentially opposed to the stance and direction of the league that employs him. 
Kevin Demoff's Recent Chat Talking Lease, Upcoming Season and Much More 
In case you missed it, St. Louis Rams Chief Operating Officer Kevin Demoff answered a multitude of questions regarding a plethora of topics last Friday in this chat at stlouisrams.com.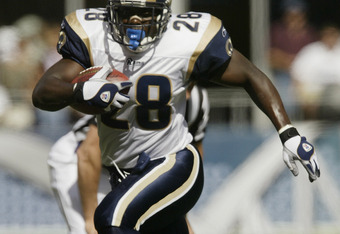 Otto Greule Jr/Getty Images
Some of the topics covered included several questions and answers regarding the long-term future of the franchise related to the lease at the Edward Jones Dome, the 2012 season, various Rams players, potential alternative uniforms and much more. 
In regard to the lease, I will share but a few of many answers that Demoff shared in the aforementioned chat regarding the lease and the long-term future of the franchise, starting with this one: 
I know people want to paint a doomsday scenario, but Stan has been emphatic on this point: He didn't lead the charge to bring the Rams back to St. Louis to lead the charge out of St. Louis. Everything we have done as an organization -- the hiring of Jeff Fisher, the countless hours in community service (our 4th playground build is Monday in Fairmount City), the re-connecting with partners, the lowering of ticket prices at the EJD, has been done with the St. Louis fans in mind. Our goal is to build a winner in St. Louis not only in 2012, but in 2022, 2032 and beyond. This city deserves better NFL football and that is what we are focused on every day.

 
And a second answer:
As many of you know, my grandparents lived in St. Louis for over 40 years and were devastated when the football Cardinals left and overjoyed when the Rams returned. I remember my grandmother yelling at Martz when the Rams won by 25 that it wasn't enough. This city has tremendous passion for football and the NFL. That being said, because a team has already left once people seem to think that it can happen again very easily. I'm amazed that we are years removed from even having a lease that goes year to year yet there is more angst in St. Louis than there is currently in San Diego or Oakland where the lease issues are more pressing.

There is more angst in St. Louis than there was in Minnesota and the Vikings lease was year to year. The reasoning is simple—we've been burned before and now there is another lease issue to be resolved. Fans don't deserve to have this hanging over there head which is why we are excited about our proposal for a first tier facility which will give St. Louis a great NFL stadium. Then we can finally put the lease/stadium/team moving discussions to bed and focus on improving this football team and building the winner that St. Louis deserves.

 
And one more: 
We couldn't be more excited about this season and the returning winning football to St. Louis. There is a lot of noise about the stadium situation, but its just that, noise. Our focus is on improving the football team and bringing our long-suffering fans the joy you deserve. Being bad for so long has fractured our fan base—winning will re-unite Rams fans and give them hope. Coach Fisher and Les Snead have done a great job this offseason laying the foundation for the future. I know our fans are optimistic and excited about this season and years to come. Focus on the positives and we'll figure out the stadium situation. I can't even fathom letting down our loyal fan base
Which Rams Could Be Headed to the 2012 Pro Bowl? 
Earlier today, I posted a new feature article looking at which Rams look to have legitimate Pro Bowl aspirations in 2012 and offered some potential surprise candidates who could get the nod for the prestigious accolade.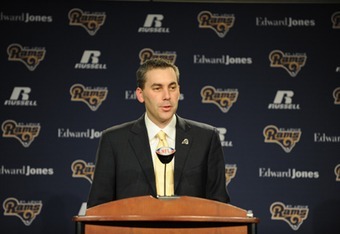 The favorites to land a Pro Bowl invite included Chris Long, Steven Jackson, James Laurinaitis and Cortland Finnegan. 
My list of potential surprises included Kendall Langford and Janoris Jenkins, among others.  
Please click the above-linked piece for the entire list with analysis regarding each player. 
Have a great day as always, STL Rams Nation.
Shane Gray covers the St. Louis Rams daily as a Featured Columnist for Bleacher Report. You are encouraged to check out the rest of his work here. Gray also owns and operates stlramscentral.com.