St Louis Rams: Who Are the Rams' Legitimate Pro Bowl Candidates?
June 11, 2012

The St. Louis Rams did not send anyone to the NFC Pro Bowl last season following a disastrous 2-14 season that preceded the firings of head coach Steve Spagnuolo and general manager Billy Devaney and the eventual hirings of veteran head honcho Jeff Fisher and first-time GM Les Snead.
Today, I will take a stab at identifying the St. Louis Rams who may have a legitimate shot at earning a Pro Bowl berth this season.  Obviously, all of these guys are not going to earn this accolade; however, a handful of them theoretically could. 
Successful teams tend to send successful players to the Pro Bowl. Last year, the Rams went 2-14, and thus it was of little surprise that St. Louis failed to send anyone to the showcase game for the league's brightest stars. 
So, who are the legit candidates to attain the lofty status of a Pro Bowl honoree?  The following is my list. Please let me know where you agree or disagree.  
Offense
Best Hopes: 
Steven Jackson will be 29 in July, an age equivalent to about 45 for a PGA Tour player.  When considering the pounding that NFL running backs face week after week and year after year, it is of little surprise that the average shelf life for a feature back in this league is so very brief.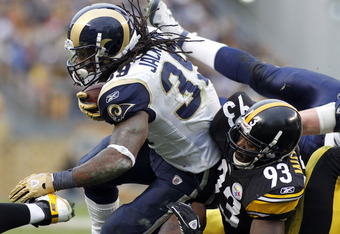 Justin K. Aller/Getty Images
That said, most running backs do not begin to hit the proverbial wall until the age of 30 so, even under those standards, that gives Jackson a chance for at least one more elite season. 
In addition, there are always exceptions to the rule, even at running back.
Marcus Allen, Franco Harris, Curtis Martin, Thomas Jones, Tiki Barber, John Riggins, Emmitt Smith, Tony Dorsett and Walter Payton all played exceptional football past the age of 30, so Jackson may be another who bucks the trend of rapid decline after entering the fourth decade of life. 
Jackson takes tremendous care of his body so it will be interesting to see how long he lasts. 
But for now, Jackson is still on the right side of 30 when it comes to the vast majority of NFL running backs and that should spell a potential Pro Bowl berth for the Rams' all-time leading rusher. 
Danny Amendola
Danny Amendola hauled in 85 passes during Sam Bradford's rookie year in 2010.  If he were to have duplicated those numbers last season rather than spending the year on injured reserve, Amendola would have finished fifth in the NFC in receptions and seventh in the NFL.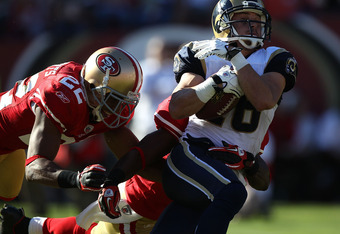 Jed Jacobsohn/Getty Images
People often point to his low yard-per-catch average (8.1) during 2010; however, the team did not have much of a vertical offense or a field stretching tight end on the roster making plays down the seam.
It was hard to get much room underneath when defenses were consistently crowding the line of scrimmage to stop the run and the short passing attack of then-offensive coordinator Pat Shurmur's offense. 
The talent around Amendola should be better this year at both wide receiver and tight end, which should give the quick, productive slot receiver more room to work.  That said, I expect Amendola's yard-per-catch average to increase in 2012.  
In addition, I expect he and Bradford to connect often during the coming campaign, often enough for Amendola to be in the mix for a Pro Bowl berth this year. 
For much more on Amendola, please check this recent feature from Andrew Astleford for foxsports.com or my piece regarding the importance of the diminutive wideout to Bradford and the St. Louis offense. 
Next-Best Bets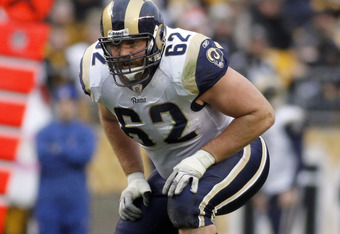 Justin K. Aller/Getty Images
Harvey Dahl 
Harvey Dahl has never made a Pro Bowl but has been a starter in the NFL for a long time. 
When considering the fact the Rams will likely pound the rock this season with Jeff Fisher at the helm and the fact that three-time Pro Bowl player Steven Jackson will be running behind him in the same manner as the Tennessee Titans did for years with Eddie George, a berth to the Pro Bowl is not without at least some possibility for Dahl this year. 
Some might suggest that Dahl earning a Pro Bowl trip is unlikely because he has not done so to this point in his career and will be 31 by the time the season starts.
However, Scott Wells, the Rams' prized free agent center from Green Bay, played in his first Pro Bowl last season.  How old was Wells when he took the field in Hawaii? You guessed it: Wells was 31 years of age. 
Scott Wells
Scott Wells graded as the best offensive lineman for the Green Bay Packers during the last two seasons as he called the protections for quarterback Aaron Rodgers and their prolific offense.
For his stellar work last year, Wells was awarded his first Pro Bowl invitation.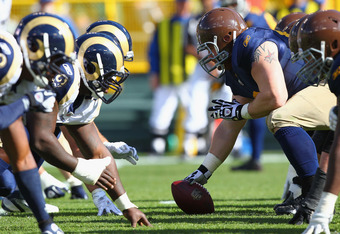 Dilip Vishwanat/Getty Images
Wells will take care of protections for Bradford and the Rams this year, too.  That should help Bradford immensely and allow him to worry about other things, such as play-call audibles at the line of scrimmage.  
Wells may or may not be in contention for a Pro Bowl berth by the end of the year, but he will be an upgrade over the departed Jason Brown at center, and his presence and pre-snap abilities should make Bradford's job a little simpler this season. 
Close But Not Quite:
Sam Bradford
Sam Bradford has the tools to earn a Pro Bowl trip this year. However, it will be tough sledding in earning that honor regardless of how well he plays when considering the QBs he will have to beat out to get there. 
The quarterback position is a deep one in the NFC.  The conference signal callers include names such as Eli Manning, Aaron Rodgers, Drew Brees, Jay Cutler, Cam Newton, Tony Romo, Mike Vick, Matt Stafford, Josh Freeman and Matt Ryan.  
Seven of the aforementioned gunslingers have already earned Pro Bowl honors, and others (such as Cam Newton) seem destined to do the same.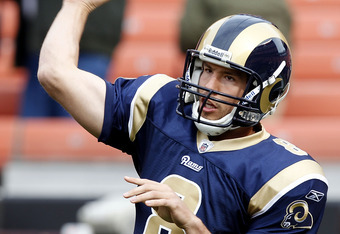 Matt Sullivan/Getty Images
I believe Bradford has several Pro Bowl berths coming his way; however, with two rookies expected to get significant playing time in yet another new offense for the third-year QB, that berth could be more likely to come a year or two down the road. 
Of course, I hope I am wrong. 
Defense
Best Hopes
Chris Long
Chris Long posted 13 sacks playing on a team that rarely had a lead (limits pass-rush opportunities as teams ahead tend to run), could not stop the run (fewer pass-rush opportunities), lost 10 corners to injury (little time to get to quarterbacks due to poor secondary play) and had little interior D-line pressure (QBs could routinely step up in the pocket to avoid Long), not to mention the fact that he played with a bad ankle for a good chunk of the season. 
All that being said, what could this man do if just a couple of these detrimental factors turn in his favor in 2012? 
My friend, Long's former teammate Mike Karney, suggests that the sky is the limit for Long and envisions him in the neighborhood of 18 sacks this season.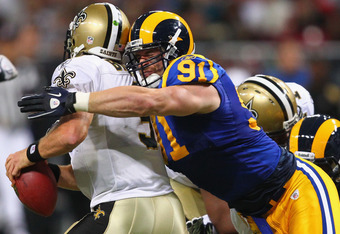 Dilip Vishwanat/Getty Images
Long led the NFL with 41.5 quarterback hurries in 2010.  Long compiled so many hurries with a relatively low number of sacks (8.5) because of a combination of the above factors.  
Last year, Long again led the league with 58 quarterback hurries while topping the league with 83 quarterback disruptions, according to this from profootballfocus.com.  
Once again, the lack of interior push coupled with poor corner play allowed Long to have a multitude of "close but not quite" plays in relation to sacks in 2011. 
The secondary figures to be much improved with the acquisition of big-time cornerback Cortland Finnegan, the returns of Bradley Fletcher and Jerome Murphy and the additions of 2012 NFL draft selections Janoris Jenkins (Round 2) and Trumaine Johnson (Round 3).
The interior defensive line should be much improved, as well, with Kendall Langford, Trevor Laws and first-round rookie Michael Brockers all added prominently to the mix in the offseason. 
This year looks to be the year that Long is destined to earn his first Pro Bowl nod.  At just 27, Long should have an opportunity to participate in several Pro Bowls before he hangs up the cleats. 
Unlike running backs, great defensive ends often excel well past the age of 30.  Long should be no exception.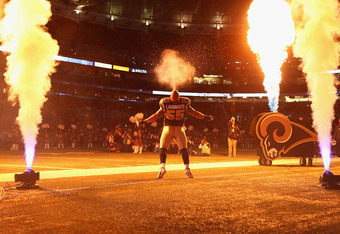 Dilip Vishwanat/Getty Images
For much more on Long, please check here. 
James Laurinaitis
In my mind, James Laurinaitis might have attained his first Pro Bowl coronation last season if the overall defense (No. 26 in NFL) and team (2-14) had been better. 
Statistically, his numbers were very impressive.  
Laurinaitis finished with 142 tackles (sixth in the NFC and eighth in the NFL). In regard to solo tackles, Laurinaitis finished second in the NFC and third in the NFL. 
Among the top 10 tacklers in the NFL, Long ranked second in that group with three sacks and first among that same group (tied with several others) with two interceptions. 
In addition to his impressive statistical output, Laurinaitis runs the defense, lines up his teammates and communicates the plays to his defensive brethren.
With all these injuries in the defensive backfield, his job has been tougher than it should have been. Players entered and exited the lineup at a prolific clip.
Nobody was more excited with the first-round selection of big defensive tackle Michael Brockers than Laurinaitis. 
The big DT will take on double teams, and his presence should help free Laurinaitis up to make even more plays this year.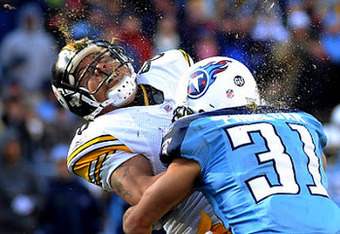 That and an expected better team defense should give the St. Louis middle linebacker a good shot at earning his first Pro Bowl berth this year. 
Cortland Finnegan
According to an article from Bernie Miklasz of the St. Louis Post-Dispatch, Cortland Finnegan rated as the third-best corner in the NFL in 2011, adept against both the run and pass.
Finnegan is not a stranger to Pro Bowl or All Pro honors after being named to both teams in 2008 under Jeff Fisher while both were employed by the Tennessee Titans. 
Finnegan is just 28 and still possesses the skill set and athleticism to play at an elite level and put himself in contention for another Pro Bowl prize in 2012. 
Next-Best Bet
Quintin Mikell
Quintin Mikell made the Pro Bowl with the Philadelphia Eagles in 2009 and was a second-team All Pro pick in 2008 and 2010. 
Mikell be 32 in September but appears to have quite a bit of juice left in the tank. Mikell should have an opportunity for a big season with a better supporting cast around him this year.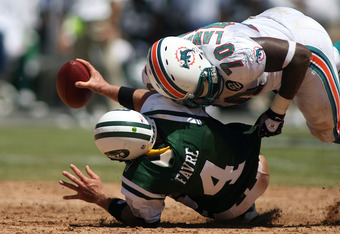 Marc Serota/Getty Images
Surprise Possibilities (Offense or Defense)
Kendall Langford
Kendall Langford was ranked as the fourth-best free agent defensive tackle this year, according to this from walterfootball.com. 
Langford will be making the switch from playing as a 3-4 defensive end to a 4-3 defensive tackle. Although he is moving inside, a 4-3 defensive tackle, particularly a three technique like Langford, will have a chance to make more plays and rush the passer than one playing end in a 3-4 base. 
Furthermore, many feel that Langford's best position is indeed defensive tackle. His combination of size and quickness could be a lethal combination inside against less athletic guards.
Langford is just 26 and could have a breakout season for St. Louis playing at what I believe is his best position, three-technique DT.
With Long, Brockers and Quinn taking up a lot of attention, there should be ample opportunities for Langford to make plays for the Rams inside, a la D'Marco Farr in 1997 and 1998.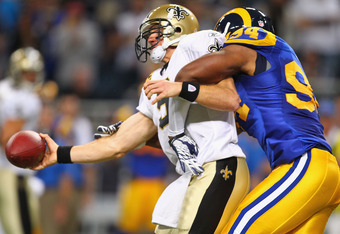 Dilip Vishwanat/Getty Images
Robert Quinn
Robert Quinn, the Rams' first round pick in 2011, produced five sacks in limited playing time last year. 
This year, his playing time is expected to increase dramatically, and coupled with the experience he attained last year, one would expect that Quinn could significantly increase his sack totals in 2012. 
Yes, a Pro Bowl selection for Quinn is probably a very long shot, especially when considering that his counterpart on the opposite side of the line will be hard enough to beat out for a Pro Bowl berth, let alone the likes of Jared Allen, DeMarcus Ware and Jason Pierre-Paul, among others, Quinn nonetheless possesses the physical attributes and skills to have a breakout season this year.
Aldon Smith posted 14 sacks as a rookie last season.  Perhaps Quinn will have his breakout year as a sophomore, rather than as a freshman.
Again, Quinn is a long shot, but his talent would indicate that it would not be impossible for him to blow up during the coming campaign. 
Janoris Jenkins 
It is not often that a rookie earns Pro Bowl consideration.  However, it is not often that a corner enters the league with the all-around abilities that Janoris Jenkins possesses.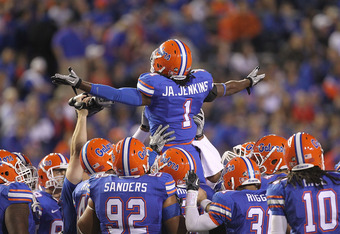 Mike Ehrmann/Getty Images
Jenkins truly has it all.  He possesses terrific speed, a great understanding of the game, great burst and outstanding ball skills.  
Perhaps teams will attempt to avoid the proven veteran in Finnegan and test Jenkins early.  If Jenkins makes them pay often enough, the NFL may be paying for a trip to the Pro Bowl for the Rams second-round rookie. 
Like Quinn, Jenkins is admittedly a very long shot to even receive scant Pro Bowl consideration. His talent is undeniable, and if his production matches his potential, anything is possible for the rookie CB. 
Greg Zuerlein 
Alright, I know some of you think I have completely lost it, but Greg Zuerlein has the tools to do some serious damage to opponents this season. 
Rob Rang of CBS Sports wrote that Zuerlein could be the Rams' top value pick in regard to their 2012 NFL draft class. 
Zuerlein was 23-for-24 in field goal attempts last season (96 percent) while being 100 percent (9-for-9) beyond 50 yards.  
Those games were played outdoors at Missouri Western State University in St. Joseph, MO.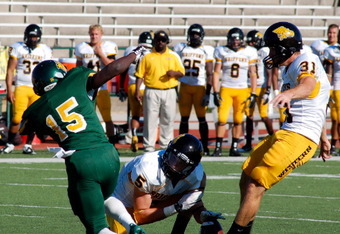 This year, Zuerlein will spend more than half of the season kicking inside with no wind, rain or snow to deal with.  That should only help him. 
On the other hand, the pressure will be up, and kicking in the NFL is never easy, even for a kicker as talented and strong-legged as Zuerlein. 
However, if Zuerlein plays to his potential, he could be one of the biggest surprises in the NFL this season and could potentially earn some rare rookie Pro Bowl recognition. 
Shane Gray covers the St. Louis Rams daily as a Featured Columnist for Bleacher Report. You are encouraged to check out the rest of his work here. Gray also owns and operates stlramscentral.com.