St. Louis Rams Free Agency: Smith Signing a Plus but Amendola Return Is Key
March 27, 2012

According to a report from Jim Thomas of stltoday.com, the St. Louis Rams have agreed to terms on a one-year deal with free-agent wide receiver Steve Smith, as many of you already know. 
I touched on the Smith addition here and how a return to his 2009 form could be huge for St. Louis in the coming campaign. 
However, a bigger key for the Rams' offensive hopes this season could rest upon the diminutive Danny Amendola, who will most likely be back following his receipt of the team's second-round tender.  
As a restricted free agent, Amendola will remain with St. Louis this year unless a team is willing to sign him and relinquish its second-round pick for a slot receiver, something that just really does not happen.
With all of the appropriate discussion about the Rams needing to upgrade at wide receiver, the almost certain return of Amendola has largely been overlooked. 
That should not be the case, however. 
How many teams outside of St. Louis will be adding an in-the-prime player to the roster who caught 85 passes in his most recent full season?
I am waiting for to see the list of players who meet that criteria, but here is a hint: Amendola will be only name on it. 
The player coming closest to meeting the aforementioned criteria would be Brandon Marshall, who caught 81 passes last year and will take his considerable talents from Miami's South Beach to the Windy City of Chicago (after being traded earlier this month for a 2012 and 2013 third-round selection.)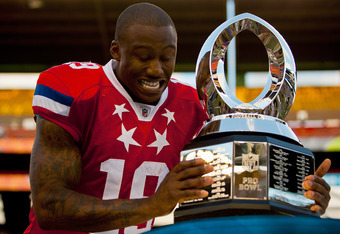 Kent Nishimura/Getty Images
The importance of Amendola's return has been greatly undervalued by many fans and NFL analysts. 
In 2010, Amendola was Sam Bradford's go-to guy and security blanket during his Offensive Rookie of the Year campaign. 
When a play broke down, Bradford could look to the reliable and steady Amendola on a crossing pattern or a quick hitch.  When the rookie QB was unsure where to go with the ball, he could seek out the sure-handed and heady Amendola and trust he would find a way to make a play.  
Last year, Amendola was out almost the entire season.  Not coincidentally, Bradford's play declined noticeably and a sizable sophomore slump ensued.
Of course, Amendola's absence was obviously not the only contributing factor in Bradford's downturn:
The offensive line was inconsistent and performed poorly, overall, in regard to pass protection.
Several receivers dropped passes far too often throughout the season, beginning in Week 1  versus Philadelphia.
Bradford had to learn a second offense under a second offensive coordinator within the constraints of a drastically shortened offseason.
Finally, Bradford lost the steadying, reassuring guidance of quarterback coach Dick Curl, who retired.
All that said, it could be argued that the loss of the consistent and productive Amendola hurt Bradford more than any other single circumstance last year.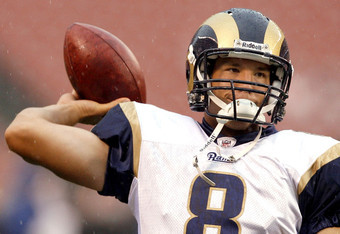 With Amendola almost sure to be back in the mix, Bradford will regain his security blanket and reattain a wide receiver whom he obviously shared a good chemistry with. Bradford will reunite with a man who brought both comfort to him and exemplary production to the offense.  
With Amendola expected back, the wide receiving corps could be much improved, particularly if Smith pans out and if last season's rookie wideouts Greg Salas (who impressed) and Austin Pettis (who made some strides late) improve upon their rookie campaigns.
A wild card could be Danario Alexander, who flashes greatness but struggles with chronic knee issues.  
Alexander has not endured any knee surgeries this offseason and the hope is that he can take advantage of the opportunity to strengthen the muscles around his knees and be stronger in the upcoming season.
Of course, everyone expects St. Louis to add at least one wide receiver via the NFL draft and possibly two.  
Some nice options there could include Justin Blackmon, Michael Floyd, Kendall Wright, Stephen Hill, Mohamed Sanu, Chris Givins, Brain Quick and Greg Childs, among others.  
All in all, the Rams have a terrific chance at fielding a much-improved receiving corps in 2012.  
Although it has often been overlooked and underplayed, an enhanced receiving corps begins with Danny Amendola, not Steve Smith or a yet-to-be-named 2012 NFL draft pick. 
Although other additions will likely be flashier and generate more buzz, it is the presence and production of Amendola that will likely assist Bradford for the entirety of the season more than a new free-agent addition or an inexperienced rookie, either of whom may take time to get acclimated and into a rhythm with Bradford.  
Shane Gray covers the St. Louis Rams year-round. You are encouraged to check out the rest of his work here and to follow him on Twitter.