What Brooke Tessmacher's Title Win Means for the Knockouts Division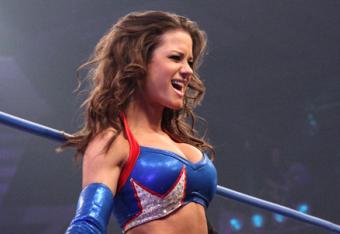 Photo Credit: Lee South/TNA

Brooke Adams, known better to TNA Wrestling fans across the globe as Brooke Tessmacher, has had an eventful career in the professional wrestling business.
A bikini model hired by WWE because she was, well, a bikini model, she has appeared on the relaunched ECW brand as a member of the Extreme Expose dance group also consisting of current WWE Divas Champion Layla and former titleholder Kelly Kelly. The trio was popular but, in the long run, meant little-to-nothing.
In November of 2007, Brooke was released from her contract and her future was left in limbo.
After a few years competing in professional swimsuit competitions, Brooke debuted in TNA in March of 2010. In 2011, she began a full-time in-ring career, teaming with Tara to become Knockouts Tag Team Champions, in short order. It was during 2011 that Brooke showed rapid improvement inside the squared circle and proved herself capable of handling her own business when between the ropes.
In May of 2012, Brooke saw all of her hard work payoff as she received a shot at Gail Kim's Knockouts Championship. The match was a very solid effort from both women, but at the end of the evening, Gail left the pay-per-view event, Sacrifice, with her title in tact.
One month later, Brooke would defeat Mickie James, Tara and Velvet Sky in a Triple Threat match to earn a rematch. And on Sunday night, she made the most of her second opportunity, surprising an overconfident Gail Kim with a roll-up to capture her first singles championship.
The title change was well-timed—coming in Brooke's home state of Texas—making the win seem more important that it would have in Orlando for any other TNA pay-per-view. It was also a small surprise in that the new champion is still largely inexperienced when compared to the rest of the Knockouts division.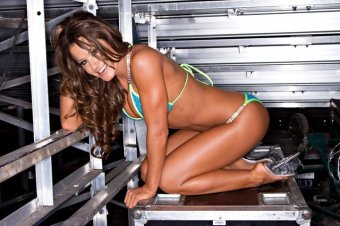 Photo Credit: Lee South/TNA
The future of the Knockouts division with the new champion at the forefront of it remains intriguing.
Brooke is young and fairly charismatic and is over with the TNA faithful—she has that in her favor. She also has in her favor the fact that the company appears to have faith in her and that they seem serious in their push of her.
There are several experienced and talented heels on the Knockout roster that could all guide Brooke through her first title reign and provide some fresh match-ups for the championship. Angelina Love, Winter, Madison Rayne, Rosita, Sarita and former titleholder Gail Kim could all create interesting matches and stories for the new champion.
Another potential story involves Tara.
The veteran in-ring performer has been tag-team partner to, and mentor of, Brooke in her early in-ring career. But what if Tara grew jealous of her protege? What if Tara decided she wanted the Knockouts title for herself? The story to be told there, as well as the matches between the two close, off-camera friends could be one worth watching.
In the short term, Brooke Tessmacher's Knockouts Championship victory at Slammiversary freshens up a title dominated by Gail Kim for months. Since returning to the company last fall, Gail has defended the title against nearly every babyface TNA has to offer. With Brooke holding the strap, new matches and rivalries can take center stage.
In the long term, Dixie Carter and company may have found their breakout female star.
Remember, it was just over a decade ago that a largely inexperienced former fitness model was given the opportunity to run with the women's division's top prize and ended up having a Hall of Fame career.
Trish Stratus, anyone?
No, that is not an attempt at a comparison.
It is, rather, evidence that breakout stars can come from anywhere and Brooke has the potential to be just that.
If not, if those are too lofty of goals, she can at least be a face of the Knockouts division for years to come. At 27, Brooke's career as a professional wrestler and as the TNA Knockouts Champion are only just beginning.
This article is
What is the duplicate article?
Why is this article offensive?
Where is this article plagiarized from?
Why is this article poorly edited?