Predicting How 2011 RB Performances Will Translate to 2012 NFL Season
June 11, 2012

Rick Stewart/Getty Images
Once again, I delve into the realm of first and second-half splits for last season. I've torn into quarterbacks and wide receivers, and now, I'll rip into running backs. Maybe not as violently as those verbs lead you to believe, but at least now if someone Googles "Rip Torn," I may get some extra clicks. So, there's that.
The one thing that I confirmed while putting together these stats is that getting 16 full games out of a running back is a feat of Herculean effort. There were only three running backs to start all 16 games: Ray Rice, Maurice Jones-Drew and Chris Johnson. And the only player from that group to have done the same in 2010 was Johnson, and you see how he fared last season. So if you want to draft a running back who is "safe" or "consistent" or "made of iron," then you should play an even faker game than fake football, because there are no indestructible running backs. 
We have to choose carefully when drafting running backs. There are very few every-down backs left in the NFL, and we often need to start three of them on our fantasy teams, so we have to draft as many of them as we can and as often as we can without hurting our more stable positions at quarterback and wide receiver.
So let us see how running backs fared as the season went on last year.
Chris Johnson: I see no reason to dwell on the past, well, except when talking about how Johnson completely rogered my team, but good. He was tentative, slow(er) and just didn't look like he wanted to be out there half the time.
So what can we expect from him this season? More of the same? Well, if the same is an average like his last eight games, then I could almost live with that.
His second half saw a rise in all of his stats: rushing yards, fantasy points and touchdowns to name a few. What stands out to me the most though is his rise in yards per carry. With a big enough sample size, I believe yards per carry can be a telling stat. We can argue about the sample size, but no matter what, his rise from a paltry three yards a carry in the first half to 4.8 in the second is sizable. I'm not going to predict a return to CJ2K form, but as one of the few consistently healthy, every-down running backs in the league, you have to consider drafting him early.
Ray Rice: Rice was the numero uno fantasy running back for 2011. His ability to stay healthy, catch passes and to step-up his play in the second half helped him achieve that distinction. When I usually think of the best fantasy back for the year, I don't expect to see very marked splits between halves, but Rice no doubt put it in another gear. He added three touches a game, 21.6 total yards and jumped from four yards a carry to 5.3!
He wasn't slowing down to end the season and should be primed to step right back into elite fantasy running back land.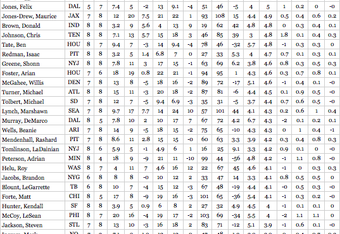 Shonn Greene: The Jets are a hard team to figure out. Sometimes they'll throw the ball 40 times, and other times, they'll run it 40. When Greene ran the ball 20-plus times last season, the Jets were 4-1. When Mark Sanchez threw the ball 35-plus times, they were 2-5. This, of course, says more about Mark Sanchez than Shonn Greene, but I think they will run the ball more this season.
And if they do run the ball more, they'll at least have a running back who was on the upward trend to end last season. He went from 3.8 yards per carry to 4.6 and upped his touchdowns and total yards. He is an average back, but he has slowly increased his numbers (very slowly) from year to year, and if given the chance, should be able to give your fake team startable numbers.
Ryan Mathews: Like many people, I am very high on Ryan Mathews. I always believed in his ability, but of course, he had trouble staying on the field due to nagging injuries. Last season, he stayed somewhat consistent in usage with a little boost in yards per carry in the second half. These numbers aren't great, but they show consistency, and with Mike Tolbert gone, the sky is the limit for Mathews.
LeSean McCoy: McCoy's second half was a little shady stat-wise. He kept scoring touchdowns, but dropped off in most categories, most noticeably in rushing yards and yards per carry. His first half yards per carry of 5.5 was unsustainable, but to drop all the way to four is a little worrisome. McCoy is not a four yards per carry kind of back.
The chances of him repeating his 20 total touchdowns from last season are as low as numbers get, so he will need to put up big numbers all around to stay a top three back. He has the ability, no doubt, but his drop off in stats is somewhat concerning after getting so much use.
Frank Gore: The second half of 2011 was not kind to Gore. His total offensive yards per game dropped from 107.5 to 58.1, his total touches dropped from 21.5 to 15.9 and his yards per carry dropped from 4.9 to 3.5. The 49ers tried to limit his work in the second half and succeeded. With less carries, his yards per carry should have gone up, but as you can see, it did not.
All signs are pointing toward Gore seeing less work this season because the 49ers have enough running backs to pull a school bus of linemen around, and Gore looks to be wearing down.
Steven Jackson: Like Frank Gore, Steven Jackson showed some signs of slowing down in the second half, but instead of limiting his touches, they gave him more. His yards went up a bit, while his yards per carry took a nose dive from 5.1 to 3.9.
He most likely will start to see more rest this season if Isaiah Pead can learn and be productive in Coach Fisher's system.