NASCAR: Joey Logano Bumps His Way to Win Pocono
June 10, 2012

Streeter Lecka/Getty Images
Racin' with Russ
Joey Logano took to the newly repaved Pocono Speedway like a duck to water after taking the pole and the eventual NASCAR Sprint Cup win on Sunday afternoon.
It wasn't easy, and it took a bump-and-run style upon veteran racer Mark Martin with less than a handful of laps remaining to do so.
Perhaps the two big stories from the day were the record amount of "speeding on pit lane penalties" (22) and pit strategies involving when to get gas and how many tires would keep a car competitive.
The race began with action in the very first turn, as Denny Hamlin ran into second-place Carl Edwards, moving Edwards to the back of the pack for repairs. He would battle back to finish a credible 11th, but he remains outside the Chase.
At the other end of the track just a minute later, Landon Cassill spun, causing A.J. Allmendinger and Martin Truex Jr. to incur damage serious enough for lengthy pit stops and poor finishes.
The rest of the race saw several drivers out front such as Hamlin, Matt Kenseth, Dale Earnhardt Jr. and, of course, Martin.
Those speeding penalties hit Jimmie Johnson, Brad Keselowski, Jeff Gordon and Edwards among many others.
The final segments had drivers and crew chiefs worrying about gas mileage with Earnhardt Jr. or Logano out front.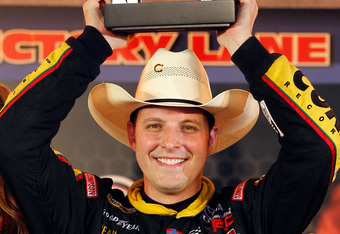 Chris Graythen/Getty Images
On the final restart with less than 10 to go, Martin pulled ahead of Logano's Toyota. Martin led the first five laps with Logano all over him. After a very slight slip-up by Martin as they came off Turn 3, Logano tapped the veteran as they entered the first turn, moving him up the track. With the lane open, Logano moved on by and into the winner's circle for only the second time in his career.
Finishing behind Logano were the cars of Martin, Tony Stewart, Johnson and Hamlin.
Greg Biffle lost a cylinder late in the go, slipping back to finish 24th and allowing teammate Kenseth to rise to the top spot, some 10 points over Earnhardt Jr.
Camping World Trucks
Friday night truck action in Texas saw Justin Lofton lead the most laps, but it was a late-race pass by Johnny Sauter to capture his first win this season.
Sauter has been plagued by numerous bad luck scenarios this season with hardly any finish to brag about. The No. 13 Toyota driver often drove like a man possessed to get out front.
Rounding out the top five were his teammate, Matt Crafton, Joey Coulter, Brendan Gaughan and Nelson Piquet Jr.
The points lead goes to Lofton, but only by five points over Timothy Peters.
Indy Cars
The Indy Car race at Texas on Saturday night was one of the more entertaining this year, with several lead changes, especially in the closing laps.
Road race ace Justin Wilson wound up passing Graham Rahal with less than two laps remaining and went on to claim his very first oval win for owner Dale Coyne.
Rahal limped across the finish line in second after tagging the wall, as Penske shoe Ryan Briscoe, James Hinchcliffe and JR Hildebrand capped the top five finishers.
Ganassi drivers Scott Dixon and Dario Franchitti had mechanical issues that led to Dixon crashing late in the show after leading most of the laps. Franchitti realized early that his car's handling was a handful. He pitted several times to resolve the problem and finished 14th, with Dixon 18th.
Formula One
The F-1 series competed in Canada on Sunday afternoon, with Lewis Hamilton taking the checkered, his first of the season, followed by Romain Grosjean and Sergio Perez.
Ferrari shoe Fernando Alonso dropped from the lead to finish fifth, yet he sits only two points out of the top spot now held by Hamilton.
From Rumorville
The big rumor this week is who will fill the seat of the No. 51 Sprint Cup Chevy normally driven by Kurt Busch. The often tumultuous driver was set down this past weekend by NASCAR for irate comments to reporter Bob Pockrass.
David Reutimann drove the No. 51 this past weekend, but he has a normal ride with Tommy Baldwin Racing.
The car is owned by James Finch. Busch and Finch are supposed to have a "come to Jesus" meeting on Tuesday to decide plans for the rest of 2012. I feel if Busch will promise to be a good boy both on and off the track for the remainder of the season, Finch will give him another shot. Whether he lives up to that promise is another story.
That's it for this week. Next week, RWR will review the NASCAR races from Michigan along with more racing news from around the globe.           .