Lakers Trade Speculation: Could Pau Gasol for Josh Smith Work for the Lakers?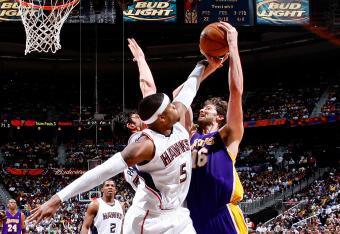 Kevin C. Cox/Getty Images
The Los Angeles Lakers loss to the Oklahoma City Thunder in the second round of the 2012 NBA Playoffs proved how far away the Lakers are from their goal of returning to the NBA Finals, and there is no clear consensus on how to get them back.
Issues abound. There are several areas on the roster that could use some attention from the Lakers front office, but the most glaring concerns are the lack of scoring from the small forward position, a horrible reserve unit and instability at the lead guard position.
The Lakers felt they might have solved their point guard problems when they acquired Ramon Sessions from the Cleveland Cavaliers before the trade deadline, but Sessions' disappearing act in the postseason may have disrupted that theory.
The Lakers bench issues must be addressed, and in fact this might be the easiest flaw to correct.
According to this article at DallasBasketball.com, the Dallas Mavericks are currently exploring a loophole which could make it possible to deal forward Lamar Odom back to Los Angeles this summer.
The article suggests that Odom desperately wants to return to Los Angeles and coach Mike Brown wants him back, so depending on how Mitch Kupchak and Jim Buss feel, there is a strong possibility that Odom's wishes could come true.
Lakers fans are well aware of what Odom brings to the table and his return would solidify the Lakers second unit as long as his poor play in Dallas was just a symptom of home-sickness, and not a sign of serious decline in Odom's game.
However, the most intriguing prospect about Odom's return to Los Angeles is the other opportunities it could create for the Lakers.
The Lakers could certainly use consistent scoring from the small forward position, but current starter Metta World Peace has shown he still has value as a superior defender, and he seems to have the confidence of Brown.
The same can't be said of forward Pau Gasol.
Gasol has been the subject of constant trade speculation since David Stern vetoed the deal that would have brought Chris Paul to Los Angeles, and the tension has only increased after Gasol's second straight poor postseason performance.
I'm not sure if the Lakers have lost faith in Gasol and will attempt to trade him again, but we all know the names most mentioned when it comes to a potential Gasol deal.
New Jersey Nets point guard Deron Williams and Orlando Magic center Dwight Howard are the two players on every NBA team's free-agent wish list, but the chances of the Lakers landing either player are slim, but not impossible.
The fate of Howard and Williams seems to be intertwined, but if a move to pair the superstars together falls through then Gasol could be the best option available for either the Nets or the Magic.
Or the Lakers could just forget about Howard and Williams and look for somewhere else to shop Gasol.
Atlanta wouldn't be a bad place to start.
Hawks forward Josh Smith is set to become an unrestricted free agent following the 2012-13 season, and as far as I know Smith has yet to state his future intentions.
Smith might not be the ideal piece for Lakers fans when it comes to replacing Gasol, but a roster that includes Smith, Andrew Bynum and Odom offers some tantalizing roster options.
Odom and Smith's ability to play on the perimeter and in the paint would create nightmare matchups for opponents, and teams would find it difficult to double Bynum in the paint with Smith, Odom and Bryant on the floor.
Financially a deal for Smith would also probably be easier to make since he doesn't figure to demand the same type of salary that Howard or Williams would.
The Lakers would actually be helping themselves by shedding Gasol's $19 million salary in return for Smith's $13 million per year, and the Hawks would finally have the big man they need.
And if Gasol doesn't work out in Atlanta, his salary would come off the books in two seasons anyway.
Like all the trade talk surrounding Gasol, my scenario involving Smith is purely speculation, but that doesn't mean it couldn't work.
I would still prefer that the Lakers make a deal for Williams if presented with the opportunity, but if Williams is unavailable Smith might be a better option for the Lakers than Howard.
This article is
What is the duplicate article?
Why is this article offensive?
Where is this article plagiarized from?
Why is this article poorly edited?

Los Angeles Lakers: Like this team?