Is Mike Trout the Best Player in MLB?
June 10, 2012
Doug Pensinger/Getty Images
The Los Angeles Angels of Anaheim have found themselves a great player for years to come with Mike Trout.
Trout is unquestionably the hottest hitter in baseball during the month of June. This month alone Trout is hitting 17 for 33, good for a .515 average. He has hit in 12 of his last 13 games and has six multi-hit games this month.
He continued his great June by collecting three more hits, two RBI, two stolen bases and another three runs on Saturday.
There is no doubt that he is on fire, but does his incredible start to the season warrant him being talked about as the best player in baseball?
This season he is hitting .349 with 31 runs scored, 24 RBI and a .546 slugging percentage. His numbers are phenomenal but his impact goes far beyond statistics.
Trout is not putting up great numbers while his team loses game after game. In fact, Trout has taken a team that had only won six of their first 20 games, and has completely turned them around.
Since his call up in the Angels' 21st game, Anaheim is 25-15.
The Angels leadoff hitters were only .195 from that spot before Trout was called up. Trout has hit .349 from that spot since begin called up. He is getting on base and setting the table for the guys behind him, including Albert Pujols who has turned his season around since Trout came to the league.
Trout is giving the Angels the life they needed prior to his call up and now they find themselves only three games out of first place in the AL West.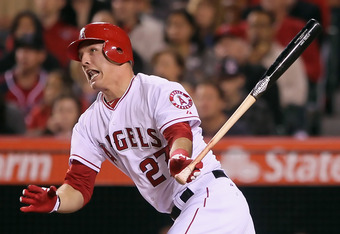 Jeff Gross/Getty Images
There are few players who have impacted their team the way that Trout has. 
So the answer to the question is yes. Trout should be included in talks alongside the best players in all of baseball.
Is he better than Matt Kemp and Josh Hamilton? Not yet. But it won't be long before he is. He might even be challenging them by the end of this season.
Trout's numbers will remain impressive all season and he will definitely receive some votes for the American League MVP by season's end.