Washington Redskins Offensive Line: Versatility and the Zone
June 9, 2012

Rob Carr/Getty Images
In the land of Mike Shanahan's Washington Redskins, the scheme is king.
This has been illustrated across many positions, from running back to quarterback, but the most interesting placement of players occurs on the offensive line.
In this area, Shanahan trusts nothing but his own judgment, exemplified by the selection of Kory Lichtensteiger, who looked to be out of football completely before Shanahan brought him in.
Josh LeRibeus was selected in the third round this year and can now be added this list, when some draftniks expected him to fall to the late rounds.
LeRibeus isn't typical of a Shanahan lineman, who generally looks for quicker players—LeRibeus ran the 40 in 5.37 at the combine—and he played in a man-blocking scheme at Southern Methodist, pushing off a two-point stance.
He got the chance to experience zone-blocking during the East-West shrine game, and when interviewed after being drafted by the Redskins, he said that he found it more comfortable exploding off the three-point stance.
LeRibeus has experience at both center and guard, and although he took a lot of reps at center during the rookie minicamp, when it came to the OTAs, Rich Tandler reported that LeRibeus was lining up at right guard, left guard and center.
Following the devastating impact of injuries and suspensions in 2011, it's clear that the Redskins' new mantra is "versatility," following reports that the defensive backs are also expected to widen the scope of their responsibilities.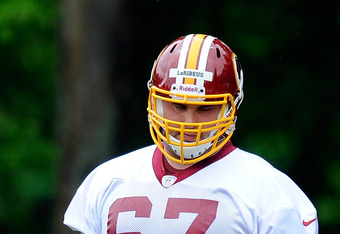 Patrick McDermott/Getty Images
Kory Lichtensteiger still has a couple of questions to answer regarding his return from injury, and LeRibeus has the attributes to provide solid coverage if Lichtensteiger suffers a repeat this year. He's strong, quicker on his feet than his 40 time indicates and has good blocking ability.
Lining LeRibeus up at multiple positions in OTAs also gives Shanahan the option of shifting Will Montgomery to guard and starting LeRibeus in his place at center.
This has been touted in some areas as a better fit for Montgomery, but he was consistent at center last year, which was something the line lacked as the injuries continued to strike. Erik Cook is also an option, so the battle between them should be interesting to watch.
Adam Gettis and Tom Compton were the other linemen drafted this year, and while it's unlikely they will see much action—barring injuries, of course—they both provide much-needed depth along the line. This could force Mo Hurt further down the depth chart, but the competition for roster spots will be a good motivator for him.
Gettis was touted as being undersized going into the draft, but his pace and athleticism means that he fits the Shanahan zone-blocking mould nicely. Chris Chester was solid last year—if unspectacular—and Gettis could push for a place on the team with some good training camp performances, despite Chester's contract seemingly assuring him of a start.
Jammal Brown enters 2012 with something to prove. He counts for $4.6 million against the cap this year, and Shanahan issued him a "get fit or else" ultimatum at the end of last year.
It was reported by Rich Campbell that Brown is actually re-learning how to walk in order to avoid putting so much pressure on his hips, and Brown told Campbell that his offseason regime of yoga drew immediate results.
OTAs didn't show much of a difference in flexibility, but training camp will be when we see how much improvement he has truly made.
His starting place isn't under much threat going into the season, but don't be surprised if Willie Smith or Tyler Polumbus end up replacing him if his performances decline over the course of the year. The addition of free agent James Lee will also add to the pressure on Brown. Nothing less than Pro Bowl form will suffice now.
The blind side offers more stability, with Trent Williams the de facto starter, but he has to prove that last year's drug-related suspension is behind him.
With his new-found determination to impress, I'm excited to see what Williams produces this year, as his performance has not matched his ability—or his draft position—so far. He is tasked with the responsibility of protecting the future of the Redskins, so any lapses on his part will not be well-received.
If they happen to strike again, it goes without saying that injuries will affect the performance of the line, but I am glad that Mike Shanahan resisted the temptation to plunder free agency for the likes of Demetrius Bell.
Instead, he has trusted himself and his system, insisting that his players are adaptable within it and drafting according to the demands of his scheme.
It's easy to bemoan the lack of big-name players along the line, but Shanahan's system demands that each position works in harmony with the others—and that leaves no room for superstars.