Euro 2012: Americans Should Root for France (Over England)
June 9, 2012

Alex Livesey/Getty Images
With an unbeaten streak of 21 games heading into the UEFA Euro 2012 tournament, the French National team has gone from a pre-tournament sleeper to a bona fide favorite this summer. 
Yes, Germany, Spain and the Netherlands are still the class of the tournament, but France's recent run of strong performances—coupled with a deep roster of world-class talent—has put the French side into the short conversation of countries with a real shot to win this year. 
Inexplicably, rooting for France (over an England team also vying to make it out of Group D) makes some Americans angry. In fact, when France plays England in the teams' first match on Monday, Americans should cheer the French.
The bias against France has little, if anything, to do with soccer.
Americans really hate France. It's almost as if France was the country that refused to let the founders of this nation be a free and independent state, forcing us into a bloody war nearly 250 years ago that led to the creation of this country.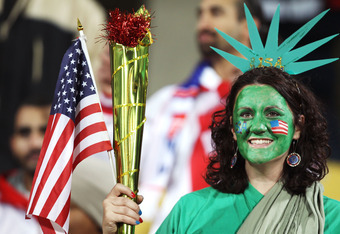 Ian Walton/Getty Images
No, wait, that was England. Right, the English were the oppressive militants who fought their own people who came to America for a better life. The French were our allies, who helped us during the Revolutionary War, and in almost every political situation since.
Louisiana? Sold to us by France. The Statue of Liberty? A gift from France.
Sure, America has had our dust-ups with France over time. France was basically bailed out by the U.S. troops in both World Wars and then didn't repay the favor when we went to Vietnam. Yes, Charles de Gaulle pulled out of NATO in the 1960s and the French vociferously disagreed with invading Iraq after the Sept. 11 attacks, leading to the jingoistic Freedom Fries era in American gastronomy.
Is that why we hate France? Because of the fries thing?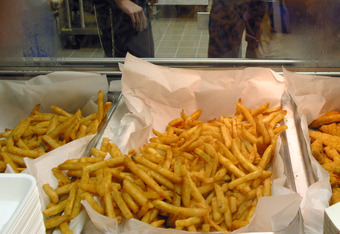 Jana Birchum/Getty Images
More specifically, do we still hate France because they didn't support us in a war most Americans have finally come to realize was started on rather thin intelligence? That is why we hate France?
Or is it the general snootiness of French people? Do we hate the berets and long cigarettes? Do we detest the ornate fashion sense, high-minded sophistication and cultural opulence?
Are baguettes too crunchy for our soft-breaded sensibilities?
I don't see why we seem to hate France and love England like it's our long-lost mother. England is more like a wicked stepmother, isn't it?
I am certainly not trying to suggest we start hating England, not as a nation nor as a soccer team in the Euro 12 tournament.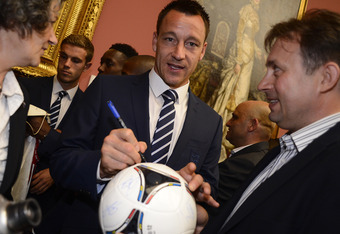 Pool/Getty Images
England is a great country and a fine side to root for, even with all the egos and drama and accused racists. By all means, root for England. Root for the squad that needed a central defender after a rash of injuries and still, for some reason, didn't pick Rio Ferdinand. 
Just remember, with all the famous names on England's roster, there are nearly as many for France. That team, despite all the egos, seems to be clicking on all cylinders.
Okay, so it's not like France hasn't been without scandal in recent years, but then, England's got that angle covered too, in its own scandalous ways.
On the field (oh, right…that) France is as deep as almost any team in the field. Hugo Lloris is one of the best keepers in the world and he's buoyed by a back line that includes Patrice Evra (Manchester United), Phillippe Mexes (AC Milan), Laurent Koscielny (Arsenal), Gael Clichy (Manchester City) and Adil Rami (Valencia).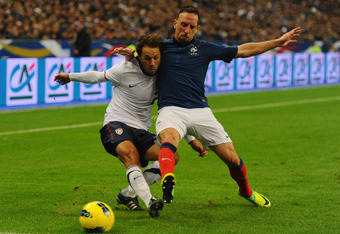 Mike Hewitt/Getty Images
The midfielders run 11 deep, including game changers like Franck Ribery (Bayern), Samir Nasri (Manchester City), Flourent Malouda (Chelsea) and Mathieu Valbuena (Marseille) who had a breakout effort in the UEFA Champions League this season.
To be fair, France does not have a lot of depth at forward, running a system that uses the wings in more offensive situations, but Karim Benzema (Real Madrid) is one of world's best strikers.
How ridiculous is it to think Benzema didn't even make the roster for the World Cup team in 2010 and is now, as he was then, one of the best goal scorers on the planet? 
The Raymond Domenech era of France football is long gone.
Yet many players from the debacle of 2010—where some French team leaders were sent home during the group stage of the World Cup and the rest of the team refused to play for Domenech—are part of the 2012 roster. Somehow under Laurent Blanc's stewardship, a similar group of players have gotten their act together and head into the Euros with a cohesive goal in mind: erase the memory of 2010.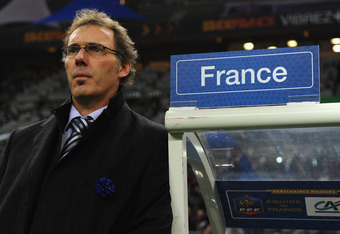 Mike Hewitt/Getty Images
France should win its group, especially getting to face England without Wayne Rooney. Should France win Group D, they would likely avoid playing Spain and either the Netherlands or Germany until the final. They could, however, meet up with Germany (or the Netherlands) in the semifinals, which would be a true test of how far France has come in the last two years. 
Still, that is understandably a ways away for Les Bleus, who have been known to implode in big tournaments and must worry first about England, Ukraine and Sweden.
For now, there should be no reason Americans aren't pulling for France over England. Just because we are more familiar with many of the English players, by nature of watching countless hours of English Premier League matches in America compared to the generally ignored French first division, does not mean we automatically have to like them. In fact, most of us who have certain EPL allegiances probably detest some of the English players. 
Why would we root for them now?
Last year, Barack Obama ruffled some feathers in England by calling France our "biggest ally." Times have changed. Is this a new America we are living in, one where we side with France over England? In the Euros this summer, it probably should be.