Seattle Seahawks Free Agency 2013 Contract Concerns They Must Figure Out Quickly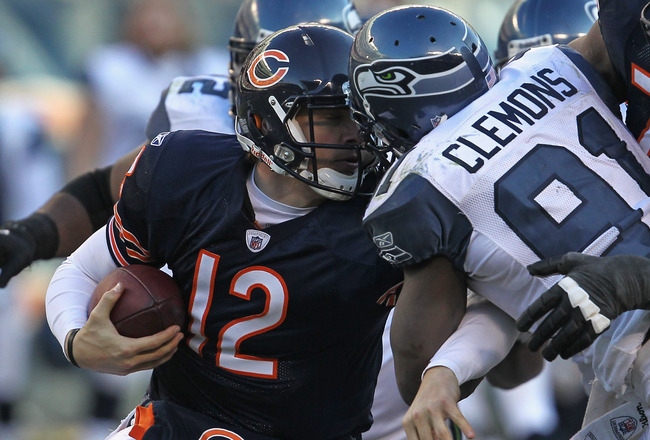 Chris Clemons and the Seahawks aren't seeing eye-to-eye right now.
Jonathan Daniel/Getty Images
Retaining inherited players wasn't a concern when Pete Carroll and John Schneider took over the personnel responsibilities for the Seattle Seahawks in 2010. There simply wasn't enough talent on the team that were worthy of roster spots. But they have spent the last three offseasons upgrading the roster, and now there are several players they can't afford to let slip away.
News that Chris Clemons didn't report for the teams mandatory minicamp is an indication they have some contracts to work on.
A recent article on several Seahawks that are being overlooked headed into the 2012 season mentioned the volume of free agents the team will be facing next offseason. It prompted a few comments and messages from readers about what the future of the roster looks like.
Seattle has left themselves with enough cap space to be active in retaining their players. While some fans were hoping to see a few more big-name free agents join the team, there is a reason the Seahawks have left cap dollars on the table.
Seattle is building their team with young talent and will pay a bit of a premium for their own players that have proven they are a good system fit.
Red Bryant and Marshawn Lynch are two prime examples.
Both were free agents earlier in the year, and both signed hefty contracts to stay in Seattle.
There was a small amount of criticism that Seattle overspent for these players, but Schneider is ensuring the nucleus of talent stays in Seattle. They've been frugal overall, appearing to have a plan to leave salary cap room on the table to ensure they can re-sign key contributors.
A special "thank you" to Spotrac.com, as most of the free-agent data was acquired there.
Free Agents That Won't Likely Be a Top Priority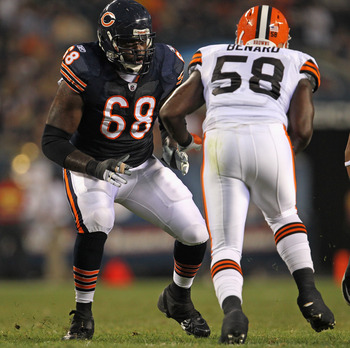 Frank Omiyale was brought in to compete, but he struggled in Chicago.
Jonathan Daniel/Getty Images
There are plenty of players the Seahawks need to focus on for next season. Many of the following players may be back, but none figure to be a high priority.
| | | |
| --- | --- | --- |
| PLAYER | POS | STATUS |
| Phillip Adams | CB | RFA |
| Pierre Allen | DT | RFA |
| Allen Barbre | G | UFA |
| Allen Bradford | RB | RFA |
| Paul Fanaika | G | UFA |
| Coye Francies | CB | RFA |
| Clint Gresham | LS | RFA |
| Roy Lewis | CB | RFA |
| Chris Maragos | CB | RFA |
| Charly Martin | WR | UFA |
| Matt McCoy | LB | UFA |
| Clinton McDonald | DE | RFA |
| John Nalbone | TE | RFA |
| Frank Omiyale | T | UFA |
| Brent Osborne | G | RFA |
| Tyrell Sutton | RB | UFA |
| Vai Taua | RB | RFA |
Several of these players could prove to have value in 2012. A quality long-snapper is a good thing to have, and Gresham will likely be retained. However, it is about the least exciting position on the team...until a snap goes awry.
Omiyale could revive a once-promising career working with Tom Cable, but his struggles in Chicago make him a long shot to make the 53-man roster.
Matt McCoy will look to find a niche as well, likely on special teams. The linebacker position was looking thin at the start of free agency but could end up being one of the more competitive groups in training camp.
Players That Need a Solid Season in 2012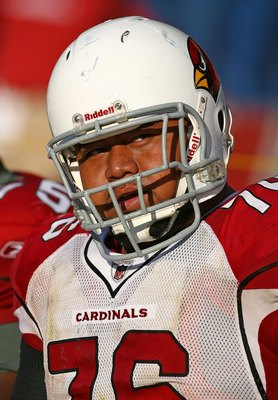 Deuce Lutui could prove to be the biggest steal of 2012 free agency...or he could be gone after training camp.
Jonathan Daniel/Getty Images
Seattle has several players that were signed to one-year contracts and will be given a chance to compete in 2012. They also have a few other players that will need to produce this season or be allowed to lobby for a job elsewhere in 2013.
Alan Branch, DT, UFA
Branch was signed to a two-year contract prior to the 2011 season. The former Arizona Cardinal showed signs of breaking out in the desert, but never quite produced as expected.
Seattle saw him as a better fit for their 4-3 defense, and so far he's been a solid starter.
The addition of Jason Jones and drafting of Jaye Howard means Branch will have to produce in 2012 to be re-signed in the offseason.
Deon Butler, WR, UFA
Butler has shown signs of being a quality slot receiver, but the position is cramped with Golden Tate and Doug Baldwin.
Butler will have a challenge just to make the opening day roster in 2012. If he does and gets opportunities, he could make a case to be brought back next season.
Deuce Lutui, OG, UFA
Lutui, also a former Cardinal, was a member of Carroll's offensive line at USC. He showed signs of being a great guard early in his career.
However, he has battled weight issues and his performance dipped.
If Lutui and his vegan diet can be healthy and fit, he could still be a dangerous interior blocker. He will be an interesting story to follow during the offseason and beyond. He has the potential to be a big upgrade to Robert Gallery.
Cameron Morrah, TE, UFA
The addition of Kellen Winslow should drastically reduce the expectations of Cameron Morrah. He'll battle Anthony McCoy for the third tight end spot, with the other likely not making the roster.
Morrah is very athletic, but injuries and dropped passes have kept him from being seen as a starting threat.
Barrett Ruud, MLB, UFA
Similar to Lutui, Ruud has question marks surrounding what should be expected of him in 2012. He had injury issues in 2012, the first time in his career.
Ruud didn't have the level of production the Titans expected from him, but he still recorded 57 tackles in nine games. His health and the play of Bobby Wagner will dictate if he gets a look in Seattle beyond this season.
Tarvaris Jackson, QB, UFA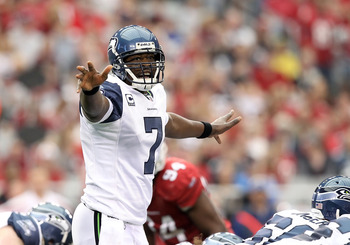 Christian Petersen/Getty Images
While Tarvaris Jackson is getting a slide, I don't believe he will be a part of the Seahawks plans going forward. He does need to be addressed, though.
There has been speculation that Jackson won't end up making the roster in 2012. If Matt Flynn plays up to expectations and Russell Wilson shines in camp, there is a chance the Seahawks opt to release Jackson.
Seattle has expectations to be a winning team in 2012.
The Green Bay Packers kept Matt Flynn last season, as they saw him as a quarterback that could win if he was needed. I expect Seattle to do the same with Jackson instead of cutting ties with their only experienced passer.
I project he'll be Flynn's backup in 2012 and will not be offered a contract in 2013. Seattle drafted Wilson to be the number two quarterback next year and push Flynn for starting duties.
That approach leaves little room for Jackson going forward, but there will be NFL teams looking for a borderline starter or excellent backup quarterback.
Marcus Trufant, CB, UFA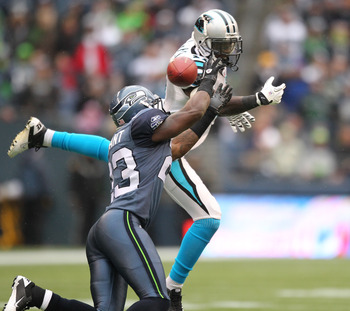 Otto Greule Jr/Getty Images
If Marcus Trufant embraces his role as a nickel corner, he could be a dynamic piece of the Seahawks defense in 2012. There is no reason to expect him to do anything but, so long as his back allows him to make it through the season in relatively good health.
Covering slot receivers should be a very good step for Trufant. He shouldn't end up spending much time covering the taller receivers that gave him issues the last several seasons.
The Seahawks won't work on a long-term contract with Trufant, but he could figure into their offseason plans in 2013.
Leroy Hill, LB, UFA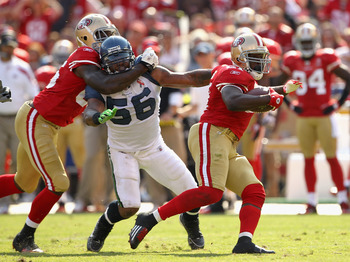 Ezra Shaw/Getty Images
The up-and-down persona of Leroy Hill makes the list of players with whom the Seahawks need to work on contract extensions. However, I reserve the right to retract this statement based on his off-field actions.
The progression of Korey Toomer could also impact Hill's role going forward.
Some fans were surprised I listed Hill as a player the Seahawks needed to re-sign on a multi-year deal prior to the 2011 season. His injuries and legal issues had soured fans on what he could offer the team.
Following a productive 2011 campaign, he again made the list of players Seattle needed to keep.
Then came an arrest for drug possession, followed by comments it was time for the Seahawks to move at outside linebacker. He then tested negative for marijuana and made it back to the sign-him list.
Seattle is fortunate to have him back in 2012, but I don't see them or any other team signing him to a multi-year contract. He seems to be one phone call away from another arrest and a suspension from Roger Goodell.
Steven Hauschka, K, UFA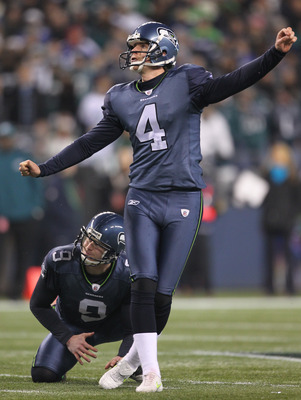 Otto Greule Jr/Getty Images
The kicking position is hardly flashy, but it is an important role.
Steven Hauschka had his detractors last season, but he is an accurate kicker (83.3 percent) and his leg is strong enough...particularly with kicks coming from the 35-yard line.
Hauschka had his first full season in the NFL last season, and I believe he will be a very good kicker.
His contract will be more expensive at the end of 2012 than prior to it, but the Seahawks signed him to a $1.26 million contract during the offseason. That move makes it unlikely they will take further action with him until he's established himself in 2012.
Jason Jones, DT, UFA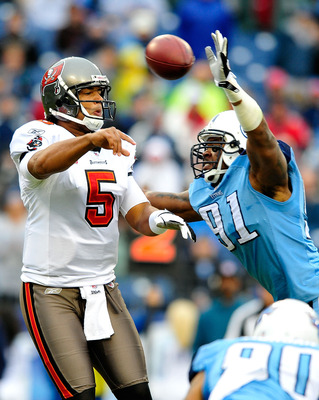 Grant Halverson/Getty Images
Jason Jones is yet to play a snap for the Seattle Seahawks, but I see him as a player that will be a must-sign for 2013 and beyond.
His signing was somewhat overlooked by a lot of fans and the media, but Jones was my top-ranked interior pass-rusher on the 2012 free-agent market.
Jones wasn't getting the kind of love (money) he wanted in free agency. The 2008 second-round draft pick was very productive at defensive tackle in his first three seasons, notching 12.5 sacks and consistently pressuring the quarterback.
Jones was moved out to play defensive end with the Tennessee Titans in 2011, but the results weren't as expected.
His reaction was to sign a one-year deal with the team that would use him as an interior pass-rusher. He was looking for the best opportunity to produce and prop him up for a big payday after the 2012 season.
Jones saw the Seahawks as the best fit, stating he's noticed their "swagger" and that "they fly around to the ball." He said "my athletic abilities...my play-making abilities" are why the Seahawks wanted him, but he wanted to come to Seattle as well.
They showed me the most love out here. I feel that playing under the 12th Man as a D-lineman has a great advantage.

Last year was kind of an off year for me just being switched out to end and moving around. I did it for the team, for Tennessee. That one-year deal, that's the strategy. Come back next year and hopefully I can get a long-term deal.

Jason Jones, introductory press conference with the Seattle Seahawks
If Jones can revive a lackluster interior pass rush in Seattle, Carroll and Schneider will most certainly reward him.
Max Unger, C, UFA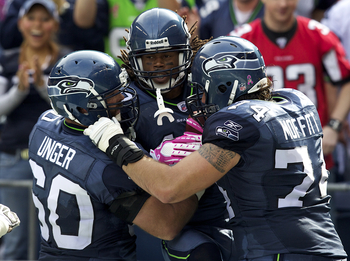 Stephen Brashear/Getty Images
Seattle has to keep their young offensive line together. The offensive success they had from 2004 through 2007 was largely the result of having offensive linemen that had played together for several seasons and knew one another's tendencies in any given situation.
As Seattle lost the key blockers from their Super Bowl team, the offensive production dropped accordingly. The went from a top-10 offense in 2007, after being second in 2005, to the 28th-ranked offense in 2008.
Seattle has the young talent that could offer similar performance for close to a decade if they can keep them on the roster. They brought back Breno Giacomini and Paul McQuistan in 2012 and will do the same with Max Unger this year.
Chris Clemons, DE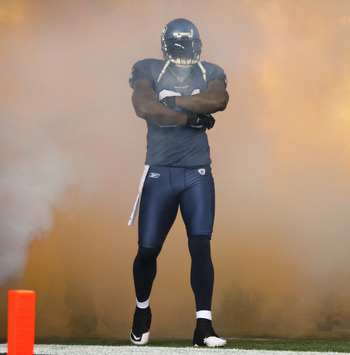 Clemons and his agent are holding their ground on not reporting without a new contract.
Jay Drowns/Getty Images
Seattle's 30-year-old Leo defensive end is certainly a top priority. He may not have the same long-term impact they can expect from other players, but he is a huge piece of their 2012 defensive unit.
Clemons' decision to hold out of minicamp came as a surprise to head coach Pete Carroll.
A king5.com article shared some of the comments Carroll made at his press conference.
I thought he was coming. We've had open communication with Chris and his agent. It's very amicable. It's one of our priorities but it doesn't look like he's going to show up for the rest of camp.
It is likely that Clemons is unhappy that Seattle is planning for life after him. They used their first-round draft pick on Bruce Irvin and Carroll said he will be groomed to take over for Clemons.
Regardless of Irvin's progression, there will be space and a role for Clemons on Seattle's roster next season. While the Leo position is an every-down role, there is a second slot for smaller, faster defensive ends in the nickel and pass-protection sets.
The ability to have Clemons and Irvin share reps at the Leo position, with both on the field on passing downs, could even allow Clemons to extend his career by a season.
Irvin is benefiting from the extra work during the offseason, but Seattle hoped to have him learning from Clemons during this time.
Fans shouldn't expect him to enter training camp ready to take over for Clemons, but Carroll said he's happy with Irvin's performance.
He's making terrific progress. He's learning very well. He's doing everything we thought he would do, and been very diligent.

Clem would have helped Bruce by showing him stuff. That would have been a better example. The other end of it is, he's getting force-fed with the first group. He can handle it. You can't wear him out. But I would have liked to have had Clem here.
The Seahawks have high expectations in 2012 and Clemons is a critical part of the defense. Holding out doesn't seem like the best approach to get the Seahawks to expedite the process, as the team has certainly shown they will make every effort to re-sign key players to respectable contracts.
Clemons needs to get on the field and let his play dictate his 2013 contract.
Keep Reading

Seattle Seahawks: Like this team?